Jonathan Ross and Ian Churchill bring the schlock in their new series for Image – a vivid slice of filmic sex and violence set against the dark side of the film industry.
Griffin Franks, a 73-year-old jobbing actor, has finally made a hit movie, reprising a role he made notorious in the 70s – Charlie Winner, 'The Revenger'. But just as things are going well for Franks, a black cloud appears on the horizon. It seems the studio are passing over Franks in favour of a younger actor for the Revenger sequel. Persuaded by his pneumatic young trophy wife, Candy, Franks travels to Mexico for some revolutionary plastic surgery.
However, when he submits to the surgeon's knife, he becomes the victim of someone else's revenge. Candy had a tragic childhood, the result of Franks' philandering behaviour, which sent Candy and her mother into a downward spiral of poverty and despair. Candy wants what's due to her, which means slicing off Franks' face and fingerprints, clearing out his bank account and leaving him for dead. Ross and Churchill conclude with the image of the faceless actor declaring "Griffin Franks is dead. Now there is only the Revenger!"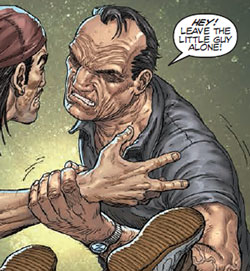 To be clear: Franks is a silly old fart. He makes bad movies that occasionally become fashionable because someone decides that the makers are being ironic and clever instead of merely being awful. He's that type of man who leaves you wondering how the hell he's managed to get anywhere in the first place. Certainly, if Franks was a woman, he would not have experienced the same success. I was relieved when it turned out be an elaborate plan on Candy's part – like it returned some cosmic balance back to the world.
But I ended up rooting for Griffin Franks by the end of Revenge, for two reasons. Firstly, Ian Churchill draws him in an appealing way. Franks has a friendly, expressive face; never have I seen so many wrinkles quite so artfully drawn. Imagine a sharpei puppy crossed with Ludo from Labyrinth and you're kinda there.
Secondly, Jonathan Ross writes the Revenger sympathetically. Sure, Griffin Franks has been forgettable for most of his life, but look! – he saves a Mexican midget from a nasty bully in the first few panels! And he has a daughter who likes him quite a lot now, and to whom he expresses regret for being a terrible dad. Aw, bless him.
By the end of all this, we are supposed to conclude that Candy's bizarre revenge is not justified. I wasn't won over by that argument: I like Franks, but not enough to consider that he doesn't deserve a bit of slice-and-dice at the hands of his wife. Candy has an awful past, and her life is the embodiment of sexualised Hollywood; the sadistic story of how young women get used and abused by the system.
Part of me wished that Griffin and Candy would sit down to resolve their issues over a nice cup of tea. But that would make for a very boring comic. Instead, these two lovers are heading down a blood-soaked path where both are justified in their own sweet, selfish desire to reap revenge on the other: delicious!
The plot is deftly woven in flashback, real-time and dreamscape. The panels have a tight rhythm; the story never drops a beat. The voices of the characters are true and realistic; even the comedy German from the sinister surgeon seems in keeping. So yes, Jonathan Ross can write, and I rather suspect that as a film expert he has worked alongside people who have provided ample inspiration for these characters.
Churchill's art (aided by Arif Prianto's vivid colouring) is sublime and utterly fitting. It is a Hollywood horror poster, a shlocky-slasher of a landscape. Everything is hyper-unreal, larger-than-life, vivid. The repeated skulls motif made a couple of pages look like an updated medieval doom painting, and there is more than a little of the Día de Muertos about it too.

The front cover states that Revenge is 'for the mature reader', but the kind of maturity it refers to is the not-very-mature-at-all kind: ie BOOBIES. It's full of them, alongside a few crotches and a bit of geriatric sex-making. If plastic-surgery-enhanced nudity and swearing is going to offend, don't read this.
The whole point of Revenge is that it delivers the kind of filmic sex-and-violence experience that Griffin Franks has made a career out of. I have to say I found it all hideously fun. I will be reading the next issue.
Jonathan Ross (W), Ian Churchill (A), Image Comics, $2.99, February 26, 2014