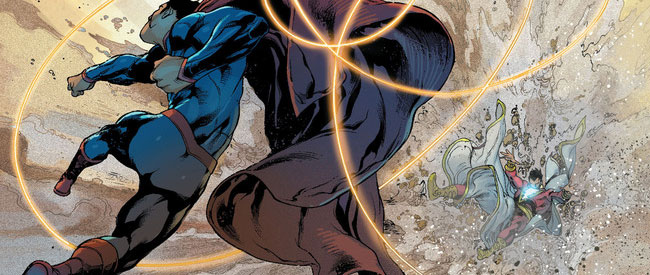 Trinity War has arrived with all of the subtlety of a freight train crashing through your front door and it's going to shake up the New 52 to its foundation.
But don't let the non-stop action and gorgeous artwork bend your mind from the clever mysteries writer Geoff Johns establishes. Multiple storylines have been building to this point, and Johns is weaving them together into a summer blockbuster.
Madame Xanadu receives a visit from the Secret Society, the architects of the War, and her revelations uncover the causes of the impending conflict as well as the lineup of heroes who will be key players in stopping it. "The cards will tell me who will start it and how I can stop them." Following the events of issue #21 where Billy Batson and his new siblings defeat Black Adam and find a new home, Billy flies to Kahndaq to return Black Adam's ashes. This innocent act becomes a catalyst for disaster.
Johns sets up a multi-layered framework and you're going to need a scorecard to keep up with all of the players. It's a culmination of stories that have been working their way toward a huge conflict since the New 52 began, so this isn't a great point to jump on to the story but it is a terrific reward for dedicated readers. His command of the individual personalities at play is impressive as Shazam retains Billy's sense of wonder, Batman and Catwoman exchange sexy banter, and Superman and Wonder Woman discover an impasse in their philosophies they may not be able to overcome. "There's a reason I don't have a list of villains as long as Bruce's, Barry's or even yours. When I deal with them I deal with them."
Yes, there is a character death that will ignite the growing tensions between the Justice Leauge and the Justice League of America. But it should also shed some light on the deceptions perpetrated by Amanda Waller and Steve Trevor.
Ivan Reis' artwork is a perfect complement to the story. His facial expressions are critical to establishing the characters as individuals. The moment Shazam punches Superman is priceless. Wonder Woman's determination is palpable, and who knows what the Martian Manhunter is thinking. The subdued colors of Rod Reis lend an ominous feel throughout the issue. Buckle up, DC's premiere team titles are going head to head and it's going to be a rough ride.
Geoff Johns (W), Ivan Reis (A), Joe Prado and Oclair Albert (I), Rod Reis (C) • DC Comics, $3.99, July 10, 2013.