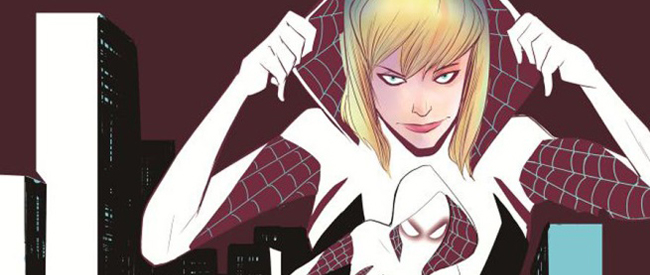 When Robbi Rodriguez first teamed up with writer Jason Latour to create Spider-Gwen (an alternate reality where Gwen Stacy becomes Spider-Woman), it was supposed to be a one-shot deal. They were contributing a single story to the Edge of the Spider-Verse crossover, which featured various alternate takes on the Spidey-Universe characters. But they didn't even have to wait until the issue was actually released before the internet buzz for their character started to reach fever pitch. Robbi's new design for the Spider-Woman costume was completely original but also very fitting for the character. It was a big hit with fans.
By the time New York Comic-Con 2014 rolled around last October, Edge of Spider-Verse #2, starring Gwen Stacy, was hot off the press and Marvel had just announced the new ongoing series. Legions of fans showed up in homemade cosplay of the character, parading by Robbi's table and lining up to get his signature. 
It was a new experience for Robbi, who had spent the majority of his 10-year career working in independent comics. I know Robbi well since we work in the same studio, Tranquility Base in Portland, OR, so I was well aware he likes to spend most of his time drawing quietly at his desk or in the back corner of a local dive bar working away on his tablet. I met up with him at one of his favorite spots, Club 21, for Sunday brunch, where we both ordered their specialty: the Dixie Chicken (fried chicken, bacon, egg and gravy on a biscuit) and the bottomless mimosas. We sat down at a back table and got to talking about the sudden increase in attention he's receiving and his plans for the new ongoing Spider-Gwen series.
So the first issue of Spider-Gwen comes out next month. Now that she'll be back in her own world after all that Spider-Verse crossover stuff is over, will she have any memory of those events or are you going to play it like it was all a dream?
Robbi: No, Gwen is aware that those other universes are out there, but it's not going to play too much into our storyline. It'll just sort of be a device we use to establish her character. She realizes she's part of a bigger picture, there are other superheroes out there. It'll fuel her, help her realize there's a reason she has to do what she does.
But we're not going to do the whole mind-wipe thing. We wanted to keep that connection there to show that this isn't an Ultimate version of the character. Her world is separate, but she's still part of the larger multiverse and who knows what'll happen with that in the future.
Speaking of the bigger picture, you attended NYCC last year just after the whole Spider-Gwen craze hit. Were you ready for just how intense that was?
I knew it was big because we sold out of Spider-Verse #2 pretty fast. I didn't know a legion would show up, this Spider-Gwen mania that popped up all of a sudden. It was like a parade of Spider-Gwens going by my table, which was the weirdest experience ever because it was the first time I've ever had a line wrapped around my table.
Did they all want you to sign their copies of Spider-Verse #2?
Yeah, mostly signatures. I also had prints made and a t-shirt just in case people wanted it. Everything sold out quick.
This was the shirt you made for the Mary Janes, the band in the comic that Gwen is a member of, along with Mary Jane and Betty Brant?
Yeah, the unofficial shirt of the Mary Janes. It's just the vague images of three girls that may or may not be the Mary Janes.
But there was a real band that recorded a version of the song from the comic, "Face It Tiger." How did you set that up?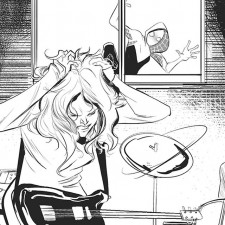 That was the band Married with Sea Monsters. I'm really good friends with all of them from my time growing up in Waco, Texas. They did the Frankie Get Your Gun (Robbi's creator-owned comic) soundtrack for me a long time ago. And then I directed the musical video for one of the tracks called "Distrudo."
I like collaborating with bands. To me, the mindset needed to understand each other is a lot like collaborating with other comic creators. With Jason and Rico, we all treat each other like a band. Rico keeps that clock ticking and everything on beat. Jason and I trade off solo sets or just start jamming off each other. We'll see what one of us is doing and we'll figure out how we can incorporate that in what we're doing and run with it.
I notice you do a lot of your own color work in your illustrations and comic covers. What's it like collaborating with Rico Renzi, who's coloring the book?
I trust Rico a lot. We have the same color aesthetic essentially. I know if he's going add something to it, it's going to work. Rico will go off on these crazy ideas like what he did at the end of Spider-Verse #2, the last fight with all that teal and maroon and yellow like an old-school gig poster. That was his idea and I thought that was the coolest thing ever.
Do you give notes to Rico about what you think the colors should look like?
I do cuts if I need something specific. Like that one page where Gwen's on the billboard and the flicker of the lights of the city are behind her. That there was a feel I needed, so I just made it in grays. And I give it to Rico and say, "I need this feel for this scene," and he can go crazy with it.
I prefer to do grays on the page because it would be easier than me trying to explain it to him. That's something I learned from (Chris) Brunner, working for him.
And what about Jason Latour. What's it like collaborating with him?
Jason is the man with a million ideas. He'll joke by saying he'll get hit by a bus one of these days thinking up a new pitch. He'll just go blank as he's thinking up all these crazy ideas and not even paying attention to what's going on around him.
We've known each each other about 10 years now. Early on, we'd get on Skype or IM and just B.S. together and go over whatever was in our heads. He'd tell me about this crazy idea he has for a Razorback book. He's always had these different aesthetics and I think that's why we work well together. We envision ourselves like the Coen Brothers, where we want to hit ever genre but do it in our own different way. We might even do a romance book one of these days just for the hell of it.
Which is interesting, because it looks like you guys made a conscious decision to remove the romantic element by killing off Peter Parker early in that first story.
Oh yeah, we got rid of him quick. He was never part of the plans. We wanted to completely reverse the situation of the regular series, where Gwen was always treated as a plot point. It's like, let's just make Peter a plot point for Gwen. We didn't want to deal with fan expectations of when we were going to have Gwen and Peter dating or whether there'd be a love triangle with Peter, Gwen and MJ. I mean, this isn't fucking Archie. We wanted Gwen to be free of that. This is her own book.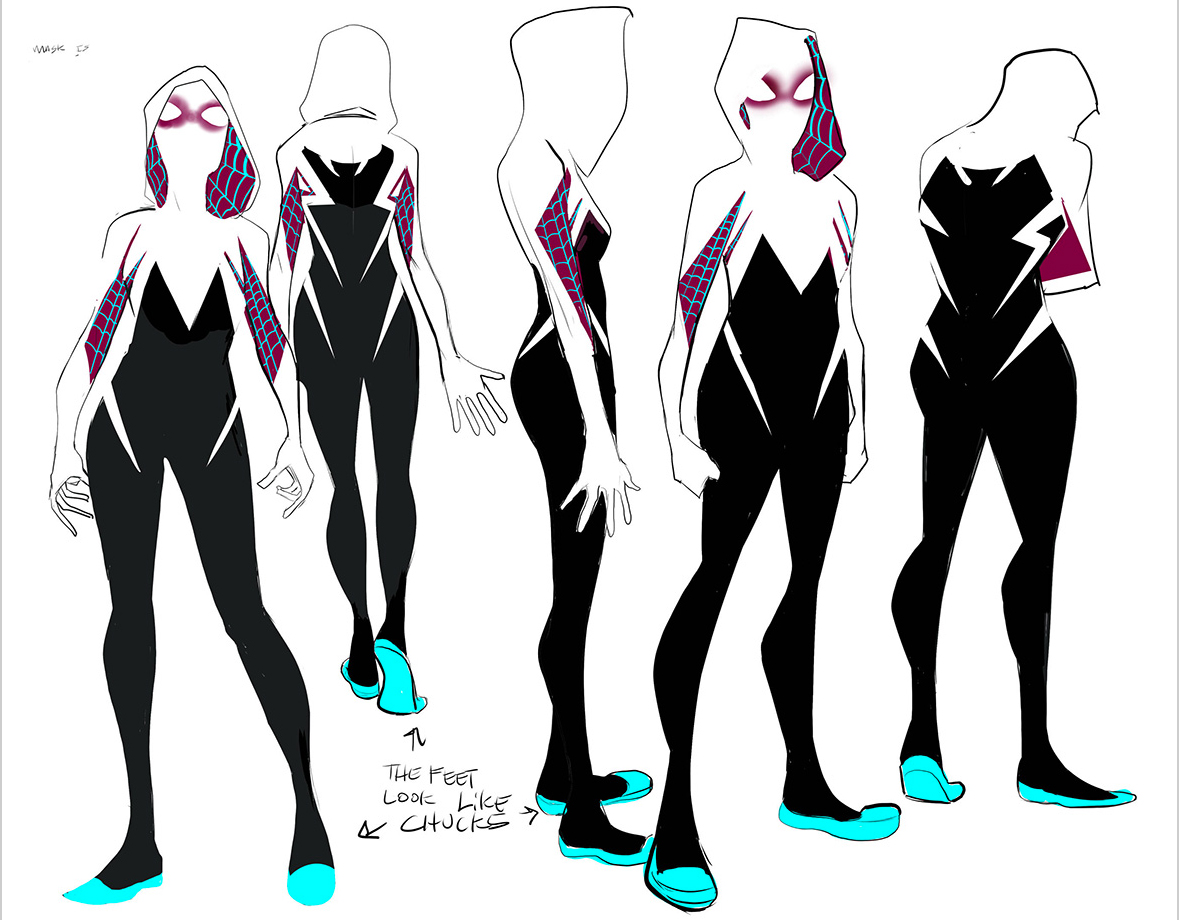 And the costume design you came up with works well with that idea. It's not overly sexual or anything.
It's a simple design. It's something I can draw over and over again without slowing me down drawing all those little web lines. But that's cool, because it doesn't work to sexualize that costume. When I see dudes trying to draw it like they would a pinup of other female heroes, it just looks weird. They'll try to draw it like it's body paint or do up the cleavage with breasts that defy physics. But most of the fan art I've seen has been really good and keeping in nature with the character.
Are you going to go back on tour when the first issue is released?
Probably not, but I am getting invited to a lot more comic shops and conventions all over. Even one in Mexico City. I'm not sure how legit that is. Jason was making fun of me. He said, "You'd be the one Mexican there who doesn't speak any Spanish."
You don't speak any Spanish?
No. It's always weird when other Spanish creators come up to me at shows and start speaking Spanish, especially ones I admire and have always wanted to meet and I'll have no idea what they're saying. I'll just nod my head.
But the way things have been going, I'm rather hesitant now to do too much promotion. It gets overwhelming. Working in comics, I'm pretty much used to being by myself most of the time. You know, I'll be at the studio sometimes and that's a pretty close group working together but we're pretty much quiet, just work on our own things and check in with each other once in a while. Or I'll go to a dive bar and sit alone and smoke and drink my Pabts (Blue Ribbon Beer) and whiskey.
Now, there's a lot more people like, "Hey let's go get a beer and hang out."  And I'm like, "Nah, I'm good." It's cool, I don't mind, but I still have work to do.
I prefer my quiet life on the fringe.
You must have had to really kick it into gear once Marvel announced the ongoing series.
Thankfully, me and Jason had enough story ideas in our back pocket, not to mention some stuff we had to  cut from the first issue.
Honestly, the way that one issue was selling, we had a feeling this was coming, so me and Jason started talking a bit more, going back and forth on what guys we could use, what crazy ideas we really wanted to push. The nice thing is that our editor, Nick Lowe, has been on board with pretty much everything we suggest. He trusts our vision for the book and the direction we want to take it.
And you guys are pretty much free to operate outside of the normal Marvel continuity, since Gwen exists in a separate world?
That's the best part. We're back in our own little universe. We can do what we want, which really confuses fans. It's like, we've got Matt Murdock and everyone's got these preconceived notions of what his character's like, but now he's working for the Kingpin. We have a new take on the Rhino. We're going to bring in other old-school characters and do new versions of them. We'll do more stuff with Captain Stacey and the ramification of him knowing that Gwen's Spider-Woman and all of sudden realizing, "Oh shit. She has a target on her back and what did I do?"
We're going to modernize Jameson a bit. He's going to be more like someone on TMZ and the Bugle's going to be a website with a YouTube channel. We're going to do a lot with the news, posting videos of kids capturing cell-phone videos of Spider-Gwen in action.
We'll also get into more stuff with the Mary Janes because they've become celebrities with that incident at the very end of Spider-Verse #2. They've been getting a huge amounts of hits on their YouTube channel after the Rhino attacked them during their concert.
Well, how do you feel putting in all this work, creating new versions of these characters when this is all work-for-hire? Marvel will own all of this stuff.
That's the thing. We don't own her and we know it's a corporate book. It's a gig for hire but we treat it like it's creator-owned. There's a stamp on that character that we put there. In this day and age it's rare to see that any more, where a creator gets a true chance to put their stamp on a character rather than just pass with their version of something that's been done before.
Do you have any plans to go back to a creator-owned project sometime down the road?
Eventually. That shit takes time. That takes a lot of fucking time. We don't want to rush it, but we've been planning stuff for a while, talking about it. Our thinking is, let's just get this done, get at least a year or two under our belt and that'll give us enough time to figure out what we want to do next. One of the aspects of this thing is trying to sell ourselves as a team. Like when Morrison and Quietly work together on something. We're not quite at that height, but I would like people to see us like that. It's like, "Here these two are again, back at it. We're in for some crazy shit right here!"


And we're all in for quite a ride once the first issue of the new Spider-Gwen series hits stands everywhere on February 25. And if you happen to be in the Charlotte area, Robbi, Jason and Rico will be attending a release party for the first issue on February 28th at the comic shop, Heroes Aren't Hard to Find. They're even going to have a performance by Married With Sea Monsters!