One of the absolute best continental European artists to hit the US comics scene in years. That's Robert Sammelin for you.
Robert Sammelin, a self-taught resident of Stockholm, Sweden, is quickly working his way up artists-to-watch lists everywhere. He's doing it on a steady diet of beautiful women and cool motorcycles, combining the dynamic in-your-faceness of American comics with the refined linework found on the European mainland.
The really fun part? Comics are Sammelin's pastime, not his day job. By day, he works as a senior concept artist for video game company DICE, the studio behind franchises such as Battlefield and Mirror's Edge. That last one might ring a bell, as Dark Horse recently announced a limited series for September, Mirror's Edge: Exordium, based on the world of the game.
Must be sweet to be able to combine both of your passions day in, day out like that.
BROKEN FRONTIER: You're a self-taught artist. How long have you been drawing? And what are the challenges of not going to art school?
ROBERT SAMMELIN: A bit of a clichéd answer; I've been drawing for as long as I can remember – I recently found a bunch of six-page comics I'd made at the age of 5, about armed biker avengers and giant robot monsters, so in part I haven't evolved significantly in 30 years.
I gave up drawing for several years for a few years in the early 2000s, trying to break into web and graphic design while driving the Stockholm subway for a living. It didn't really work out and I got so depressed that my lovely wife, ever the voice of reason, challenged me to try making a living off what I'm actually good at.
I quit my job without any money or plans and drew like a madman, throwing a portfolio together, and landed a concept art job within a month. The determination and a fluke hand surgery that limited my wrist flexibility made me a better artist than before.
The challenges of not being taught art in class are that I've spent a long time developing shorthand and intuitive skills in colour or composition anatomy, but today the latter especially is one of my biggest strengths as an artist.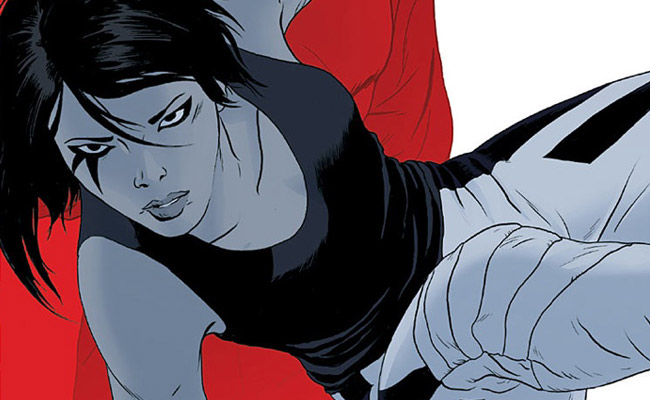 Your style is characterized by its extremely clean and light linework. Growing up in Sweden, were you inspired by European artists more than US ones?
Definitely. In the 80s and 90s Sweden had a very rich comics culture – you'd see Marvel/DC superheroes next to The Phantom, Tintin, Spirou, Dredd and Metal Hurlant/adult Euro stuff on the store racks. I grew up on a diet of superheroes and The Phantom (who's still huge here, oddly enough), but got more into the European comics around the age of 12. I fell in love with Judge Dredd, Zenith, RanXerox, Taxi, Corto Maltese, Hombre, Dieter Lumpen and all those weird semi-erotic French comics I was probably too young to read.
Most of my strongest influences are European; Mick McMahon, Alfonso Font, Jordi Bernet, Dick Matena, Hugo Pratt, Liberatore, Rubén Pellejero, Dave McKean, José Ortiz, Kevin O'Neill, Philippe Berthet, Attilio Micheluzzi, George Bess, Jamie Hewlett, Brian Bolland. I've also got some serious love for a manga guy, Tetsuro Ueyama – he's probably the most all-round skilled artist I've seen.
Thinking about it, even the American artists I love aren't typical US comics people (if there even is such a thing); Geoff Darrow, Tony Salmons, Paul Pope, Charles Burns, Howard Chaykin, Mike Mignola, Toby Cypress.
Lately I've really gotten more into US comics, even some superhero stuff – there's so much great material out there, it feels like the whole industry's in a better state than it's been for years.
Women are one of my favorite subjects to draw: cool women as just that, subjects – not objects, not girls posing ridiculously or draped around monsters or barbarians in absurd clothing.
Looking at your portfolio, there's one thing that stands out and that's your affinity for the female form.
That came about as soon as I started challenging myself to improve on subject matters that I found hard to draw. Cool women that aren't posing ridiculously or are draped around monsters or barbarians in absurd clothing was one of them.
Over time it became one of my favorite subjects; cool women as just that, subjects – not objects. I have no real problems with sexualisation, I embrace it to a degree, as long as it's not objectifying.
You're also extremely adept at drawing vehicles, something a lot of artists hate. Did it take you long to master drawing a killer motorcycle?
That started as a skill improvement challenge as well, along with cars. I wouldn't say I've mastered bikes, I feel I'm still terrible at getting the tires right. Besides, I make up a lot of the stuff that goes on them… a real enthusiast would probably scoff at my engines. [Laughs]
Your day job is working as a concept artist for the video game company DICE. What are some of the specific techniques you use there as opposed to your illustrative, pin-up and comics work?
The biggest difference is I'm doing all concept art digitally, be it painting or graphic design and UI art. I aim for realism in painting, mostly working with settings, environments and movie-still moments. A lot of my time goes into characters and marketing art, like logos and cover art, as well as managing a ten-man team of concept artists.
My illustrative and comic work is more or less my way to unwind and have fun. There's some overlap though, like storyboarding and mini-comics we make to explain scenarios and mechanics in the games. Four out of ten people in the concept team are really into comics, doing the shop rounds for lunch every week, so there's also that.
You're steadily gaining a fan following in the US with your Cimarronin mini-series and various covers for BOOM! Studios. You've also contributed to Alison Sampson's Think Of A City blog. How did you get involved in those projects?
I've been fortunate enough in that great people approached me with these things.
Cimarronin was really special as it was a chance to work with Neal Stephenson for my US comics debut, but also a real learning experience. I had very little time to finish each issue as I did it on evenings and weekends, hammering out 22 pages in 16 work days, from blank page to finished inks. It helped me to up my comics chops significantly for the following comics I got involved in (some of which haven't been announced yet).
Think Of A City is such a cool project that I'm really honoured to have been approached by Alison.
Speaking of Think Of A City, you mention on your tumblr that you find yourself amid your 'all-time heroes and current obsessions'. Which artists are you talking about, and what attracts you to their work?
Dave McKean and Bill Sienkievicz are absolute legends and big influences.
Ales Kot's Zero blew me away when I first read it: he's a brilliant guy who I really enjoyed working with on my issue (Zero #17). Tonci Zonjic is a masterful artist I admire immensely. I.N.J. Culbard's Celeste is incredible and I love Dilraj Mann's illustrations.
Then there's Vanesa Del Rey, Morgan Jeske, Artyom Trakhanov… and likely a bunch I forget. The whole thing is just jam-packed with incredible people.
What do you have in the pipeline for the second half of 2015?
I've done a very cool book for a European project that's not out yet and numerous covers for Image and BOOM! that'll come out throughout the year.
I'm currently starting work on a revenge story with an all-female cast I'm doing with an American writer, with a possible follow-up for that aforementioned European book. Then there's the Mirror Edge mini and my short story, 'The Wave', for the Broken Frontier Anthology.
I've pretty much got most of my spare time filled with comics and poster work!
For more on Robert Sammelin, visit his website.