Is the "graphic novel" a curse? Is comics studies becoming "instrumentalised"? Should Comics become a discipline? Roger Sabin explored these three questions on 'Comics in the Academy'. Jenny Robins went along with her sketchbook.
Here are my sketchnotes from Roger Sabin's Professorial Platform talk at Central St Martin's on Thursday 6th of June. It was a very enjoyable evening that also included drinks and schmoozing and a sneaky peek at the Posy Simmonds exhibition at the House of Illustration on until 15th Sept and well worth a look). Professor of Popular Culture at University of the Arts London (UAL), Sabin has done a lot of varied research over the years but much of it has touched on the comics medium in various ways. He's also a Broken Frontier booster as well as being nominated for the BF Awards in 2018 as one of the co-authors with Simon Grennan and Julian Waite of the brilliant book on Marie Duval from Myriad Editions.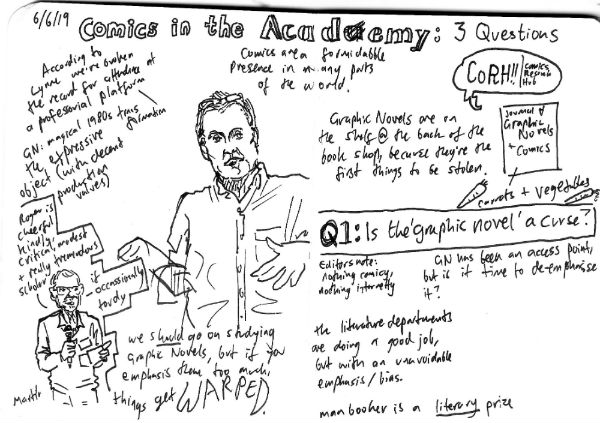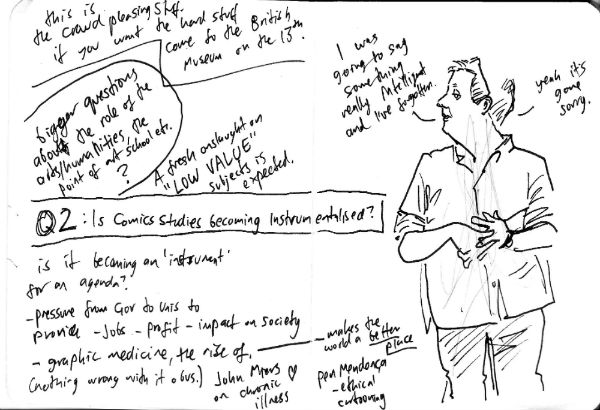 There may also be a contribution from one of my favourite toddlers on Roger's person here, which is obviously an enhancement.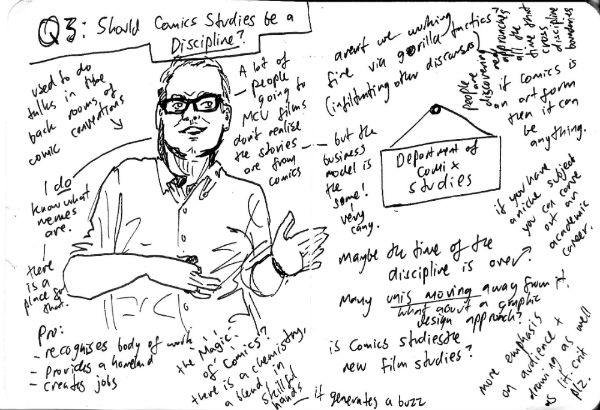 Designed for both an academic and not-very-academic audience, Sabin's take on the key three questions facing Comics Studies today was a strong basic overview of his concerns. You don't have to be writing a doctoral thesis on your favourite comic to be aware of a lot of the issues mentioned – like the perpetual paradox of high-brow mainstream media coverage when it comes to what defines a comic. Since the rise of the Graphic Novel the trickle down to more short-form comics output has been stymied by the residual associations with lower-brow content, while much of such content is arguably more interesting. Our gracious leader Andy Oliver made a not-unconnected point during the Broken Frontier panel at ELCAF at the weekend when he pointed out the concurrence of the arrival of graphic novels and TPBs in book shops with the decline of comics' availability in newsagents.
Comics in the UK may remain a relatively niche interest, but the academic angle on the artform does seem to be a growth area. With an increasing number of courses and publications dedicated to dissecting sequential art, Sabin is of the opinion that the birth of a separate discipline is inevitable. The idea does have pros and cons and provokes mixed emotions.
The lecture was accompanied by a comic stating the key points, beautifully drawn in the main part and fully designed by John Miers which was worth attending the lecture for on its own. You can read it below.
For more on UAL's Comics Research Hub visit the UAL site here.