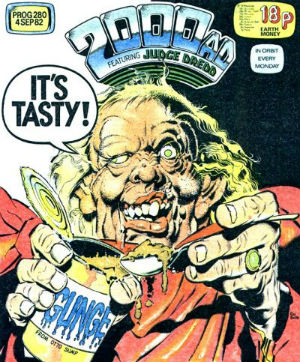 On January 10th 2019, the world of British comics lost one of its finest artists, the legendary Ron Smith, who died at the age of 90 after several years of failing health.
Ron, who was born in 1928, began working in comics in 1949 on the humour title Knockout for the Amalgamated Press. But his career really took off when he began working on adventure strips, his dynamic style perfectly suited to westerns in particular. In 1952 he was hired by the Dundee-based DC Thomson, and relocated from London to Scotland, where he would remain on their staff for the next twenty years working on the boys story papers and on girls comics such as Bunty, before moving south again and going freelance in 1972.
He continued to draw for Thomson's in the early 1970s, notably on strips such as the quirky, eccentric Nick Jolly (about a temporally displaced 18th century highwayman with a flying robot horse) and the frankly bonkers superhero King Cobra (about a newspaper reporter who moonlights as a crimefighter; a laughing maniac in a snake costume), both in Hotspur, and Drake of E Boat Alley and Codename: Warlord, both in Warlord, as well as their humour titles Dandy, Beezer and Topper, but inarguably his greatest success came when, in 1979, he began working for Fleetway on 2000 AD's Judge Dredd.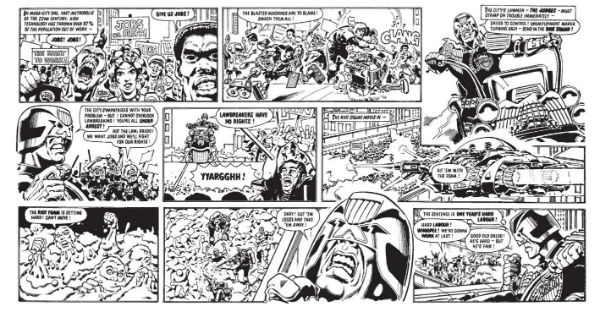 For some years, Ron was one of the artists most identified with Dredd, contributing to epic storylines such as 'The Day the Law Died' and 'The Judge Child Quest' and co-creating such memorable characters as Dave the Orangutan (Mayor of Mega City One), the hideous but sympathetic Otto Sump, Citizen Snork (he of the enormous nose), Captain Skank, the mutant horse Henry Ford and Chopper, a character who would later go on to become one of 2000 AD's most popular solo stars. He also drew the long running Judge Dredd comic strip in the Daily Star newspaper (above), bringing Dredd's world to a far wider audience than just comics readers.  Ron Smith's Dredd was the definitive version to millions of casual readers.
Smith also drew other strips for 2000 AD, including instalments of the fan favourite Rogue Trooper and the rather less fondly remembered Chronos Carnival, Survivor, and the rebooted Harlem Heroes, and would later go on to work for several other titles, including the short-lived Wildcat, Toxic Crusaders, and the revived version of Eagle, before finally retiring in the 1990s after almost fifty years in the business. His work lives on in collected editions of his 2000 AD material, however, and will undoubtedly continue to delight and entertain readers for many years to come.
Article by Tony Ingram