MYRIAD WEEK!
We're championing the output of Myriad Editions this week at Broken Frontier with a series of reviews, interviews and features on the publisher's recent and upcoming projects. This wouldn't be a proper celebration without a nod to Myriad's past successes, though, so each day we'll also be looking back on a couple of books from their back catalogue along with links to relevant BF reviews and interviews.
Today we put a spotlight on Darryl Cunningham's Supercrash and Science Tales, and Woodrow Phoenix's Rumble Strip…
Supercrash: How to Hijack the Global Economy and Science Tales by Darryl Cunningham
Darryl Cunningham's particular brand of graphic reportage has become something of an investigative benchmark in comics format journalism in recent years. Cunningham has an uncanny knack for breaking down the most complex of subject matter into easily digestible comic essays.
The first of his meticulously researched Myriad books was Science Tales which debunked and refuted scientific myths and engaged with some of the most heated popular debates in those circles. Subjects covered included the veracity of the moon landings, climate change, evolution and homeopathy.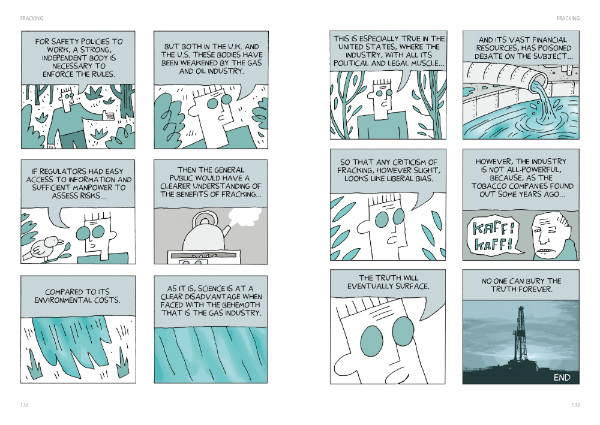 Cunningham's second book for Myriad was Supercrash: How to Hijack the Global Economy, an investigation into the origins, causes and effects of the 2008 global financial crisis. It was nominated for a British Comic Award in 2015 and earned Cunningham a 2014 Broken Frontier Award for the Best Writer (Independent/Creator-Owned) category.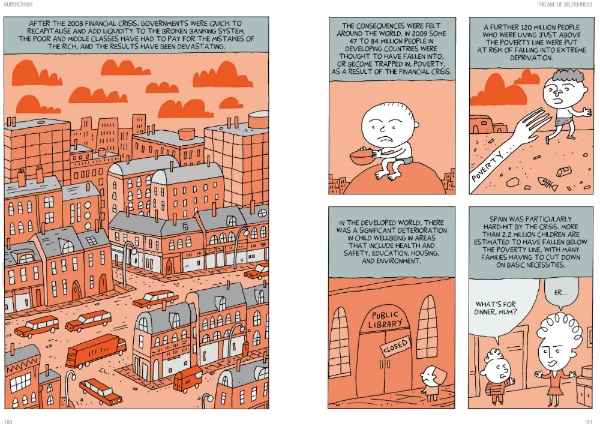 Darryl is currently working on his third Myriad offering Graphic Science, a look at some of the lesser known names in the history of science who nevertheless made huge contributions to human development.
BF soundbite: "Science Tales manages to be somehow simultaneously both succinct and substantive, and a fierce and intelligent promoter of the scientific process over blind superstition and baseless supposition." – Andy Oliver
Read the Broken Frontier review of Science Tales here and our interview with Darryl Cunningham on Supercrash here.
For more on the work of Darryl Cunningham visit his site here and follow him on Twitter here.
Buy Science Tales here and Supercrash: How to Hijack the Global Economy here.
Rumble Strip by Woodrow Phoenix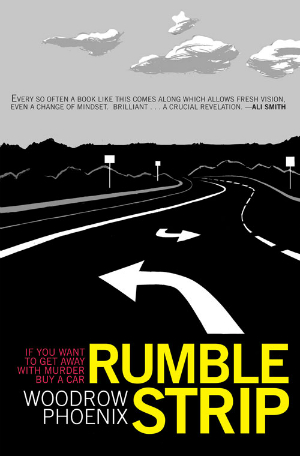 If you've ever had the opportunity to hear Woodrow Phoenix speaking at a comics panel, festival or other event you'll no doubt have heard his passionate thoughts on the vital importance of comics that exist because they tell stories in ways that are unique to the form. His one-metre square graphic novel She Lives is proof positive of his personal commitment to that philosophy.
One of Myriad's earliest forays into sequential art (you can read more about that in my interview with Myriad Creative Director Corinne Pearlman here earlier this week) Rumble Strip is a graphic essay on our obsessional dependence on the motor vehicle and asks the difficult question of why we dismiss the annual carnage on our roads as unfortunate happenstance rather than taking responsibility for it?
Combining facts and statistics with deeply personal experience, Rumble Strip is also a remarkable use of the medium, conveying its message through the power of its delivery without the empathetic presence of ostensible on-page human characters for the reader to interact with.
This was the graphic work that signalled what was to come from Myriad and nearly a decade on it is as relevant and important as ever.
BF soundbite: This is about taking up personal responsibility in a world where the capacity for harm inflicted upon others through carelessness has become so great that books like these have become a necessity. If it was up to me, Rumble Strip by Woodrow Phoenix would be obligatory textbook material in any driving class. – Bart Croonenborghs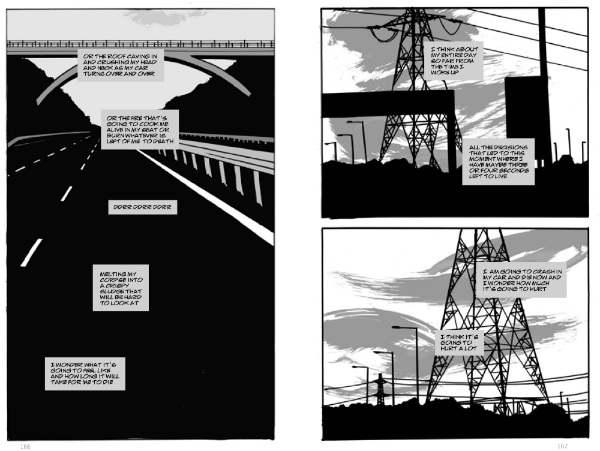 Read the Broken Frontier review here.
For more on the work of Woodrow Phoenix visit his site here and follow him on Twitter here.
You can buy Rumble Strip here.
Catch up on all our Myriad Week coverage so far here.