Comics exploring the refugee crisis hasve had extensive coverage at Broken Frontier over the last couple of years including Samya Kullab, Jackie Roche and Mike Freihert's Escape from Syria, Olivier Kugler's Escaping Wars and Waves: Encounters with Syrian Refugees, Karrie Fransman's Over Under Sideways Down, the work of PositiveNegatives, or Kate Evans's Threads: From the Refugee Crisis. Announced today from Myriad Editions is another graphic novel on the subject with an interesting twist. The full press release on Majid Adin's Hamid and Shakespeare runs below.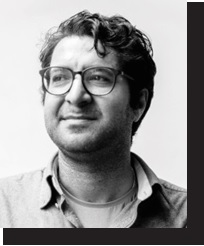 'O BRAVE NEW WORLD!': FORMER CALAIS REFUGEE SURVIVES HIS OWN TEMPEST TO WRITE A GRAPHIC NOVEL INSPIRED BY AN IMAGINED FRIENDSHIP WITH SHAKESPEARE
Myriad has signed a début graphic novel by animator and former Calais refugee Majid Adin. Hamid and Shakespeare imagines a friendship between a refugee arriving in London today and the nation's most famous playwright. The book is created in collaboration with award-winning theatre company Good Chance who have worked with Adin since meeting him in their pop-up dome in the Calais Jungle. It is being developed with support from the Good Chance Ensemble and an Arts Council England grant. Myriad acquired world rights directly from the author. It will publish Hamid and Shakespeare on April 23rd 2021, the 405th anniversary of Shakespeare's death.
A chance spotting from the back of a refrigerated lorry of a poster marking Shakespeare's 400th birthday spurs a refugee's imagination to transport himself from his detention cell to a performance of A Midsummer Night's Dream at London's Globe Theatre. As we move between the 21st and 17th centuries, Shakespeare introduces Hamid both to a promised new land, and to a series of well- known plays through which Hamid tells his own experiences: of interrogation, of his journey from home: crossing the sea, getting lost in the forest, his months spent in the Calais Jungle refugee camp, and his arrival in the UK in the back of a refrigerated lorry. In turn, Shakespeare teaches Hamid how to speak English and how to behave as he navigates the London Underground, and gives him a helping hand at the Home Office.
Good Chance Artistic Directors Joe Murphy and Joe Robertson said: 'The first time we met Majid, in the Calais Jungle, we met an outstanding artist. We've watched him flourish artistically in a new country. Hamid and Shakespeare is the story of two people from different worlds colliding and finding that despite, or perhaps because of, their differences, they need each other. It's a rip-roaring adventure that sees England and Hamid's homeland seen through the eyes of newcomers. And it is this new lens, new perspective, new energy that we are so desperately in need of.'
Myriad Creative Director Corinne Pearlman said: 'Majid Adin is a superb artist and cartoonist with a true dramatist's eye for telling his extraordinary story. It's a privilege to work with him and those who have supported his journey.' Pearlman was introduced to Adin as a potential graphic novelist by Art Refuge UK in late 2016, and invited him to speak at a symposium on comics and refugees at the University of Brighton.
Majid Adin is an artist and animator from Iran, now living in West Hampstead. He was forced to leave Iran, having been briefly imprisoned and politically exiled from Tehran after his blog upset the regime. He journeyed through Europe, spent several months in the Calais 'jungle', and after many attempts to make the crossing, finally arrived in the UK on 20th April 2016, coinciding with celebrations for Shakespeare's 400th anniversary. In 2017 he won a competition to produce an animation for a music video to illustrate Elton John's song 'Rocket Man', with a tale about a lonely astronaut travelling across continents to a new home in England (below). Recent work includes projects with Good Chance, Art Refuge UK, Positives Negatives, Help Refugees and the House of Illustration. In spring 2019 he completed a residency at the Venice Biennale, curated by Ai Weiwei.