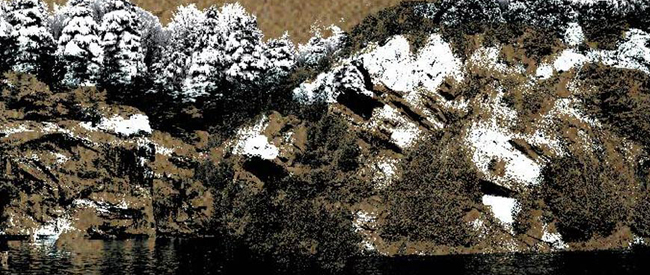 Kathryn and Stuart Immonen's journey into the heart of a failed writer's battle with depression will leave you feeling breathless and exposed. A beautifully crafted tale steeped in raw emotion that will leave readers questioning how they define themselves in their most intimate relationships, this is a book that will haunt you long after the final page.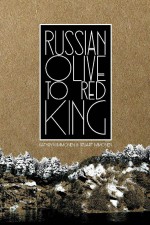 Most comic book readers know Kathryn and Stuart Immonen for their work in mainstream comics, on numerous books for both Marvel and DC. Titles such as Hellcat, Journey into Mystery, Amazing X-Men, Superman, and All New Captain America bear one or both of the Immonens' names on the cover. What many may not realize is that the couple also dedicates time to creator-owned side projects, in print and on the Web.
In 2010, Top Shelf Productions released Moving Pictures, a stirring, intellectual period piece about a curator trying to smuggle art out of Nazi-occupied Paris. One part twisted love story and one part historical thriller, the book garnered the Immonens critical praise for their deft storytelling and an innovative narrative structure that utilized two separate yet converging timelines.
Their latest foray into creator-owned territory once again delves into the tangle of threads that bind two people together as lovers and partners. Although a much quieter, more intimate book than much of their previous output, Russian Olive to Red King possesses a distinctive, rarified quality evident in its minimalist approach to both exposition and art.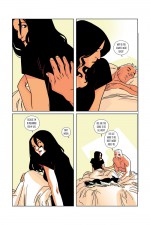 Following the divergent paths of failed writer Red, a chronic depressive who blows off his deadlines with masochistic relish, and his partner Olive, a researcher who embarks on a trip to Northern Ontario to study esoteric petroglyphs, the Immonens once again perform an exquisite balancing act interweaving separate narratives into a unified whole. Showing a remarkable restraint that only comes with maturity and trust in one's collaborator, the Immonens build their story using the bare minimum of words and brushstrokes.
The result is a stark, visually stunning masterpiece of graphic storytelling that unfolds with almost painful elegance. The creative synergy evident in this book is mesmerizing. Panoramic vistas capture perfectly the raw, snow-covered beauty, dark pines, and crushing silence of Northern Ontario. Sparse exposition allows the art to breathe and tell the story, but still manages to communicate and underline the deep emotions at the core of the  book.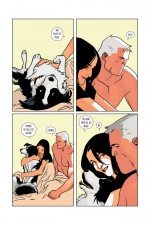 I've travelled by train through much of the same territory that Olive ventures into. There's a certain sense of imminence in the North, like the pervasive stillness before an impending avalanche. It's just so damn big and unknowable to most. Stuart captures this quiet, dangerous majesty through the textured linework and the crafty use of negative space, creating a sense of vast scale and rugged beauty.
Stuart's attention to mood and atmosphere also translates to his rendering of Red's descent into full-blown, fatalistic depression. Already a man at the end of his emotional rope, when he learns that Olive is missing, Red essentially shuts down, fearing the worse – not that Olive has died, but that she has finally left him. Deep shadows and a muted color palette underscore Red's feelings of self-loathing and impotence, and give the reader insight into his self-destructive personality.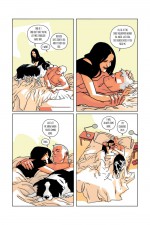 Complex emotions are portrayed effortlessly with a scarcity of lines, further illustrating Stuart's mastery of the form. Far removed from the more intricate style used in his mainstream superhero work, this is nonetheless some of the best work of Stuart's career.
Although the book's plot lacks the sprawling scope of a typical superhero epic, there is a much more satisfying brand of complexity at play in Kathryn's script, which resonates on a deep emotional level. Her ability to develop distinct, fully-realized characters in the space of a few panels invests the readers in Red and Olive almost immediately and showcases a high level of craft that's the equal of her husband.
The prose chapter that closes the book feels less like supplemental material (as in the case of a work like Watchmen) and more like a natural outgrowth of the story. It is here that we truly come to understand the circumstances that lead to Red's tortured existence. His essay unflinchingly reveals bone-deep emotional scars through what is basically a rambling, brutally transparent apology to his partner, and serves as a testament to Kathryn's fearless storytelling.
A haunting, ethereal journey through a dark landscape simmering with unresolved emotions, Russian Olive to Red King forces us to re-examine the boundaries of our own relationships and how we instinctively try to hold on to our individuality, even in the face of an unrelenting desire to lose ourselves in our partners.
Evocative and enthralling, this is easily one of the best, most accomplished books I've read this or any year.
Kathryn Immonen (W), Stuart Immonen (A) • Adhouse Books, $24.95.