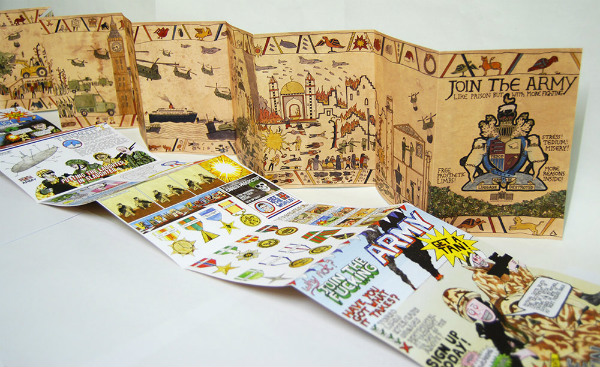 A SAFARI FESTIVAL TIE-IN!
"Keep an eye out for Darren Cullen because whether it's via the comics page or another artistic medium I suspect you will be hearing a lot more from, and about, this unique creator in the months to come…" Broken Frontier Join the Army review, 2013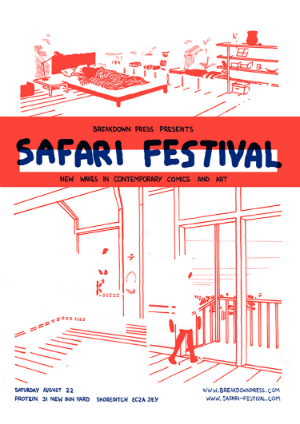 It's the second coming of Breakdown Press's Safari Festival this Saturday August 22nd and we've been joining in with this celebration of the "new waves in contemporary comics and art" over the last fortnight at Broken Frontier by shining a spotlight on the work of exhibitors who have had consistent coverage here at BF in the past.
Today we're looking at the bitingly satirical work of Darren Cullen who exhibits under the Spelling Mistakes Cost Lives name. Comics are just one area of artistic practice for Cullen whose Pocket Money Loans installation at the Atom Gallery in Finsbury Park last year, and recent Action Man: Casualties of War exhibition at Red Gallery, London, gained significant media attention. Darren Cullen's work is defiantly uncompromising in approach and fiercely perceptive in delivery. I can think of no other creator that I've covered at Broken Frontier in my 'Small Pressganged' column over the last four years to have used the comics form so effectively to challenge the establishment and provoke debate.
Although his work will be on sale at Safari on the Spelling Mistakes Cost Lives table, Cullen himself will not be there as Pocket Money Loans will be part of Banksy's Dismaland exhibition in Weston-super-Mare.
Here's some commentary pulled from previous BF coverage with links to the full reviews…
Review – Join the Army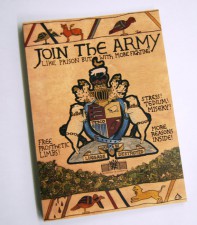 Just a quick glance at the acidic cover copy – "Join the Army. Like prison but with more fighting" – gives you an idea of the type of material you're about to immerse yourself in. Cullen has created this mock armed forces recruitment publication as a counterpoint to his perception of pro-military advertising propaganda within the media. If you think of Join the Army as a cross between the physicality of Nobrow's Leporello series of publications, the panoramic structure of Joe Sacco's recent The Great War, and the self-consciously manufactured offensiveness of British monthly Viz at its most bitingly incisive then you will be roughly on the right lines.
Read Andy Oliver's full review here…
Review – Below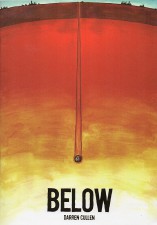 Below follows the journey of Lieutenant Frank Glass, the commander of mankind's first subterranean space station, as he undertakes a suicide mission to travel through the Earth to create a tunnel through the planet that will supposedly revolutionise global transport. As the weeks turn into months and even years, Glass's claustrophobic existence within his tiny metal pod becomes ever more surreal. Baking Battenberg cakes, using up his air supply so he can blow bubbles in the lava outside his capsule window, and experimenting on arachnids from the onboard spider abbatoir may break the tedium of his existence but as he gets closer to the centre of the Earth so too does he get nearer his inevitable demise. A fate that his superiors above are totally blasé about…
With its juxtaposition of the incongruous, the bizarre and the tragic, and its adoption of an almost slapstick nihilism, Below is a darkly witty mix of self-indulgent absurdity and poignant futility.
Read Andy Oliver's full review here…
Review – 'War on Magic' in Off Life #11

Cullen also contributed to the free street press comics anthology Off Life this year which reprinted his 'War on Magic' strip. It's a perfect example of Cullen's bitingly intelligent satire, detailing how events spiral out of control when David Copperfield makes the Twin Towers disappear and George W Bush declares a war on magic. Cullen, as ever, is uncompromising in delivery…
Read Andy Oliver's full review here…
Action Man – Battelfield Casualties
These parody advertisements, voiced by actor and comedian Matt Berry, were part of Cullen's recent Action Man: Battlefield Casualties exhibition in London. The project, in conjunction with Veterans for Peace, sought to highlight the issue of child recruitment in the armed forces in the UK (one of only 19 countries in the world to still recruit 16 and 17-year-olds into the military).
Festive cheer with a Cullen twist, the Battlefield Casualties exhibition poster and more from the War on Magic
For more on Darren Cullen visit his site here, his online store here and follow him on Twitter here.
For regular updates on all things small press follow Andy Oliver on Twitter here.