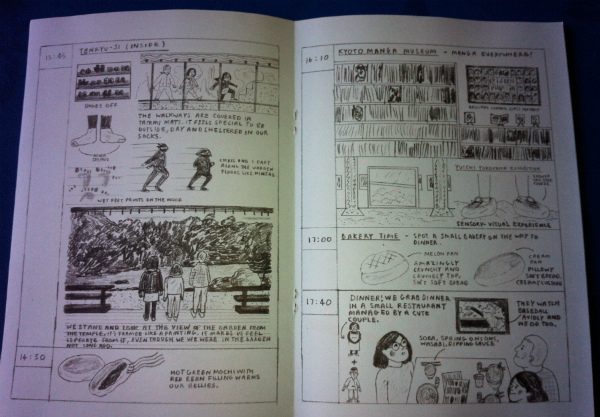 A SAFARI FESTIVAL TIE-IN!
Wai Wai Pang's rather straightforwardly titled Itinerary April 2015 is her travelogue comics account of a trip to Japan she took in the Spring of this year, with this opening issue covering the first three days of her holiday. If you're a fan of the approach of SICBA-nominated artist Moogs Kewell to this subgenre of the autobiographical strand of comics then I suspect that this will also be of great appeal.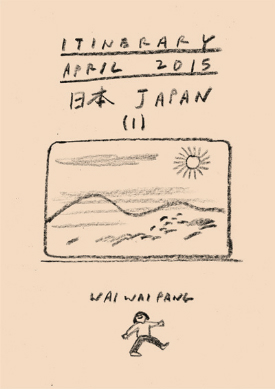 From the minutiae of her trip – and yes that does include sketches of her meals on occasion, most memorably a quail's egg stuffed into the head of a small octopus – to the grander scale sights she saw and experiences she had, all is diligently kept for posterity in the pages of this minicomic. Events are recounted in a main narrative with more informal notes and asides often added to objects or events within panels, giving a relaxed and inviting feel to the proceedings. Over the course of 20 pages we follow our traveller's adventures with friends Rachel and Chris as they enjoy the natural elegance of the Tenryu-Ji Gardens, visit the treasure trove of the Kyoto Manga Museum, and take breathtaking bike rides around Naoshima island, among other attractions.
What is particularly engaging about Itinerary April 2015 is its unrefined honesty, so noticeably encapsulated in its very functional title. It's visually presented like a diary with on-page events being meticulously placed in the context of their specific timeframes. It also has that sense of creation for creation's sake – more for the artist's benefit than being constructed with an audience in mind – which, as I've said before at Broken Frontier, gives autobio work a freedom and lack of self-consciousness that can be rewardingly open for the reader.
Work like this certainly doesn't resonate with everyone and the diary comic in any format will always have its detractors in critical circles, but I was very taken with the way Wai Wai Pang captures the awe of travel and the excitement of immersing yourself in the culture of the land you're visiting. This is never better illustrated than in the endearingly crammed details of some of the book's pages, as if the artist is determined not to leave out a single aspect of the environment she is exploring. There's something quite infectious about her enthusiasm for her travels and one can only hope we get to read about more of them sooner rather than later…
For more on the work of Wai Wai Pang visit her site here and follow her on Twitter here.
For regular updates on all things small press follow Andy Oliver on Twitter here.
Wai Wai Pang will be on the Comic Book Slumber Party table at Safari Festival on August 22nd.