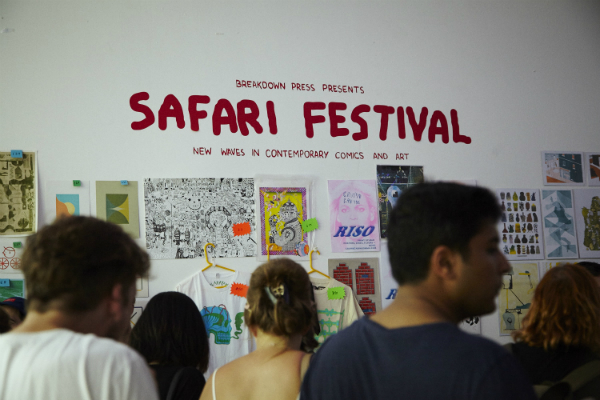 Safari Festival Fortnight has been a major piece of event coverage here at Broken Frontier over the last two years as we've sought to support Breakdown Press's celebration of new waves in contemporary comics and art. Why are we such huge fans of Safari Festival here on the site? Simply put, Safari represents exactly the type of work we want to use BF to bring to a wider audience – international work that is innovative, experimental, boundary-pushing and challenging. And work from creators who intuitively understand the form's language and unique storytelling potential.
You can find links to all our 2016 Safari Festival coverage here to get an idea of our enthusiasm for last year's event.
This year's Festival will be held on Saturday August 12th with an utterly splendid line-up of guests already announced and some unmissable satellite events. We're delighted today to be the comics site to exclusively bring you the first details of Safari Festival 2017, including a look at Anya Davidson's stunning festival poster below.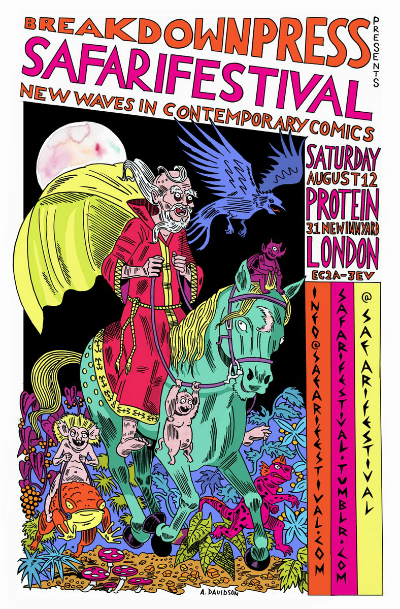 The press release follows:

Saturday, August 12th, 2017
Following on from the success of the previous three years, Safari Festival 2017 continues to champion the new wave of alternative and art comics. The 2017 line up promises to showcase the best UK-based and international cartoonists and illustrators, whose work pushes the medium of comics forward.
The 2017 line-up features American cartoonists, Anya Davidson, Charles Forsman and Lane Milburn as special guests. All three have found critical acclaim with their own self-published works as well as with releases from legendary North American publishing house, Fantagraphics. Forsman's popular graphic novel, The End of the F**king World, is currently being adapted into a television series which will debut internationally on Netflix in Autumn, 2017.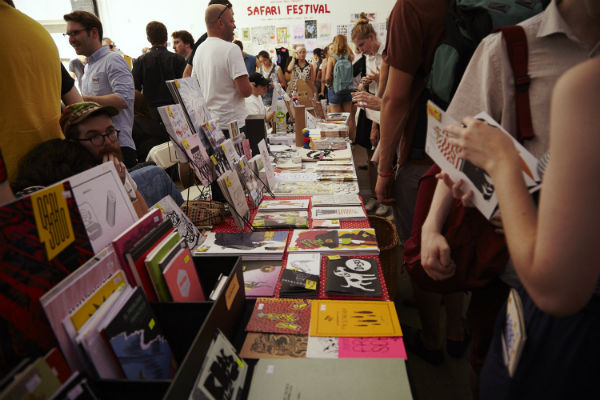 Publishers debuting new work at the show will include Decadence Comics (UK/Denmark) and Landfill Editions (UK), alongside International publishers 2dcloud (USA), Bergen Street Press (USA), Black Hook Press (Japan), Super-Structure (France) and Uncivilized Books (USA). Other guests exhibiting their own works include Laura Callaghan (Ireland), Jon Chandler (UK), Aisha Franz (Germany), Joe Kessler (UK), Roman Muradov (USA), Wai Wai Pang (UK) and many others.
Alongside these, festival organisers Breakdown Press will be debuting new graphic novels, Showtime by Antoine Cossé (France) and The Good News Bible: The Complete Deadline Strips of Shaky Kane by Shaky Kane (UK), alongside the Risograph-printed Klaus Magazine 3 by Richard Short (UK) and Berserker, an anthology of comics and writing examining the relationship between contemporary art and genre narratives, with contributions from Adham Faramawy, Joey Holder, Lando and Benjamin Marra.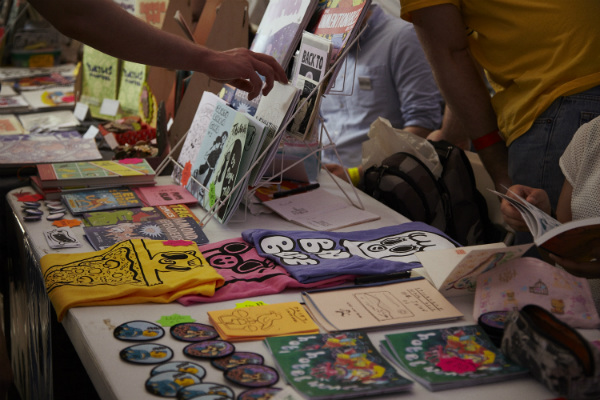 The festival will also host three satellite events over the preceding week. The first of these will be will be held at legendary Soho comic shop Gosh! on Wednesday 9th of August at 7.30pm, with Charles Forsman discussing the upcoming television adaptation of his work with director Jonathan Entwistle and writer Charlie Covell. Then, on Thursday 10th of August from 6pm at venue tbc there will be a launch event for Berserker, showcasing work from the anthology, and a live audio visual performance from Dane Sutherland and Joey Holder, "The Exegesis of Swamp Brain". On Friday 11th of August there will be a pre-party, launching the newest titles from Breakdown Press, held at Gosh! from 7pm with free drinks and the authors in attendance.
As always, the Festival, and all of its satellite events, will be free to attend. The festival itself will take place at Studio Two, the Shoreditch gallery space of creative agency Protein, on Saturday 12th August, within walking distance of Old Street, Liverpool Street and Shoreditch High Street stations. The after party will be held at the Shacklewell Arms in Dalston. DJs will provide music throughout the day and evening.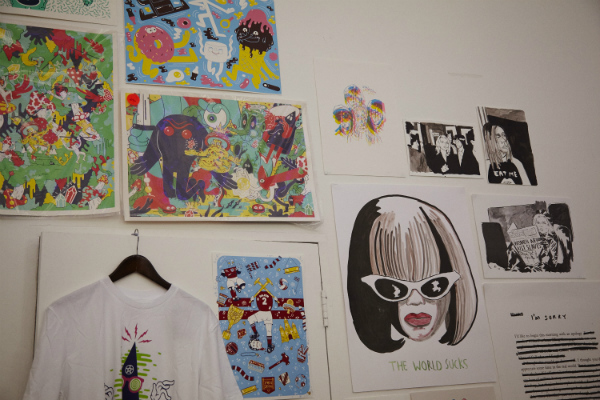 The current exhibitors list can be read below: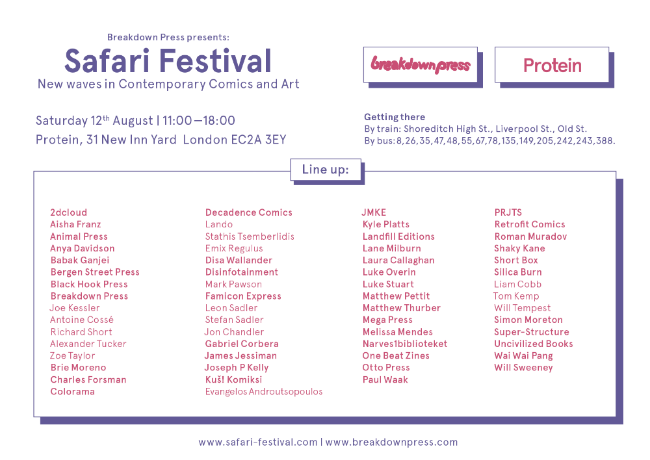 You can follow Safari Festival on Twitter here and visit the site here and the tumblr here. 
For regular updates on all things small press follow Andy Oliver on Twitter here.