Looking for a phantasmagoric, psychedelic trip into the id, ego, and all things in between? Perhaps Salome's Last Dance, a new graphic novel from acclaimed artist and printmaker Daria Tessler should be on your to-read list. This visual delight from Fantagraphics certainly lives up to its promise to 'frisk your noodle, turn it inside out and shake all of your problems away'.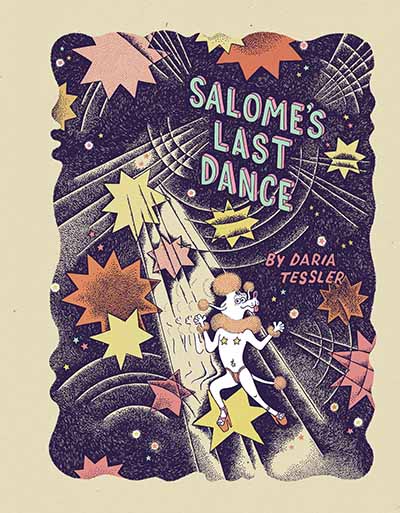 The story begins with a poster (a recurring narrative technique) inviting the reader to see 'Dr Silkini', a man who can solve all your problems. Outwardly at least, his client, the Astounding Magnus, has it all, with his enchanting dancing dog act Salome and her 'Serpentine Dance of the Seven Veils', which is a huge triumph. And yet, his rip-roaring success is getting him down. His life feels unfulfilled. Enter Silkini, with a guarantee to 'guide [him] to the pearly gates of full life satisfaction'. So far so good! However, Silkini's other promise to 'massage [his] id into a higher dimension' is a little more sinister… For context, in psychoanalytic theory, the id is part of Freud's model of the unconscious mind. It represents a person's instincts, their immediate urges, needs and desires. A part of one's brain that you certainly wouldn't want to fall into the wrong hands…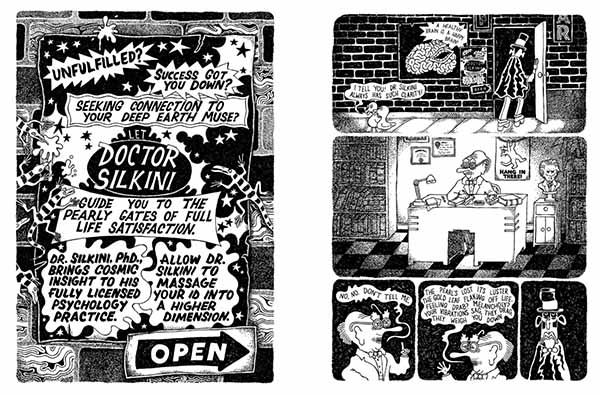 We're next transported to the Feedbag Cocktail Lounge where Silkini and his assistant have gone incognito to nab the secret to 'The Astounding Magnus's' main act, our titular character Salome. Turns out Silkini's promise wasn't that honest! With a clickity clack of her boots, here enters Salome the dog, complete with a top hat, cane, bowtie, and a heck of a stage presence! Salome's act is full of magical, transformative illusions and literary allusions – the incorporation of the text from O'Shaughnessy's poem about the biblical character Salome was expertly weaved amongst the pen and ink illustrations. O'Shaughnessy rhapsodises about Salome's biblical counterpart, who enchanted men with her dancing, as the text floats and hovers around the engaging Salome.
The visual triumphs continue as Salome entrances her audience, with stars dressed as can-can-dancing cabaret dancers, waltzing around a Penrose staircase (a clever optical illusion, and one of many throughout this mesmerising graphic novella). The act doesn't remain sweet for long, however – is that a dismembered body Salome is holding?! Our spies seem to think so, and take this as a threat, deciding to 'get' Salome before Salome gets them.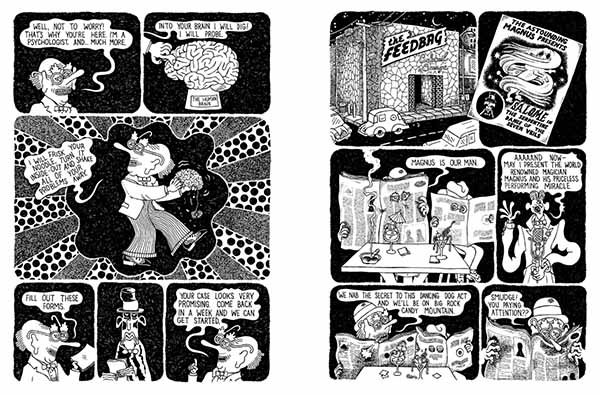 Back to Silkini and Magnus. According to Silkini, the way to cure what Magnus calls 'vortexing' (effectively spiralling into a depression) is simply to drink some tea! Except this tea is far from normal; frothing and foaming from the cup, the tea appears to be a physical manifestation of the vortexes that Magnus is mentally experiencing, with the imagery being similar to turbulent waves, but also snapping crocodiles. Also partaking in this strange elixir, Silkini and his assistant quite literally enter Magnus's mind, with onomatopoeic 'glorps' and 'gwishes' to really make the reader squirm, as they pickaxe their way into Magnus's brain. The brain itself is depicted almost like a Labyrinth, and exploring all its nooks and crannies was great fun, with new finds at every turn, including ducks, vomiting zipper bananas and fish gloves. Pay close attention to the backgrounds in these panels – the vintage style mixed media collages are stunning, as well as slightly eerie and unsettling, including clowns and nesting dolls, which almost gives a scrapbook-type effect.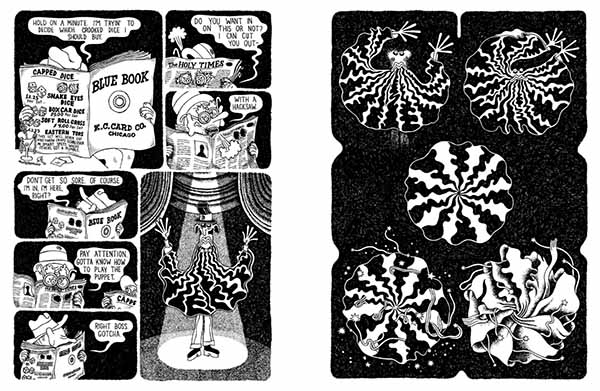 The mind-bending journey continues, with further weirdness and visual delights (including an intense dog poker game). The backgrounds particularly shine in the panels exploring the subconscious, with snapshots and optical illusions to pore over on every page. The ending was unexpected, but thoughtful and worked perfectly with the tone of illusion and metamorphosis that accompany the rest of the graphic novella. The incorporation of classic cartoon comedy like eyes visually popping out of the head was a welcome dose of nostalgia, and the allusions to literary psychoanalysts such as Freud and Jung perfectly complimented the source material.
With an innate focus on the subconscious and all of its weird wonderfulness, the compelling narrative is enough to keep readers engaged from start to finish. But accompanied by Tessler's imaginative, abstract art style involving mixed media and absurdist visuals, readers will find themselves returning again and again to Salome's Last Dance, and still finding something new.
Daria Tessler (W/A) • Fantagraphics Books, $19.99
Buy Salome's Last Dance online here
Review by Lydia Turner