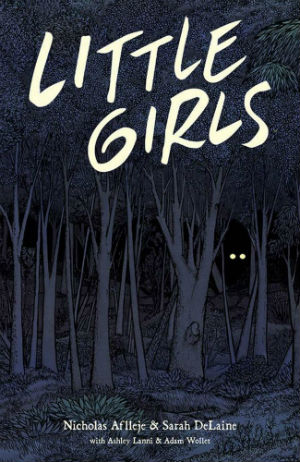 Harar, Ethiopia, the early 2000s, and Sam is struggling to fit in at her new school. Constantly uprooted due to her father's work, she makes a new friend in local girl Lielet. But with a spate of animal attacks leaving residents of their small rural town dead, the two pals soon find themselves dealing not just with the challenges of everyday school life but those of a more supernatural variety too…
Written by Nicholas Aflleje and illustrated by Sarah DeLaine, Little Girls is a story embedded in an initially recognisable reality that speaks of those shared experiences of fitting in and the injustices of the social hierarchy of the classroom. But it quickly evolves into something far tenser. At its heart are its two protagonists Sam and Lielet, whose growing friendship is our entry point into this world. Investigating the brutal events in their town without their families' knowledge, they begin to realise something otherworldly from ancient local mythology is responsible and, as the danger grows, so do the bonds of their camaraderie.
Therein lies the greatest strength of Little Girls beacuse, for all its gripping horror plot points this is really a story about the friendship of two young girls, beautifully realised by Aflleje's naturalistic dialogue and DeLaine's nuanced portrayal of the pair, especially in their body language and interactions with each other. When we made the book our 'Comic of the Week' a couple of weeks back I noted then that DeLaine's art, with its expressive honesty, makes the more chilling scenes all the more disturbing, and that her visual characterisation is excellent throughout.
That's important because this is a story that juxtaposes the recognisable and the mythic, powerfully contrasting them as the one world slowly encroaches on the other. DeLaine's depiction of landscape and environment is stunning in execution, aided by Ashley Lanni's evocative colouring but it's her portrayal of the imposing preternatural horror they encounter and its destructive actions within the animal kingdom that impresses on a whole different level. It's so unsettling precisely because its macabre and hideous aura is so at odds with an otherwise realistically realised location.
While its more violent scenes preclude a younger audience, Little Girls should both appeal to and connect with a teen readership (as well as an adult one). An impressive one-shot story that is as much a celebration of friendship as it is a story of the darkness that lurks in the shadows.
Nicholas Aflleje (W), Sarah DeLaine (A), Ashley Lanni (C), Adam Wollet (L) • Image Comics, $17.99
Review by Andy Oliver