THOUGHT BUBBLE FORTNIGHT! The third instalment in the series, Sarararara: Homecoming returns to Hicks!'s darkly comedic 1950s high school world where Archie Comics-style goofiness is warped into something altogether more bizarre. A couple of years back at Broken Frontier I looked at the first collection in the series that follows the adventures of Sarararara, an alien squirrel-like humanoid with the unfortunate habit of encasing potential boyfriends in giant cocoons.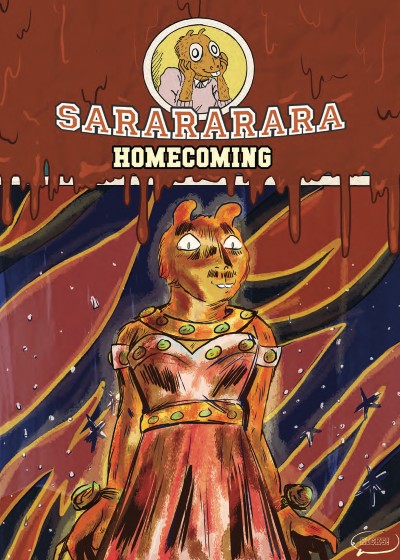 Sarararara's incongruous presence in school is the catalyst for much teen conflict. In spite of everything this strange creature has become the most popular girl in school and also leader of the pep squad, much to the chagrin of Francine the former queen bee of the school's social structure. Other lead characters include Terry who is campaigning to end segregation at the school, jock Buzz who is now romantically linked to Sarararara despite being Francine's former beau, campus favourite Slick. Greaser Brent, and Francine's sidekick Judith. Issue #3 sees the cast preparing for Homecoming with the inevitable chaos that will follow.
This time around the romantic entanglements get ever more involved, Brent tries to get the goods on Sarararara, Buzz has to deal with his alien pregnancy, Francine becomes ever more obsessed with her nemesis and, finally, the truth behind Sarararara's placement on Earth is revealed…
Hicks! retains the previously established pattern of one-page gag strips feeding into an overarching narrative but here, more than in previous issues, we're aware of the build-up and convergence of multiple plot lines as the Sarararara series concludes with a mix of schlock sci-fi, outrageous sex comedy, and Fifties paranoia. It's a climactic finale in more than one way, with individual character arcs coming to an end while also feeding into that epic denouement.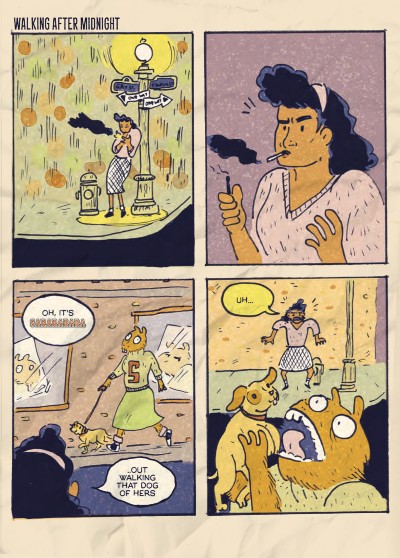 Hicks!'s visuals are uncomplicated but expressive, capturing the essence of the classic humour strips they take their inspiration from while injecting them with something altogether more saucy. In fact Homecoming reads like Carry on Archie by way of Flesh Gordon. If you're looking for something with a humorous kick and a wickedly knowing line in parody this weekend then make sure you visit Hicks! at Table 86 in the ComiXology Originals Hall at Thought Bubble.
Hicks!, David Robertson, Nat Walpole (W/A) • Self-published
Buy Hicks!'s comics online here
Review by Andy Oliver