Press Release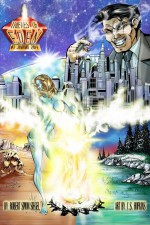 Robert Simon Siegel announces the launch of the Thieves of Eden graphic novel at http://www.thievesofeden.com.
THIEVES of EDEN is a quantum thriller to SAVE REALITY! This high concept story exploded into comic life when artist Chris Hopkins met SCI-FI writer Robert Simon Siegel. Issue #1 is now available at the website, where readers can also see a free teaser and subscribe to this exciting new series.
With eye-popping art, the story unveils a "who done it mystery" that connects new sciences like bio-physics (how human energy fields operate as cellphones) and rare knowledge from Siegel's personal trainings with authentic Native Medicine Men, Chinese Qigong (Energy) Masters and other amazing lineage holders of wisdom traditions.
"My goal" Siegel says, "is to usher in genuine wisdom to illuminate the treasures of different cultures, traditions and peoples from ancient to futuristic now needed to "win" THE GAME.  We ignite with humor, outrageous art, wild story twists and beautiful characters. I want people to be curious. Is THE GAME real?"
Awareness becomes action that unites people and purpose as four characters meet and discover they are a game – THE GAME – for the very life of our planet. Their opponents, with a 6,000 year advantage, are about to trigger Earth's end with a final environmental death clench for their game-winning move.
To quickly stop these Enemies of Life, the four must cooperate and combine rare knowledge closely guarded by elders in their respective sacred traditions. They must connect ancient wisdom puzzles with cutting-edge science to form an unusual energy device, the source of unexplained "miracles" hidden to all but an elite few throughout history.
Who blocked this knowledge and why?
THIEVES of EDEN is a QUANTUM THRILLER about REALITY. We share this reality. It's now time to SAVE IT!
Want more information visit www.thievesofeden.com
Friend us on Facebook at https://www.facebook.com/pages/Thieves-of-Eden/154896994559721
Follow us on Twitter: https://twitter.com/thievesofeden