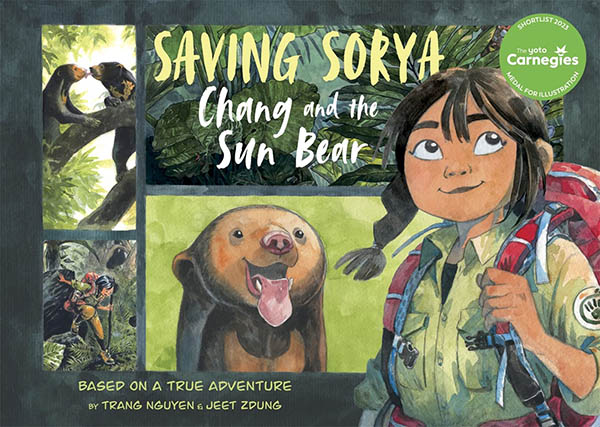 EARTH DAY WEEK! While graphic journalism, graphic biography and comics social commentary on environmental issues is both valuable and vital in communicating and dissecting the realities involved another approach is needed for the children's audience. Based on the true life experiences of wildlife conservationist and environmental activist Trang Nguyen, and illustrated by artist Jeet Zdung Saving Sorya: Chang and the Sun Bear is aimed at a younger readership, providing a story that is charming and enchanting but one that doesn't ignore the harsh truths involved.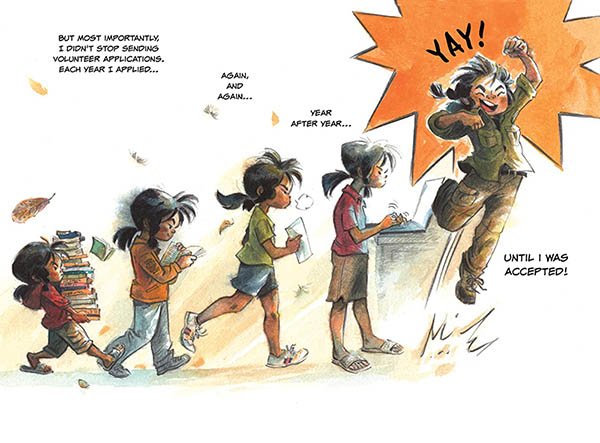 Chang is a young conservationist whose career path was influenced by witnessing animal cruelty at a young age when she observed the plight of a bear in a Vietnamese bile farm. After her studies she starts working for Free the Bears, an organisation which looks after bears liberated from the bile farms and also returns cubs back to the wild. When a young sun bear called Sorya arrives at the charity she is charged with teaching it the survival skills it needs to make it on her own. What follows is the story of Chang and Sorya's relationship, the bond they form, and the need to let go when the time is right…
Saving Sorya is presented in a hardcover landscape format meaning that artist Jeet Zdung has the opportunity to use double-page spreads to create the most stunning panoramic views of the forest environs that Sorya is slowly reintroduced to. Human characters are rendered with an exaggerated, slightly caricatured look to better convey their emotional states but exist within an otherwise detailed and realistic background. It's all thoughtfully constructed to appeal to younger readers with sequential, panel-to-panel storytelling opening up into stunning single images showcasing the beauty of nature, and occasional sidesteps into scrapbook-style "facts and figures" sections giving extra information to the audience.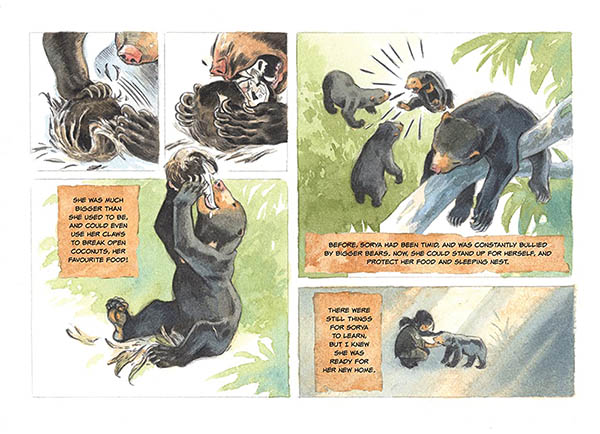 While never particularly graphic in its depictions Saving Sorya does not compromise in discussing subjects like industrial animal cruelty or poaching. This is, of course, as it should be because kids need to understand the wider issues involved to fully appreciate what Chang's work encompasses and the reasons for it. A truly gorgeously illustrated book with an important message, Saving Sorya: Chang and the Sun Bear is an excellent resource for younger readers looking to discover more about the responsibilities we have to the environment we interact with.
Trang Nguyen (W), Jeet Zdung (A) • Macmillan Children's Books, £14.99
Review by Andy Oliver