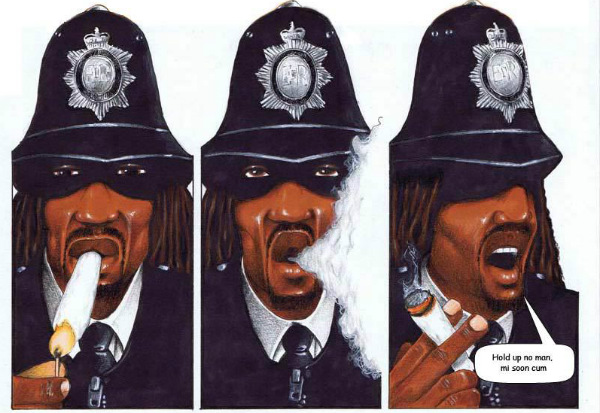 From London comics publisher Knockabout, this full length crime thriller/farce is the latest incarnation of a character first born to his creators Bobby Joseph and Joe Samuels in their '90s alternative comic Skank Magazine. Skank was credited as the first UK comic featuring work by and for a black audience, and has also been referred to as the black Viz.
Skank and its successor Black Eye played with stereotypes familiar to residents of South London then and now (sometimes to great controversy at the time) and Scotland Yardie revisits similar territory. It's set in Brixton and stars the eponymous gun-toting, skank smoking Jamaican import – brought in to inspire ethnic minorities to join the Metropolitan Police Force and to generally bruk up crime – and his reluctant partner PC Ackee-Saltfish. Together the pair take on standard police tasks from mollycoddling shoplifters, failing to prosecute domestic abusers and, of course, uncovering dastardly villains bearing uncanny resemblances to certain HBO characters.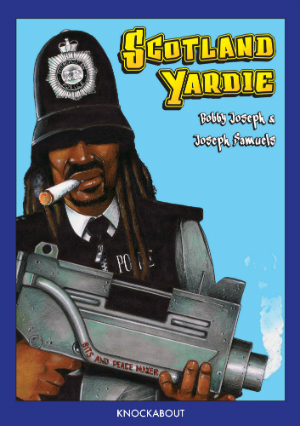 On signing up to review Scotland Yardie I was aware that there was a chance that some things would go over my head. As a white woman, and a relatively (compared to the rest of the BF roster) poorly read comics fan, I was prepared to miss a few nuances. But the cultural references in this comic fall harder and faster than the jokes in Airplane. The background sign gag game is on a par with golden age The Simpsons, everything is fair game and virtually every background character is a celebrity cameo.
References both broad and obscure – I assume many more than those I picked up on – riff on South London black culture sure, but also on all manner of police drama (behind the action, Broadchurch arrests Doctor Who, Luther arrests Stringer Bell, classic Starsky and Hutch arrest Snoop Dogg from the remake), action movies, science fiction, music, reality TV and more. Luckily I was able to verify some of these cultural references because most of the reference images Samuels used were from the first page of Google image results. And while the proportions and backgrounds are decidedly all over the place, the faces are brilliantly drawn throughout.
I want to stress that it is definitely my ignorance, not Samuels' skill, that makes me miss half of the nods. The background figures are sometimes more prominent than the protagonists, commenting or interacting with the narrative or often just standing there. Everything is done with an acre of tongue-in-cheek. At one point (I'm pretty sure) the Jackson 5 lounge on a bar in a West Indian takeaway and say "Don't you hate it when people randomly stand in the background for no apparent reason!" And where much of the satire is blunt and brick-like in its impact, there is a lot of blink-and-you'll-miss-it subtlety in there too.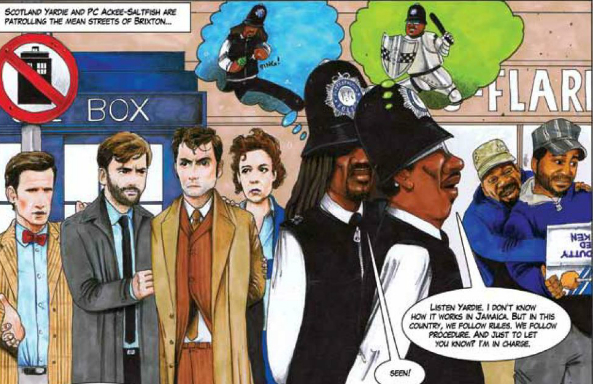 The twists and turns of the plot are pretty heavily signposted, but this does not reduce the pleasure in watching them play out. The acrobatic double takes and double bluffs this creative duo manage on their own jokes keeps the pace energetic and the tension high, not so much as to see who dunnit or how they will be caught, as to see which conventions of comics, cinema and politics Joseph and Samuels will subvert next to get there. In addressing the bullet-heavy tropes of crime films both here and across the pond with a joyful mix of overstated realism and silliness, Scotland Yardie pulls out an increasingly massive arsenal of weaponry but the villains keep on magically surviving. During shootout scenes the whole page becomes pock-marked with bullet holes and the obligatory bad guy comeback scene is footnoted *obligatory bad guy comeback scene*.
*obligatory soundbitey summary: Scotland Yardie is a gag-filled contemporary satire with lashings of novelty police brutality, celebrity cameos and really good fried chicken. Recommended.
Bobby Joseph (W), Joseph Samuels (A) • Knockabout Comics, £10.99