Press release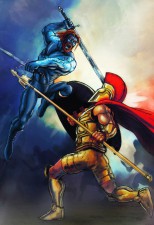 This Sunday sees the launch of the groundbreaking new graphic novel, Saltire – Invasion, at the Dundee Literary Festival at Dundee University.
The first in a series centring round Scotland's first comic book superhero, the dark and gritty world of the main character is a pseudo-history of the country and its mythology. Set entirely in the landscape of Scotland during pivotal moments from the past the novel will be familiar to those who enjoy the rich legends and traditions of Scotland.
Creator John Ferguson said, "I'm looking forward to the launch and really believe that Saltire will grow in Scotland to rival the wonderful superhero franchises from across the Atlantic. The reaction from the public and professionals within the comic book genre has been fantastic so far and to get the opportunity to introduce the finished book at the Literary Festival is tremendous."
Describing his creation Ferguson continues "Saltire is an immortal being created thousands of years ago to protect Scotland and its people. He's big, he's blue and he's ginger. He has Scottish values but he's a traditional comic book superhero with a variety of super villains to contend with as the story progresses, a Scottish competitor to Batman and Spiderman if you like."
Using an artistic team discovered through a competition at Duncan of Jordanstone Art College in Dundee the book has taken six months to illustrate and anticipation is high to see the finished results as the book goes on sale through shops next week.
The book tells the story of the legendary Ninth Legion and its attempts to expand the Roman Empire to the north, to the land of Saltire.
Saltire – Invasion.
Full Colour Graphic Novel by John Ferguson.  Art by Gary Welsh & Tone Julskjaer. Cover by Jim Devlin. Published by Diamondsteel Comics Ltd.                                                                                                                                    
When a peaceful land is faced with the might of all conquering Rome, its legendary guardians must stand as one or kneel before an oppressive empire. As the sun rises, the immortal protector awakens to face the ultimate battle for freedom.
The creator and artists behind Saltire will be in attendance at the launch of Saltire – Invasion at the Dundee Comics Day as part of the Dundee Literary Festival at Dundee University this Sunday 27th October.
Facebook: https://www.facebook.com/saltirecomics
Website: http://www.diamondsteelcomics.com
Email:  info@diamondsteelcomics.com