Breakdown Press – those fine purveyors of the alternative, the cutting edge and the forgotten classics – have two new books debuting in November. We have the press releases and previews of Lala Albert's Seasonal Shift and Ebisu Yoshikazu's The Pits of Hell for your consideration below. Don't forget you can visit the Breakdown Press store online here.
The Pits of Hell
by Ebisu Yoshikazu
Translated & with an essay by Ryan Holmberg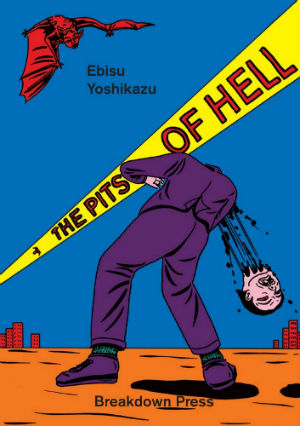 Essays by Minami Shinbō & Ebisu Yoshikazu
Ebisu Yoshikazu: Television star, father of three, professional gambler, writer, cartoonist, pioneer.
'wonderfully detailed and realistic recreations of nightmares' – Minami Shinbō
Published 5th November 2019 by Breakdown Press
978-1-911081-08-1   *   £14.99   *   p/b   *   200 pages   *   21 x 14.8 cm
'Ebisu Yoshikazu's comics are familiar in a strange way. You'd realize why yourself soon enough, but it's because these comics are exactly like what we all see every night…'
A teacher tortured by his students finally explodes in a violent rage. Exhausted Salarymen are pushed beyond the brink. Blood, sweat and screams of 'FUCK YOU!' pour out of the characters within The Pits of Hell, and yet a sense of humour always shines through.
Since his debut in the legendary alt-manga magazine Garo in 1973, Ebisu has been spinning out surreal nightmares that combine the edgiest styles of Tokyo's artistic counterculture with the absurd and infuriating realities of work and life in the big city. A cult classic upon its publication in 1981, The Pits of Hell offers nine stories that established Ebisu as one of the leading figures of the ugly-but-amazing 'heta-uma' movement, the Japanese equivalent of punk and new wave. If you've ever wanted to sabotage a lecture about the Mughal Empire, control race boats through telekinesis, or rip your boss's head off with a crowbar, this is the book for you.
Angry, awkwardly drawn, and funny – the stories explode with personal, playful and expressionistic creativity.
The Pits of Hell collects nine classic stories by Ebisu Yoshikazu, originally published between 1969 and 1981. The collection features a foreword by Minami Shinbō and an essay by Ryan Holmberg placing Ebisu Yoshikazu and his work into context. Also included is a retrospective essay by Ebisu Yoshikazu.
Ebisu Yoshikazu (b. 1947) is a Japanese comics author and actor. As a child, he drew manga influenced by Osamu Tezuka and Mitsuteru Yokoyama. He later discovered the emerging gekiga ('dramatic pictures') style. Ebisu Yoshikazu's work first appeared in Garo in 1973, at the tail end of underground manga's first golden age, and his darkly menacing, surreal comedies have been a mainstay ever since. He was included in Blast Books 2018 anthology Comics Underground Japan. More recently, he has become more widely known as a television star. In 2016 starred in the film Ninkyo Yaro ('Heroism Guy'); he voices characters in anime series Bananya and Magical Girl.
'One of the best and toughest artists/story-tellers produced in the latter half of the twentieth century in Japan and in the world of comics' – Hilobrow
 'Ebisu Yoshikazu's comics are wonderfully detailed and realistic recreations of nightmares. And as is always the case with dreams, the line between the real and unreal gets confused along the way.' – Minami Shinbō
Seasonal Shift Comics 2013-209
by Lala Albert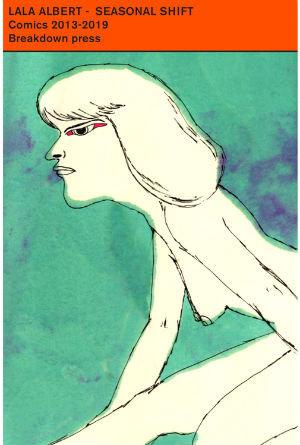 An anthology collecting the works of Brooklyn-based comic artist Lala Albert.
'spins a realm of manic enlightenment and viscous physicality' – The Editorial Magazine
Published 5th November 2019 by Breakdown Press
978-1-911081-09-8  *   £19.99   *   p/b   *   256 pages   *   21 x 14 cm
'I think of myself more as a realist making work about what I see and what I think could happen. … It's always a dystopia somewhere.'
Frequently dealing in sci-fi, erotica and the intersection between the two, Lala's comics are an expression of her 'corporeal ambivalence', feeling at odds with her body. Indeed, her characters seem liquid and often lack solidity of line, endlessly morphing into new shapes and blurring into the landscapes in which they exist. The way we show ourselves to the world and the masks we wear are recurring themes in Lala's work. Depicting vulnerability, touch and tender moments of contact between characters injects a sense of realism to Lala's otherworldly imagery.
Collecting Lala Albert's work together  for  the  first  time,  Seasonal  Shift  kicks  off  with  an  interview  of Lala Albert by artist and journalist Michael DeForge. Also included within are previously published comics 'R.A.T.', 'Janus' and 'Wet Earth', plus seven other stories created between 2013 and 2019. Ethereal, unsettling and intimate, these genre-hopping examinations of identity and nature demonstrate that Albert is a master of the formally-inventive contemporary comic.
This book is part of the Library of Contemporary Comics, a series of publications collecting shorter works by the best cartoonists currently working in the medium.
Lala Albert is a Brooklyn-based artist and comic writer. Her longer works have been published by Breakdown Press, Kuš! and Sonatina, and her short comics have been included on Vice.com and in anthologies released by Landfill Editions, Megapress, Retrofit and others. She has exhibited at Harpy Contemporary Art Gallery and beenpraised by Dash Shaw, The Comics Journal, Hyperallergic, Vice, The Beat and more. www.plslala.com
"Reading Seasonal Shift is like holding a rare insect in your mouth, its dry wings beating against your tongue and the walls of your cheek, and imagining – in the moments before your teeth come together – all the different ways that it could taste" –Gretchen Felker-Martin
'gorgeous aesthetics and innovative design' – Floating World Comics
'I appreciate Lala's work a lot . . . particularly the way she draws women, untraditional renderings that free them from the trappings of conventional attractiveness and associations so they're almost alien in nature. The main reason I like Lala's comics are that they push me – they're smart and different and I don't always understand them, but never obfuscating for the sake of it.' – Zainab Akhtar
'straddles the line between being elegant and stirringly frightening' – Heidi MacDonald, The Beat