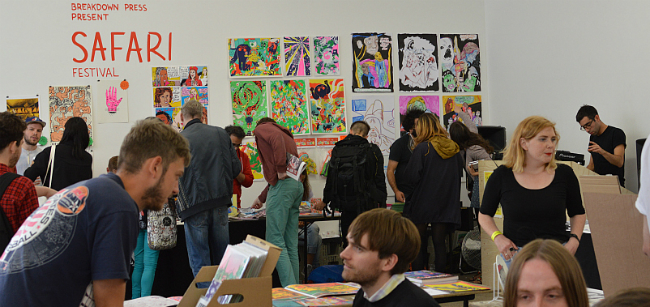 It was billed as "a celebration of the new wave of alternative and art comics from the UK and beyond" and last weekend's Safari Festival in London's Shoreditch most assuredly lived up to that bold statement of intent. UK micropublisher Breakdown Press's curated event put together around thirty exhibitors who were carefully selected for their "innovative, fearless, [and] diverse approaches to making comics."
For myself, the big draw of Safari was the opportunity it provided for investigating not just creators that I rarely get to see at London shows but also to encounter a number of comics practitioners whose work I was largely unfamiliar with. If I had to try and summarise the vibe of the festival in a handy soundbite I would probably say that, in terms of the type of work on display, it occupied a happy middle ground between the boundary pushing graphic design on show at ELCAF and the democratic philosophies of the DIY Cultures fair.
From artists whose work I've covered in the past in 'Small Pressganged' to those I was getting the chance to meet for the first time, I picked up a number of intriguing publications that I will be hoping to cover in this column in the coming weeks. They included a whole host of minicomics from Jazz Dad Books, some great looking zines from Eleni Kalorkoti and Matthew Swan, new work from Esther McManus & Adam Ferner as well as Darren Cullen, and of course those freshly launched books from Breakdown Press – Antoine Cossè's Mutiny Bay, Lando's Gardens of Glass and Joe Kessler's Escape to the Unfinished.
We can only hope this is just the first of a new annual tradition because not only was it another very successful day of comics but – as I keep repeating at the moment in various Broken Frontier pieces – it was also a great day of comics community. It's telling that over the two days of Safari activities there were at least three other significant comics-related happenings that I knew of in London, highlighting how spoilt we are at the moment for sequential art-based beanos in our capital city. And while I understand the constant refrain that it's a shame so many of these events clash I would actually argue that it's a glorious state of affairs that there is just so much choice for fans of the medium at the moment!
All photographs from Safari Festival included in this column are courtesy, once again, of Dean Simons who also kindly shared his pictures from the Comica Festival with us here in August. With the likes of Babak Ganjei, Donya Todd, Decadence Comics, Grace Wilson, Landfill Editions, Sina Sparrow, Comic Book Slumber Party, Ditto Press and so many others in attendance, the day was a stunning reflection of the exciting work currently on offer via the UK's altcomics scene.
Comics zines from Jazz Dad Books (left) and (right) Lando from Decadence Comics whose Gardens of Glass was published by Breakdown Press this week
Comic Book Slumber Party's Hannah Chapman (left) and Eleni Kalorkoti – cover artist for Avery Hill's Reads anthology – (right)
Darren Cullen (left) whose Join the Army was reviewed here at BF last year and Breakdown's Simon Hacking at their table
For regular updates on all things small press follow Andy Oliver on Twitter here.