It's almost Wednesday, and you know what that means: a fresh load of comics and graphic novels! With so many publications hitting your local comics store or digital storefront, BF is here to lead you through the woods. These are the books that need to be on your pull list this week.
Comic of the Week
The Death-Defying Doctor Mirage #1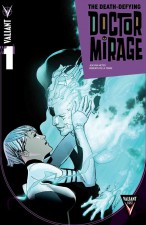 One of Valiant's more obscure titles from the nineties, The Second Life of Doctor Mirage was a Bob Layton co-creation that chronicled the adventures of married paranormal investigators Hwen and Carmen Fong as they tried to reconcile their profession with their relationship, while staying one step ahead of "necromantic" big bad Master Darque. Complicating matters was Hwen's transformation into a corporeal necromantic being of immense power in his own right.
The original run only lasted sixteen issues but there was enough there for Valiant to revisit and retool the property for a more sophisticated, 21st century audience. Under the guidance of Jen Van Meter (Hopeless Savages, Black Cat) and Roberto De La Torre (Daredevil, Shadowman), the new Death-Defying Doctor Mirage is the world's foremost medium and paranormal investigator.
Haunted by the death of her husband and partner Hwen, who she's never been able to contact in the afterlife, Shan accepts a job she believes will finally lead her to him. Featuring Van Meter's sharp dialogue and spot-on character development and de la Torre's gritty, atmospheric visuals, it seems Valiant has another solid book on their hands.
Jen Van Meter (W), Roberto De La Torre (A) • Valiant Entertainment, $3.99.

– Jason Wilkins
God Hates Astronauts #1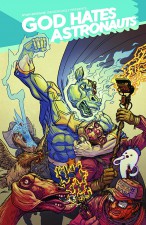 Body of man, face of ghost cow … on fire! Welcome to the world of Ryan Browne's God Hates Astronauts where owls rob banks, bears are excellent boxers and extra marital affairs are more important than saving the world.
Ryan Browne is the artistic genius behind the first God Hates Astronauts series – also collected from Image – and I suspect many comics readers heads exploded as they read the dysfunctional, violent, narcissistic and obnoxious exploits of a group of super-people. Browne's only rule of writing is 'whatever weird thing is happening, all characters must always be superserious'. This new series includes such highlights as a Chicago cop with robot arms, magic bears and lunatic farmers launching themselves all over the galaxy. Please just take me with you, lunatic farmers. I love you (or maybe my love is focused on Ryan Browne, I'm still very confused about my feelings for GHA).
Being the official replacement artist for superstar writer Jonathan Hickman's The Manhattan Projects, I sincerely hope that Ryan Browne's status in the comic book community has been upgraded so that this new GHA miniseries goes more viral than the ALS bucket craze. Because more God Hates Astronauts is exactly what humanity deserves!
Ryan Browne (W/A) • Image Comics, $3.50
– Bart Croonenborghs

Gardens of Glass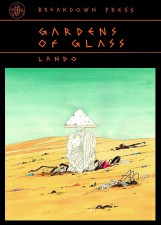 For over a decade the Decadence Comics collective – under the guidance of co-founders Lando and Stathis Tsemberledis – have been bringing us their own singular brand of stylised science fiction anthologies. Decadence, as a series, is never afraid to embrace its European comics and manga influences, and appeals to traditional comics aficionados and the zine end of the self-publishing scene alike.
Gardens of Glass – which alongside Antoine Cossé's Mutiny Bay represents the first longer-form publications from critically acclaimed UK micro-publisher Breakdown Press – collects a number of Lando's short stories from the last five years of Decadence. These largely silent, dystopic, future fables are complemented by painstakingly intricate artwork that brings haunting life to this post-civilisation landscape.
It's a tired old cliché from the reviewer's standard repertoire of trite sayings but I'm going to recycle it anyway and exclaim that for those unfamiliar with Lando this really is an ideal entry point to his work. It's also further evidence of the growing presence of Breakdown who – in terms of innovative, boundary-pushing uses of the medium – are fast becoming one of the most important and vital players on the current British publishing scene.
Lando (W/A) • Breakdown Press, £14.99
– Andy Oliver
Void HC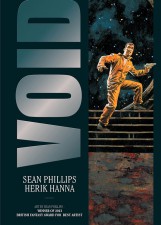 Whoever remembers 7 Psychopaths knows that every once in a while, Sean Phillips dabbles in the Eurocomics pond. So is the case with Void, originally released in France in 2012 and now translated to English by Titan Comics. Void is a done-in-one science fiction thriller about a man called John who is stuck on an outer-space prison. To make matters worse, there's a mad Colonel on his trail, the same person responsible for massacring all of his fellow inmates. Can John survive or will he perish millions of miles away from home?
For everyone who wishes Sean Phillips would draw something else than noir stories, this is your chance. Check out Void's teaser trailer and participate in our contest for your chance to win a copy of this 48-page hardcover.
Herik Hanna (W), Sean Phillips (A) • Titan Comics $9.99
– Frederik Hautain
Death of Wolverine #1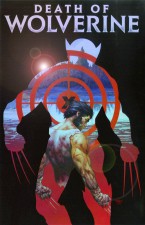 Since his first appearance in the pages of The Incredible Hulk in the 1970s, James Howlett, aka Logan, aka the Wolverine has become one of the premier superheroes not only of the Marvel Universe, but the genre in general. His gritty anti-heroism, tragic past, and tortured soul made him a fascinating and enthralling character, while his adamantium skeleton, distinctive claws, and unparalleled healing factor made him the perfect epicentre for violent, no-holds-barred action. And now, that's all coming to an end.
For the past three months, Wolverine has been battling his archenemy Sabretooth, during the course of which he has lost his incredible healing ability. His skeleton may be indestructible, but the man no longer is, and in this four part weekly series, writer Charles Soule and artist Steve McNiven are taking the Wolverine to the one place he – and readers – never thought he could go: death.
When speaking about this event, Soule has very pointedly stated that Logan is not due to return from this adventure, clearly addressing concerns of a "Death of Superman" style publicity stunt. And though in the world of superheroes nothing is permanent, Soule and McNiven's book is treating this as the final phase of Logan's journey. How Wolverine dies, as well as the impact his death will have on the rest of the Marvel Universe, and Soule's genuine approach to this book firmly places Death of Wolverine as one of the most exciting superhero events in recent memory.
Charles Soule (W), Steve McNiven (A) • Marvel Comics, $4.99
– Reid Vanier
Lose #6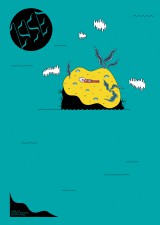 There are few days as eagerly awaited in the alt-comics calendar as the launch of a new issue of Lose, the sort-of-annual print comic from Michael DeForge. The prolific Canadian cartoonist is hailed widely as the emerging successor to the likes of Dan Clowes and Chris Ware as the leading light in alternative comics. A look at the 2013 Ignatz Awards highlights where he is at the moment: DeForge won Outstanding Artist, Outstanding Series (for Lose) and Outstanding Anthology or Collection (for Very Casual).
Few details have been released about what's going to be in the 56-page issue, but it's likely to provide the familiar blend of the horrible and the humorous, delivered in a malleable art style that similarly walks a tightrope between the cute and the grotesque. Like the best cartoonists, DeForge uses the comics form to create his own immersive, unmistakable universe. If you've never been exposed to his work before, this is the perfect opportunity to pick up one of the most significant cartoonists working today.
Michael DeForge (W/A) • Koyama Press, $8.00
– Tom Murphy
The Names #1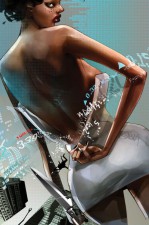 It was only a matter of time before the anti-capitalist sentiment reached mainstream comics. Previously only criticised in Black Mask's Occupy Comics mini, High Finance won't know what's hit them when it runs into Katya Walker, a young girl bent on finding out the truth behind her banker husband's so-called suicide.
The Names is Peter Milligan's first Vertigo project since giving John Constantine away to the dark pits of the DC Universe and has him teaming with Leandro Fernandez, best known for his extended run with Garth Ennis on Punisher for Marvel's MAX imprint. Both Milligan and Fernandez know what makes mature reader comics, so this mini should be fine Vertigo fare.
Peter Milligan (W), Leandro Fernandez (A) • DC Comics/Vertigo, $2.99
– Frederik Hautain
Southern Bastards #4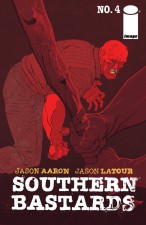 The first story arc comes to a shocking and abrupt end as Earl Tubb, after returning to his hometown after 40 years away, finally comes face to face Coach Boss. It was a confrontation we knew was coming, but the outcome isn't at all what we had come to expect.
For those who wisely listed to writer Jason Aaron's comments about the series, they would have head him say that we wouldn't really know what this series was about until we got to the end of issue #4, that the first story arc was basically the pilot episode for this series. Well, the last page of this issue makes that point abundantly clear, and the epilogue gives just enough of a hint as to what to expect for the rest of this series.
If you haven't been reading this series up until this point, now would be a great time to get with the program.
Jason Aaron (W), Jason Latour (A) • Image Comics, $3.50
– Tyler Chin-Tanner
Jaybird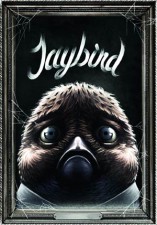 This adult fairytale is beautifully illustrated with rich painted panels, but is also heartrendingly melancholy in it's simple, sorrowful story of a little scared Jay who lives in a big house with his mother, large portraits and boarded up windows. It's Disney meets Kafka in a story of fear and isolation.
Jaybird might be curious about the world outside, but if his mother has anything to say about it he'll never get the chance to find out what's outside. Lauri Ahonen's gorgeous artwork makes this book mesmerising, especially powerful seeing as it's a fairly short story that's nearly silent but for a few conversations between the mournful Jaybird and his infirm mother.
Jaakko Ahonen (W), Lauri Ahonen (A) • Dark Horse, $19.99
– Conori Bell-Bhuiyan

Moon Knight #7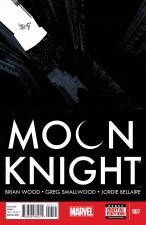 Starting its second story arc with a new creative team and a blackout across New York, Moon Knight #7 will challenge our new favorite nocturnal insane detective with a new and dangerous adversary. Writer Brian Wood (DMZ, X-Men) and artist Gregg Smallwood (Dream Thief) start a bold new chapter and offer some answers to the questions raised since the first issue.
Carrying on from the well-deserved success of Ellis and Shalvey is no easy task, and while I'm certain fans of this exceptional reboot will give issue #7 a chance, Wood and Smallwood have big shoes to fill. And I think we're in for a treat.
Brian Wood (W), Greg Smallwood (A) • Marvel Comics, $3.99
– Karen O'Brien