Provocative and disturbing, this stylish dark fantasy by Peter Milligan and Leandro Fernandez creates its own erotically charged mythology, scouring away the polished veneer of appropriate behaviour adorning intimate human relations.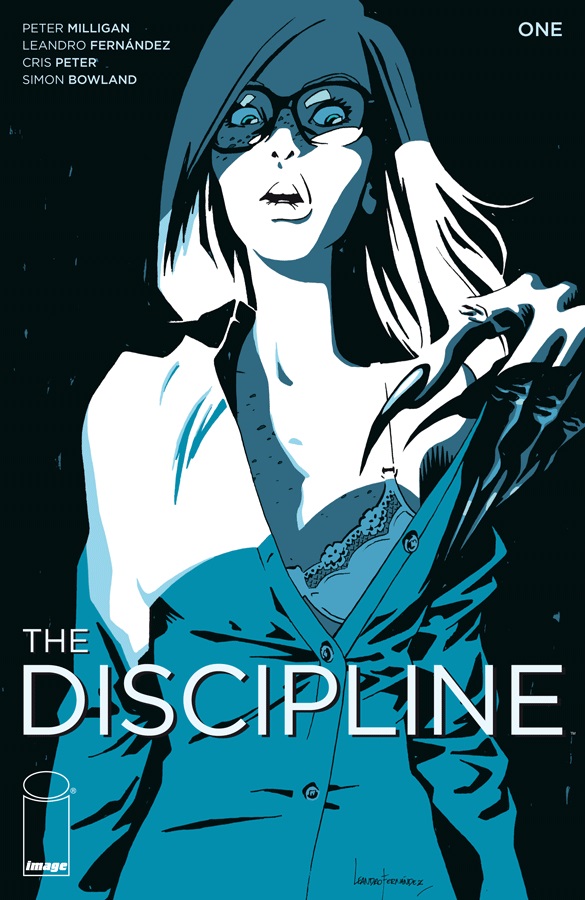 The human race considers itself to be a pretty sophisticated bunch. We express ourselves through artistic endeavour, push the boundaries of our knowledge through scientific exploration, and seek spiritual renewal through countless belief systems.
And yet, in many parts of the world, sex remains a taboo subject.
In their latest collaboration, Peter Milligan (Greek Street) and Leandro Fernandez (The Names) explore the transformative power of human sexuality through the journey of a young trophy wife named Melissa. Married to a disinterested husband and constantly struggling to justify her affluent lifestyle to her working-class family, Melissa is desperate for an escape from an existence she feels is unfulfilling.
Enter suave Euro-stallion Orlando, a mysterious stranger encountered in an art gallery, who just happens to know all about her favourite painting. Orlando makes his intentions very clear during this first brief dalliance, dictating the time and place of their next meeting.
What transpires is a phantasmagoric unveiling of the Discipline, a world Melissa could never have imagined even in her most secret fantasies, where sex isn't just about pleasure (or reproduction, for that matter), but rather holds the key to effecting dramatic change in oneself and one's surroundings.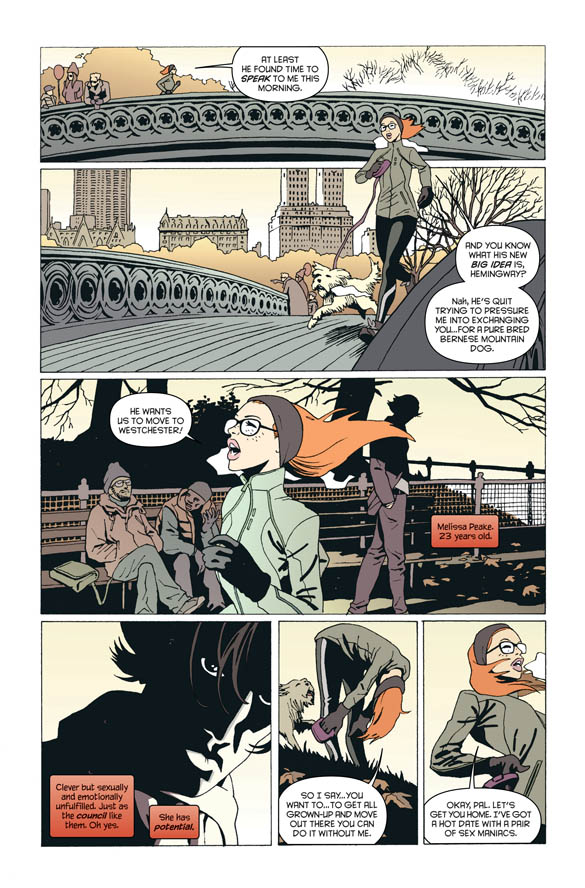 Milligan is no stranger to provocative subject matter, as far back as series such as Enigma and The Extremist. In Greek Street, his modern retelling of the classic Greek tragedy of Oedipus, his treatment of sex – incest, in particular – displayed a maturity and nuance absent throughout much of comics' history.
This trend continues in The Discipline. Here, sexuality isn't just an escape from a humdrum existence but a vehicle for true physical and emotional metamorphosis. Melissa's is a journey that must be made willingly, however. Orlando refuses to rush her initiation into his supernatural world of ritualized sex, despite pressure from his otherworldly masters on the enigmatic Council.
There are hidden depths in each of Milligan's protagonists. Melissa is more than just a bored, nubile trophy wife. And, despite appearances, Orlando hasn't leapt off the cover of a trashy romance novel to sweep her off her feet.
Each character possesses layers lurking beneath the cultivated veneers they present to the world. Melissa comes from a working-class family that shuns her because she managed to escape the rat race. Orlando hides a past steeped in tragic romance and lost love.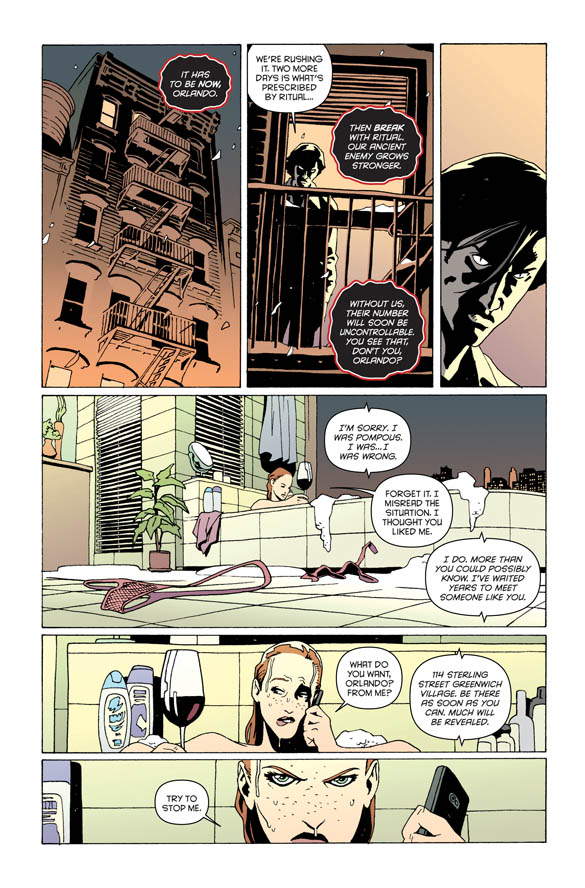 Although they initially seem built to inhabit typical, even tired character roles, Milligan deftly adds complexity to their personalities. Despite all of the power they hold individually – the power to choose, to influence, to manipulate – Melissa and Orlando alone are impotent against the dark forces arrayed against them. Together, Milligan seems to be hinting to the reader, they may be strong enough to withstand the coming storm – if only they learn to trust in one another.
Milligan walks a fine line between acceptable sexual deviation and the blatantly offensive. There are some very graphic, very disturbing scenes that some readers will find off-putting. And yet, one gets the feeling that Milligan isn't going for the cheap thrill in The Discipline. Rather, as he put it in an interview on Image's website, he's urging us to explore and re-examine our own personal sexual universes.
In a world where women are objectified by literally millions of porn consumers every day, where even yoga pants are over-sexualised in countless magazine ads and TV commercials, it's important to understand that for all of its vaunted power and influence, the real power of our sexuality rests in our own hands.
It's imperative then, in a work such as The Discipline, that the depiction of Melissa's journey into the dark side of sexuality doesn't skew towards the gratuitous or offensive. Fernandez's use of shadow to evoke sexual tension and fear of the unknown reinforces an atmosphere of fear-tinged titillation, yet never approaches unwarranted visual depravity.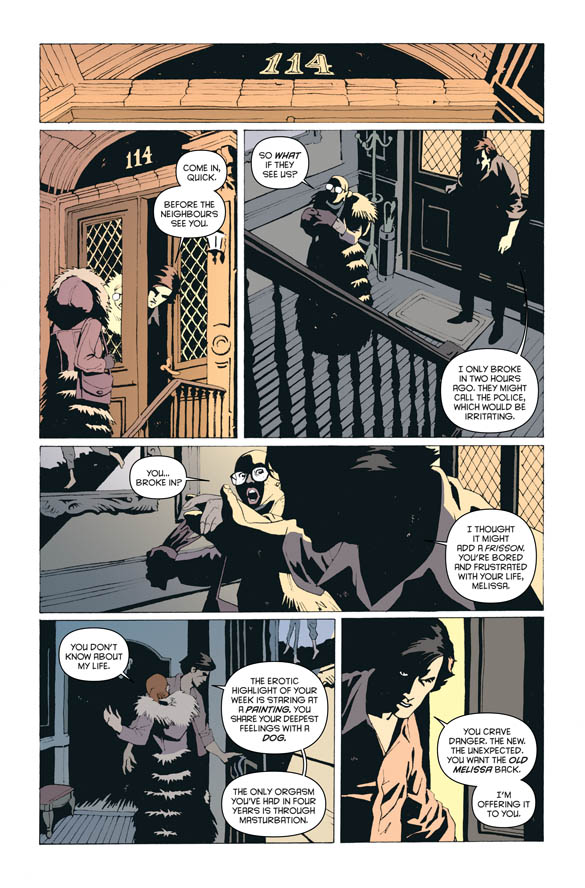 His innovative page layouts infuse the storytelling with clear yet dynamic panel progressions that pull the eye around the page with confidence and style.Fernandez has a strong artistic voice and intellectual approach to his chosen craft. Backgrounds and character designs are invested with thought and care, adding a level of expression and stylized detail that draws the reader into the story with startling ease.
A series as purposefully provocative as The Discipline is bound to have its naysayers. Some readers might find it a difficult or uncomfortable read. Hopefully, those readers realize that's kind of the point.
The truth is we don't ask enough tough questions about sex. Maybe we're afraid of the answers we'll find or the changes that will come about if we dig too deeply. Whatever the case, books like The Discipline challenge our established perceptions of our own sexuality. Whether or not we change after the fact is entirely up to us.
Peter Milligan (W), Leandro Fernandez (A) • Image Comics, $2.99.