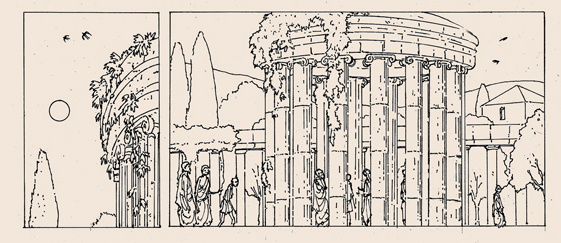 Published last year by Breakdown Press, Gardens of Glass – Lando's retrospective collection of short story strips from the last few years of Decadence Comics – explores "ideas of human existence beyond the Anthropocene Epoch" or, if you'd prefer it in blunter parlance, life in a post-apocalyptic world after we, as a species, have stopped having any significant influence on the planet.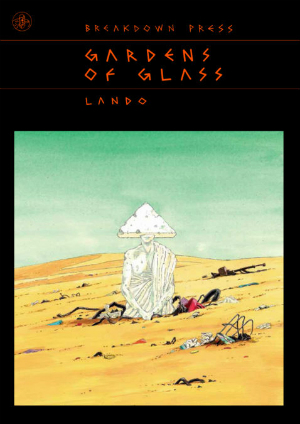 Decadence, of course, is the name of both the comics collective that Lando set up with fellow artist Stathis Tsemberlidis over a decade ago and also the flagship comic of its publishing output. While a number of creative voices have lent their approaches to the anthology it's the names of those two co-founders that are synonymous with the core artistic vision of Decadence Comics.
I must freely admit to engaging in a certain amount of procrastination in regards to this review of Gardens of Glass, and that's despite my selection of it as a Staff Pick in the week it was published here at Broken Frontier. For me there's something about Lando's silent narratives that demand they should be read for the first time without outside influence; that the reader should interact with them on an individual basis, eliciting an untainted emotional response before that experience is marred to some degree by comics commentators prodding, poking and attempting to dissect them. A new subspecies of spoiler warning, then, that if you want to immerse yourself in the thematic flow of the work within these pages in a pure and unadulterated fashion the next few paragraphs may be best avoided.
For the uninitiated, Lando's work may visually evoke certain strands of influential European comics and manga but his brand of science fiction is a nuanced affair that exists on levels far more complex than mere superficial homage. The cross-media influences on his work will be quickly apparent to any reader even casually versed in storytelling focused on dystopian futures, yet it's the deeper, embedded layers that have ensured his place as a vitally important voice in UK small press publishing over the last few years.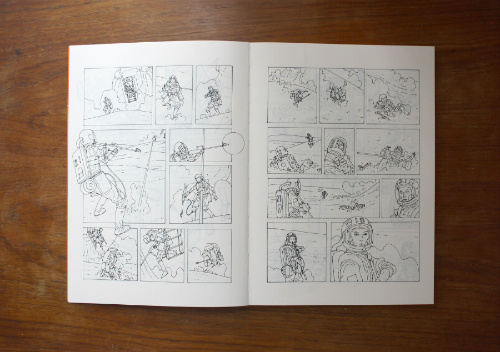 Six shorts of varying length – some just a handful of pages, others much longer-form in presentation – make up the contents of Gardens of Glass. 'Olympic Games' (above) with its space-suited soldiers ruthlessly competing on a barren alien-like landscape for entry into an Olympus-style paradise was originally published in 2012 – the year, obviously, that London was in the grip of hysterical sporting fervour – and is a caustically toned allegorical piece, intransigent in its condemnation of consumerist excess, classist elitism and misplaced celebratory zeal.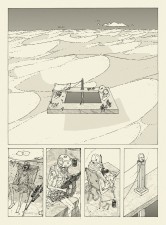 'Pyramid Scheme' is one of the collection's most visually ambitious pieces as a well-to-do family unit in a floating homestead slowly disintegrates. A patriarchal figure's locked-in introspection ensuring that as his mental creativity and inner industry flourish they also bring about a corresponding outer entropy and crashing ruin for all around him. Whether the reader adapts the metaphorical elements of each these stories to their own life experience or looks for the specific foundations to them is, of course, their own decision. But, should it be within the ironic visual contrast of a struggling farmer trying to eke out an existence within the ruined confines of a once excess-laden shopping mall in 'Flood Tablet', or the development of meteorological super-weapons in 'H.A.A.R.P.', the author's thematic intent is always there for the grasping.
Gardens of Glass has a distinctive artistic identity – carefully crafted linework that is both intricately detailed and yet simultaneously possessing of an accessible presentational clarity that seems almost contradictory in juxtaposition. Sweeping, inhospitable terrains, derelict wastelands and crumbling architecture are the book's unforgettable recurring motifs – acting as a memorial to humanity's folly – with abundant ruined neoclassical structures symbolic of failed democracies. On a more surface level, watch also for Lando's command of the form when it comes to action sequences. His meticulously choreographed scenes and rapid switches between perspective and character viewpoints combining to create a sublime sense of movement across the page.
The original Decadence publication of stories 'Pyramid Scheme' and 'Flood Tablet'
All of Lando's strips here, then, are uncompromising in delivery, tone and aim. This is not work created to entertain in the leisurely sense but, rather, socio-political commentary wrapped up in the traditional standards of the science fiction form. The message is simple. These are not worlds for the reader to escape into. These are worlds for the reader to avoid. This isn't about "What if?" it's about "What will be!" if the inherently flawed values of contemporary civilisation go unchecked. For anyone with even a passing interest in the major boundary-pushing players in UK self-publishing over the last decade-plus Gardens of Glass is an essential acquisition. Oblique but hypnotic, these dystopian parables are a savage indictment of a society doomed by its own inexorable moral devolution.
Gardens of Glass is available from Breakdown Press here or from Decadence Comics here priced £14.99. For more on Decadence Comics visit their site here and Breakdown Press can be found here. 
For regular updates on all things small press follow Andy Oliver on Twitter here.