SAFARI FESTIVAL FORTNIGHT!
Stathis Tsemberlidis is one half of the Decadence Comics team alongside artist Lando (Gardens of Glass, Stones in Focus) – a micropublishing duo who have put out a number of solo projects since coming together in the early 2000s and who also publish the multi-artist sci-fi anthology Decadence (the last issue of which we reviewed here at Broken Frontier last year). A collection of his work, Picnoleptic Inertia, was also published by Breakdown Press last year.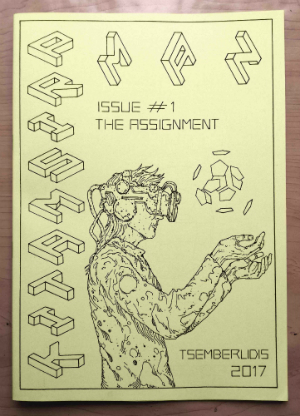 As the first instalment of an ongoing series Prismatik Man #1, Tsemberlidis's latest project from Decadence, is all about the set-up. The book introduces story points that will no doubt evolve and converge as the story progresses but Tsemberlidis's work can be appreciated as much for its sheer visual spectacle as its narrative and, in that regard, neither long-term fans or readers new to his work will be disappointed by the dystopian majesty of his vision in these pages.
The inter-related elements and players that we're introduced to in this opening episode include a company creating virtual reality work simulations for interstellar mining companies, an impersonal and mechanised cityscape, an insidious fungal infection and a protagonist with a mission to investigate the origins of this threat.
What is immediately striking about Prismatik Man is the multi-level juxtaposition of the organic and the clinical. Not simply in a plot sense of a sterile, emotionless city being threatened by a spore-producing organism but also in terms of Tsemberlidis's art with its overlapping ideals of the geometric and symmetrical and the polluted and almost grotesquely biological.
His world-building craft also immediately captures the imagination from the outset. Here we have an environment that feels both totally alien in depiction and yet frighteningly recognisable as well – a disquieting dystopia that is all the more disturbingly familiar for the matter-of-fact conformity of its inhabitants, their mutual distance and subservience, and their lack of awareness of how fragile their societal structure may prove to be.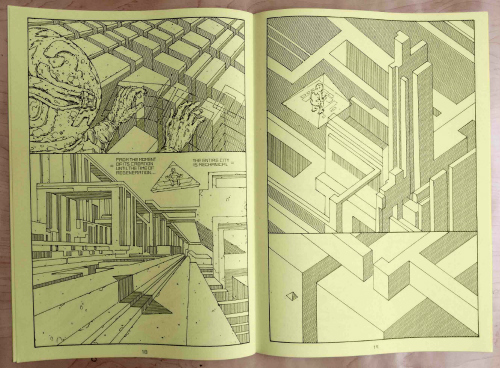 Like all good sci-fi Prismatik Man connects with its readership on a fundamentally allegorical level exploring ideas of human evolution with a slightly oblique perspective that isn't afraid to make the reader work a little harder in their interactions with the page. The transcendental and the spiritual meet the coldly technological in this intriguing opening chapter from a small press sci-fi master. Make sure to pick up the book from the creator in person at this weekend's Safari Festival.
For more on Decadence Comics visit their website here and buy Prismatik Man from their online store here. Decadence will be at Safari Festival on August 12th.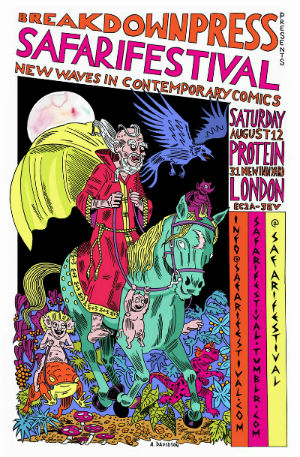 For regular updates on all things small press follow Andy Oliver on Twitter here.