It's always a pleasure for us here at BF to be able to let you know about new projects from the artists we have followed through our annual 'Six Small Press Creators to Watch' programmes, whether those developments are in the world of comics or other fields of the illustrative arts. We've been following 2016 'Six to Watch' creator Rebecca Bagley on and off here since way back in 2012 and she's also contributed beautifully imaginative stories to both of our Broken Frontier Small Press Yearbook publications.
Last week saw the publication of Harry Heape's debut children's novel Shiny Pippin and the Broken Forest from Faber and Faber. The book is illustrated by Rebecca with art that is animated, lively and energetic, and furthermore gorgeously complements Heape's story, adding extra witty layers to the narrative. You can see the book's very Bagley-esque cover below with a summary of its engaging and captivating story underneath. For those of you who enjoy following the further adventures of our Six to Watch-ers take note that you can order Shiny Pippin and the Broken Forest directly from the Faber and Faber website.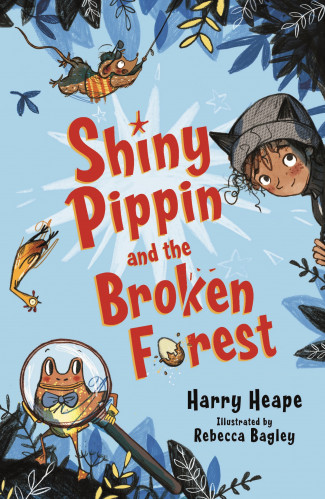 Pippin's just an ordinary little girl who lives with her ordinary little granny in the ordinary little town of Funsprings. Or so she thinks. When some rather terrible goings on start occurring, Granny is forced to reveal a secret – she used to be a secret crime fighter! And on top of that, Pippin has a special gift – she is Shiny, and can talk to animals. Hurray!
But life's not all fun times and lemonade and monster munch for tea. Not only has all the water gone, the animals are disappearing too. Someone as rotten as a pig fart in a jar must be behind all this, and it's up to Pippin to find out who. Armed with her new power and some new friends to boot, Pippin will confront kidnappers, evil scientists and would-be diamond thieves in this fantastic new series from Harry Heape (brilliantly illustrated by Rebecca Bagley too, you lucky things!).
You can follow Rebecca Bagley on Twitter here.