Press release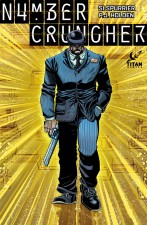 Titan Comics is pleased to announce the launch of Numbercruncher, an off-the-wall romance mixing time-travel, life-after-death and coal-black comedy.  This exciting new release will be hitting stores on July 17, 2013.
Si Spurrier is a novelist, comic book writer and former BBC art director whose career has often intertwined with flagship British sci-fi comic 2000AD and its spin-off, Judge Dredd Megazine.  He has penned the tales of its flagship character, and co-created such unique and disturbed characters as Lobster Random and The Simping Detective.
Currently writing the electric super-psychological adventure X-Men: Legacy for Marvel NOW! Spurrier has also penned adventures of Wolverine, Ghost Rider and Punisher.
Spurrier is the writer of two critically acclaimed post-pulp occult crime novels, Contract and A Serpent Uncoiled, both from Hodder Headline.
Co-creator and artist P.J. Holden, also an acclaimed regular on 2000AD and Judge Dredd Megazine, crafting stories of Judge Dredd, Rogue Trooper, Johnny Woo and The 86ers. Holden broke into US comics with Fearless, from Image Comics. A digital comics pioneer, he designed the 'Comics Reader App' in 2009, which was licensed by NBC for its similarly pioneering Heroes webcomics.
Utterly unusual, vaguely insane, and unexpectedly heart-warming, Numbercruncher follows a brilliant mathematician who dies young, enters the afterlife and discovers a way to cheat the terrifying Divine Calculator. He schemes to be endlessly reincarnated within the lifespan of the woman he loves, no matter how often the violent bailiffs of the Karmic Accountancy cut short each life. It falls to one such bailiff – the surly Bastard Zane – to put a stop to the time-twisting romance once and for all, before the Mathematician can pull-off his greatest trick and escape Existential Justice forever!
"When Si first proposed Numbercruncher to me, it was clear we'd need to play with some different techniques for this multi-layered, multi-reality story; flipping between the afterlife and the real world was a key element, and we needed something to make those realities distinct. And, being a huge fan of the Pressburger and Powell film "A Matter of Life and Death" (a romance about a dying World War II pilot, which similarly flits between a monochromatic afterlife and a Technicolor real world), it seemed fairly obvious that the best way to do that was to have the afterlife be a sort of dreamy, textured b&w world, and the real world a much more comic book style, pure lineart with color. And, when Zane moves from the afterlife to the real world, crashing that b&w into the color, visually it would be show-stopping, and look like nothing else out there," says P.J. Holden, co-creator.
"PJ and I worked our socks off on Numbercruncher – a time-travelling romantic comedy thriller with more twists than Agatha Christie's corkscrew – so it's enormously satisfying to see it published by such a prestigious institution as Titan, and hugely exciting that it's part of their new all-original-content initiative", says Si Spurrier, co-creator.
"Numbercruncher is one of those intensely personal yet universally brilliant projects you just can't wait to get into print", says Steve White, Senior Comics Editor. "Si is a master of the wonderfully off beat idea, and PJ has illustrated it to perfection. The new, subtle, and emotive colors by colorist, Jordie Bellaire help round off the Titan package. This is a title that's flown under the radars of a lot of readers in the US, so it'll be great to finally get it into their hands."
Numbercruncher was originally serialized in black & white in Judge Dredd Megazine in the UK. The series is now being newly colored and expanded for the first time by Titan Comics.
Numbercruncher #1 will hit comic stores on July 17, 2013. The series will also be available to read day and date on the iPad, iPhone, Web, Android and Kindle Fire, exclusively through the comiXology app and comiXology.com