Comics that defy easy categorisation are, unsurprisingly, among my very favourite forms of sequential art. Case in point: I don't know where to begin in that regard when trying to describe Ria Grix's new comic Sick Chip. It's a patchwork of slice-of-life, slacker comedy, magic realism and absurdist humour, with a dash of meta knowingness thrown in for good measure. It's weird, offbeat, rambling and ignores all the supposedly established rules of narrative. And I loved it.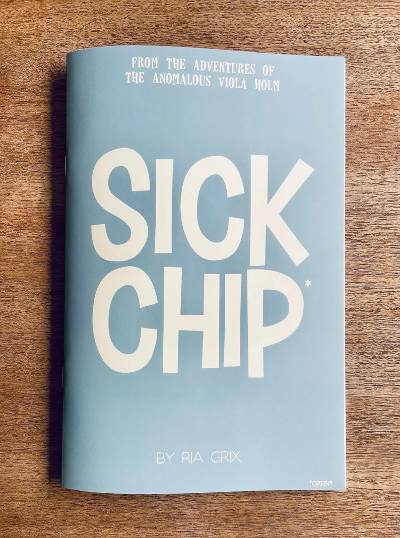 With a tagline announcing that it is "From the Adventures of the Anomalous Viola Holm" Sick Chip introduces us to the strange domestic world of the Holm siblings. The titular Viola and their brother Oboe are the main focus with Oboe's drunken friends Bugle Meier, Bassoon Fugleber and Tuba Thoresen being the catalyst for events in this (hopefully) first issue of Viola's adventures. After a night out overindulging the lads return only for Bassoon to collapse into a near lake of his own vomit (or a "chunder custard" as Viola describes it). With Viola charged with cleaning duties the great existential poser of the moment quickly becomes the question of how Bassoon has managed to puke up one perfectly formed and unbroken potato chip…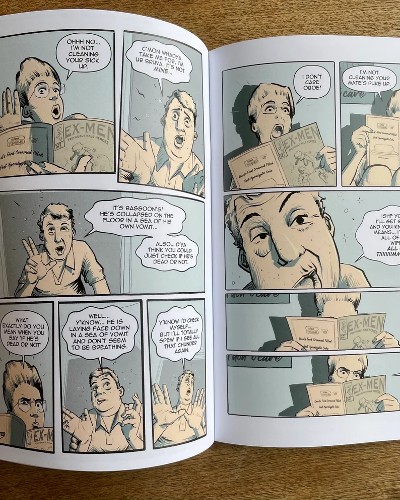 Even the comic's title quickly becomes part of the splendid farce we are thrown into here, with a constant asterisk running gag correction of "chip" to "crisp" for the homegrown British audience. Sick Chip reads like something that could easily have run in the celebrated Deadline magazine of the '80s/'90s and a story that fans of Rob Davis's Motherless Oven trilogy would appreciate. The humour veers between studied eccentricity and gross-out slapstick, always carefully paced and unpredictable in delivery. That the story doesn't really go anywhere is not a criticism in this case; the plot, such as it is, is merely a framework to hang all the wonderful oddness of Sick Chip on.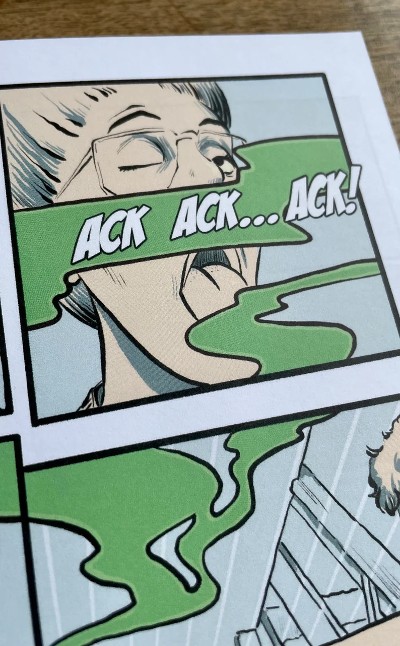 Grix is always an inventive cartoonist and here imagination is allowed to run riot with wild abandon. Use of lettering and sound effects takes on a kinetic energy of its own while the muted colouring choices are interrupted only to emphasise the more unpalatable aspects of the digestive bodily fluids that the story revolves around. From Hostess Twinkies to Top Trumps the comic is full of pop cultural sight gags and the visual characterisation of the cast, from gurning grimaces to zombie-like drunkenness, is a crucial part of the madness.
Sick Chip is a quirkily dark comedy and we can only keep our fingers crossed this is the first of many bizarre misadventures for its protagonist. More Viola Holm please, and soon!
Ria Grix (W/A) • Self-published, £6.00 (print)/£3.00 (digital)
Review by Andy Oliver