Perhaps unsurprisingly for a comic that centres on a rejection of the perceived wisdom of the status quo, Laura J.L.B.'s Sister Sabia is unafraid to disregard convention in terms of its presentation. The two volumes to date have ignored the need for covers (and why not? British weekly comics did the same for decades!), have hand-sewn spines and – perhaps most eccentrically – have jumped from portrait to landscape format between issues!
Initially rife with the darkest humour, Sister Sabia follows a disaffected student determined to strike back at the art establishment's arbitrary rules with his own unique artistic manifesto. He's "not rich enough for London to listen or poor enough to market" which leads to him dropping out of college and effectively turning his life into the blackest piece of performance art. Becoming famous at any cost becomes his all-consuming raison d'etre..
For much of the first two issues very little actually happens beyond the establishment of premise and central character, though that in itself is undeniably compelling in delivery. Indeed, Sister Sabia focuses exclusively on its protagonist and his isolated existence; a seclusion that is perhaps ironic given his ultimate endgame. This consists of either his tirades to camera or scenes of him playing back his ravings on his laptop. But throughout what initially appears to be a series of inconsequential and laughable rantings a sense of inescapable tension begins to build as infuriated posturing leads to something far more sinister…
Where Laura J.L.B. succeeds so well in this oddly hypnotic character piece is in providing us with a central character whose anger and frustration is palpable, tangible and all the more frightening because it's so recognisable. His reactions to his environment – specifically his over-riding sense of powerless rebellion – capturing a certain currently all-pervading zeitgeist. And amongst that bitter pontificating in issue #1 there's some intriguing social commentary going on about the wider environs of the art world…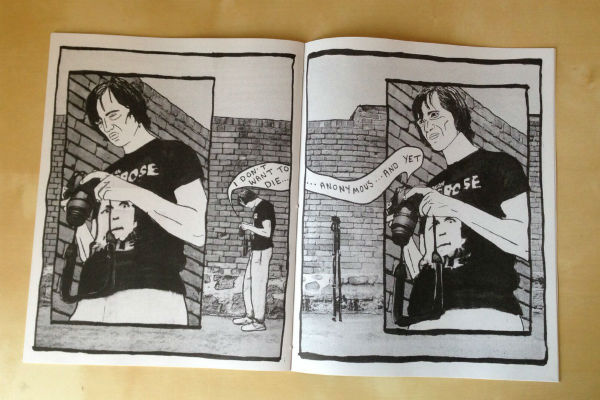 What's really impressive about this creator's first comic, though, is the assured command of panel-to-panel storytelling on show. Intense close-ups, for example, emphasise the vitriolic lead's rage while sequences of single-panel pages give the reader a pause to digest the protagonist's diatribes. In the first instalment, the slow and intricate adoption of his secondary (presumably?) Sister Sabia persona underlines a sense of transformation and, in issue #2, an entire sequence of unconscionable brutality holds the reader spellbound in its violent rhythm.
With its bleak tone, sexual content and uncompromising nature, Sister Sabia certainly won't be for everyone, and whether its denouement will live up to what's been set up so far remains to be seen of course. Laura J.L.B.'s first two chapters pull the audience in with an insistent and unrelenting grip though. A darkly riveting debut comic for the more daring reader.
You can order copies of Sister Sabia online here priced £5.00 each.
For regular updates on all things small press follow Andy Oliver on Twitter here.