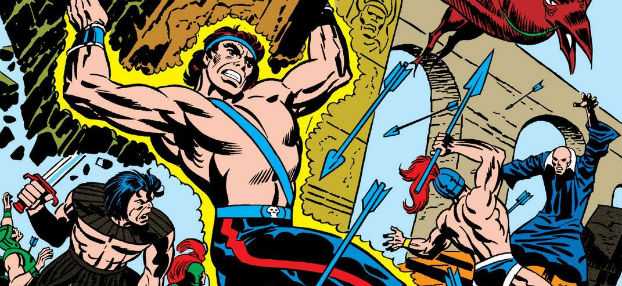 Retroflect has a long history at Broken Frontier, having been both a series of blogs and an ongoing column in the site's long history. Today it returns to BF as a semi-regular vehicle for looking at pre-millennium comics, from celebrated classics to obscure and largely forgotten titles. We open with a spotlight on the brief 8-issue 1970s run of Marvel's pulp-inspired series Skull the Slayer. Beware, spoilers will follow…
Whereas the 1960s was the decade when Marvel laid the foundations for its radically different super-hero universe, the 1970s was a time when the House of Ideas looked to expand the scope of that fictional realm by branching off into a number of different genre fields. In reality that often meant chasing the pop cultural buzzes of the moment – martial arts, horror, sword and sorcery, and even comics based around stuntman showmanship (who can forget Human Fly?) would all be added to Marvel's monthly output over those years.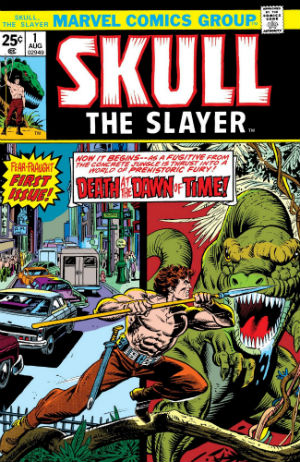 Skull the Slayer, an ongoing series debuting in the year after The Land that Time Forgot hit cinemas (though the idea had been gestating in creator Marv Wolfman's mind for some years), combined pulpy science fantasy and contemporary interest in the supposed mystery of the Bermuda Triangle. It was a book full of potential but one that would lose direction almost immediately, fizzling out after just eight issues and a little over a year of publication.
Looking at Skull the Slayer #1 it's difficult as a reader to comprehend quite how quickly a book with such a strong if uncomplicated opening chapter could lose its way so quickly. It introduces us to Vietnam vet, inadvertant war hero and former POW James Scully (now under armed escort by the military police for the alleged murder of his brother), physicist Dr. Raymond Corey, his associate Ann Reynolds, and senator's son Jeff Turner. These four are the only survivors after the plane they are travelling through the Bermuda Triangle on falls through a rip in space and time. Crashlanding in the prehistoric past the foursome find themselves fighting for survival, dealing with their distrust of each other, and encountering ferocious dinosaurs at every turn.
Relying on that narration-heavy style of the era – one that there should still be a place for in comics but which has sadly fallen out of favour in modern times – the first instalment does a solid job of introducing us to hero and supporting players. In retrospect, and from the comfortable position of a contemporary viewpoint, the book's well-intended social conscience seems a little awkward and naive in execution here, and sadly it fades into the background as the series progresses. The often cynical captioned voiceover in early chapters, though, lends events a bleaker perspective, mirroring the harshness of the characters' plight. Steve Gan's dynamic layouts seen below and expressive visual characterisation (together with a Gil Kane and Al Milgrom cover that perfectly encapsulates the comic's premise) are a vital part of the atmospheric alchemy, bringing story and cast to vibrant but gritty life.
As the four continue to explore their new environment they discover they are not the only time-displaced inhabitants of this world. An encounter with cave people, who obviously shouldn't be co-existing with dinosaurs, leads Scully (now referred to by his nickname of Skull) to a lost spaceship and the corpse of an alien they worship, from which he acquires a belt that enhances his physical strength. As Wolfman's three-issue run comes to its conclusion the group discover that central to the realm is a mysterious Time Tower; every level of which contains a different time zone from Earth's history (again quite stunningly realised by Gan). Investigating the structure Skull, Corey, Ann and Jeff found themselves in  ancient Egypt as Wolfman steps back and hands the writing duties to incoming scribe Steve Englehart.
And that's where things fall apart. Steve Englehart was one of the most reliable writers of the time but he stamps his mark on the book in #4 by killing off the entire supporting cast just as the reader is beginning to invest in this prickly quartet. Worse still, he makes the already abrasive Skull into an entirely unlikeable and mercenary individual who has no conscience about running away to save his own skin and leaving his companions to die.
Covers by Gil Kane & Tom Palmer, and Rich Buckler & Dan Adkins
It's a mistep of an issue that fatally undermines the momentum of the series to a degree that it will never recover from; with the art of Sal Buscema and Mike Esposito and an apparent guest appearance from the Golden Age version of Marvel's Black Knight being some of its few redeeming features. A complicated plot reveals the time-warping qualities of the Bermuda Triangle and the Time Tower are all part of an invasion force from the planet Scorpius, currently based in prehistory and ready to send their robot forces forwards through the centuries-to-come to conquer the future.
Englehart's run lasts just one issue! With #5 a young Bill Mantlo comes on board and promptly resurrects Corey, Ann and Jeff, later saying in a text piece in issue #6 that he saw the three as "integral to the strip." In what is now becoming something of a standard for Skull the Slayer, the incoming writer swiftly ties up and/or abandons his predecessor's plot threads. The now warring inhabitants of the Time Tower are all revealed to be robots, including the Black Knight, and the threat of Slitherogue and the Tower are quickly despatched.
Art by Steve Gan and Sal Buscema & Mike Esposito
Mantlo takes the book away from the science fiction elements and back to its adventure fiction roots. For its final issues Skull and company find themselves caught up in the politics of a lost Incan society as Victor Cochran, a man from their own time who is impersonating an Incan God, and the usurped priest who wishes to rule them again, vie for power. The comic is cancelled with #8 with an unresolved cliffhanger as an invasion of pterodactyl-riding warriors from different eras attacks the Incans. A present day subplot involving Jeff's bullying senator father employing an old enemy of Skull to discover what happened to their plane is also left hanging.
It will take well over a year before Skull, Corey, Ann and Jeff's story will get a resolution of sorts. In Marvel Two-In-One #35-36 – the team-up book that had by this point become something of a home for postscripts for cancelled comics characters – Marv Wolfman returned to the story he had initiated to give an ending to the saga of Skull the Slayer. With the Thing and Mr. Fantastic of the Fantastic Four investigating the strange phenomena of the Bermuda Triangle, Scully and friends finally escape the prehistoric world. Footnotes rather dismissively fill in unseen plot gaps since the cancellation and, bizarrely, the characters claim to have been stuck in the past for two years when the events depicted over the ten issues could only have taken a handful of days. But it does give closure and Ernie Chan draws some truly impressive dinosaurs.
Art by Sal Buscema and Sonny Trinidad
Skull would disappear for many years, resurfacing briefly in the 1990s in that lover of obscure continuity Mark Gruenwald's runs on Quasar and Captain America. Now he operates within the super-hero world as a member of Doctor Druid's supernatural investigative team the Shock Troop (he's also been mutated by the alien belt and calls himself the Blazing Skull after the Golden Age hero) and then latterly appears again in the 2000s in a multi-issue guest role in Hawkeye as an overweight, out of shape bodyguard who to all intents feels like a completely different character. A 2010 X-Men guest-stint returned him to his science fantasy beginnings, and more recently in Weirdworld an alternate universe incarnation of Skull also made his presence felt.
Skull the Slayer was a book, then, that should have grabbed an audience with its simple but intriguing and accessible premise. It quickly became a catastrophically contradictory narrative mess, though, as ever changing creative teams left plot threads dangling and the nature of Skull's world became less and less clear. Depending on writer, Skull himself veered from anti-hero reluctantly cast into a lead role to a thoroughly unpleasant opportunist, and the whole series felt like it was being made up as it went along with no real gameplan in place each month beyond dealing with the previous issue's cliffhanger.
Covers by Ron Wilson & Klaus Janson, and Ernie Chan
With the hindsight of decades it's easy to wonder if Wolfman had stayed on to see his vision through whether Skull the Slayer could have attained the same cult status that his collaboration with Gene Colan on Tomb of Dracula did. Interestingly, his original idea for the series, as explained in the letters page of #1, was for a whole Manhattan office building to have been transported to the time of the dinosaurs. That sounds very early 2000 AD in nature and, dare I say it, like a missed opportunity. Skull the Slayer remains a curiosity then; a very 1970s book with covers that immediately grab the reader's eye but interiors that constantly lose direction. A comic of "what might have been" perhaps but also one that readers of a certain age will no doubt always have a certain degree of fondness for, despite its obvious flaws.
Skull the Slayer has been collected as a trade paperback by Marvel and is also available on ComiXology (UK here and US here).
As many readers will be aware writer Bill Mantlo has needed long-term medical care since the 1990s. If you enjoyed this nostalgic look back at one of the many Marvel books he worked on then please do check out this GoFundMe set up for him and donate if you feel you are in a position to do so. Bill worked on Peter Parker the Spectacular Spider-Man, Incredible Hulk, The Micronauts and Rom: Spaceknight and also co-created Rocket Raccoon and Cloak & Dagger.
Bill Mantlo shaped the characters that, in turn, shaped our childhoods. He deserves our support.