The South London Comic & Zine Fair is back in July and, in conjunction with Avery Hill Publishing, their 2023 programming line-up has just been announced. For BF fanpersons it's also your chance to see our very own Andy Oliver's first panel moderation event since ELCAF in 2019! Full details below.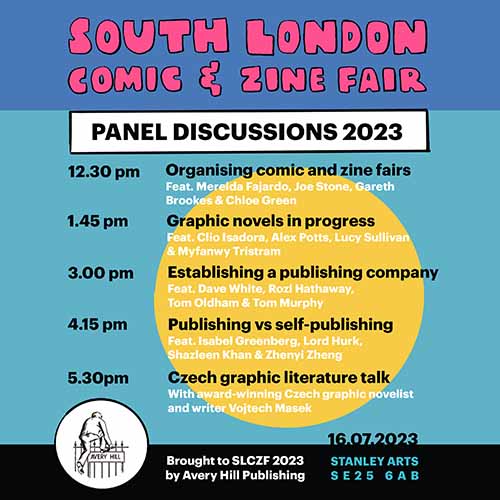 On the 16th of July the wonderful South London Comic & Zine Fair is returning to Stanley Arts in Norwood. This year features a packed programme of talks organised by Avery Hill Publishing!
The talks are free to attend but space is limited so we ask that people pre-book via Eventbrite (links below.)
Organising your own comics event
Moderator: Nora Goldberg-Fourrel De Frettes
Mereida Fajardo
Gareth Brookes
Joe Stone
Chloe Green
Graphic novels in progress
Moderator: Chloe Green
Clio Isadora
Alex Potts
Lucy Sullivan
Myfanwy Tristam
Starting your own comics publisher
Moderator: Gareth Brookes
Dave White – Avery Hill Publishing
Rozi Hathaway- Good Comics
Tom Oldham – Breakdown Press
Tom Murphy – Colossive Press
Self publishing vs working with a publisher
Moderator: Andy Oliver
Lord Hurk
Isabel Greenberg
Shazleen Khan
Zhenyi Zheng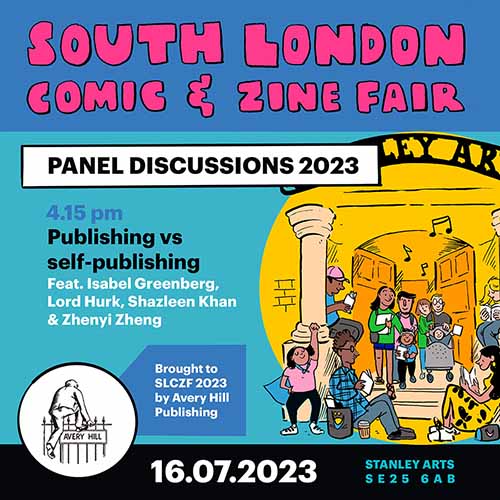 Czech graphic literature talk
Award-winning Czech graphic novelist and writer Vojtech Masek will talk about Czech graphic literature, and his latest book The Sisters Dietl – a surreal horror detective story about identity, fear, and the search for truth.
"Avery Hill have put together a programme aimed at encouraging people to get involved with UK comics in all sorts of ways, from making work to helping create the infrastructure that's needed to build comics audiences and connect comics with readers. Join us and get inspired!"