Spring has finally (almost) sprung and with it we look forward at BF, as ever, to the UK festival season ramping up between now and the Autumn. Broken Frontier doesn't often table at events – we're usually too busy doing the rounds at them, catching up with creators and publishers, and chairing/taking part in panels after all – but we do occasionally like to view the world from the other side of the table. This year we'll be doing that at two of our favourite small press-related shows, CECAF and SLCZF, which we're going to take the opportunity to shine a spotlight on this week. And, as it ties in rather neatly, we'll also mention BCZF which just opened for applications this weekend.
(And while you're here don't forget that LeamCon, ELCAF and Small Press Day, among others, are all on the horizon…)
CECAF (Crouch End Comics Art Festival), June 9th, 2018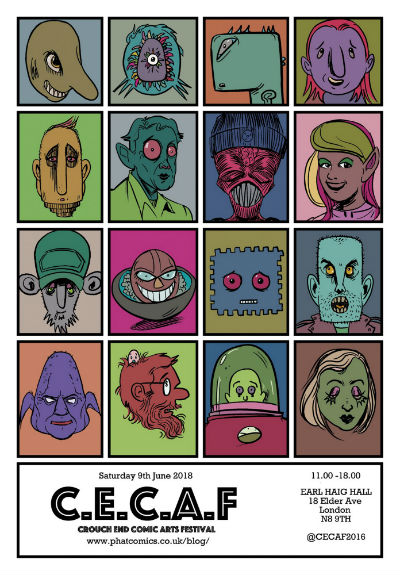 Sean Azzopardi's CECAF has been one of the friendliest shows on the small press circuit over the last few years and, also, one of the most social! Held in the venerable Earl Haig Hall in Crouch End, we've always been partial to this venue given that its environs form part of a pub (just one doorway separates festival from bar!).
After a year off, this year's CECAF exhibitor line-up is as cracking as ever with a great mix of self-publishing talent, boutique publishers, graphic novelists and a number of artists who have worked for US serial comics. It includes:
Shane Melisse, Avery Hill Publishing, David Baillie, Dan Lester, Claude TC, Sarah Gordon. Spacebabe 113. Cliodhna Lyons, Paul B. Rainey, Sally-Anne Hickman, Francesca Cassavetti, Oliver Lambden, Douglas Noble, Gareth Brookes, Zoom Rockman, Robert Wells, Andy Williams, Roger Langridge, Wallis Eates, Danny Noble, Rachael Ball, Karen Rubins, Karrie Fransman, Breakdown Press, Decadence Comics, Paul Shinn, Centrala, Phil Elliot and, of course, Broken Frontier.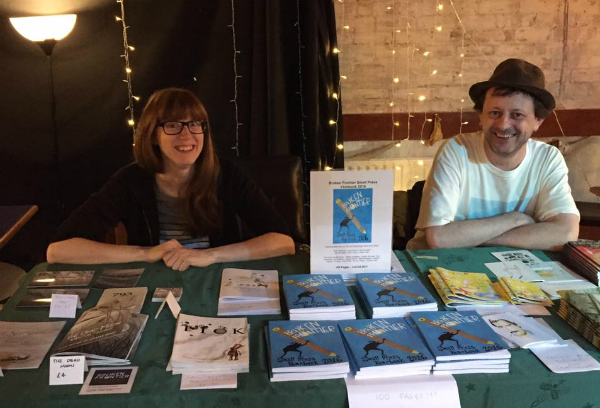 Emma Raby and Andy Oliver on the BF table at CECAF 2016
You can read a full report of the last CECAF here at Broken Frontier. Follow CECAF on Twitter here and get updates on the Facebook page here.
(Please note CECAF is a curated festival and, as such, there is no application process).
South London Comic and Zine Fair (SLCZF), July 14th, 2018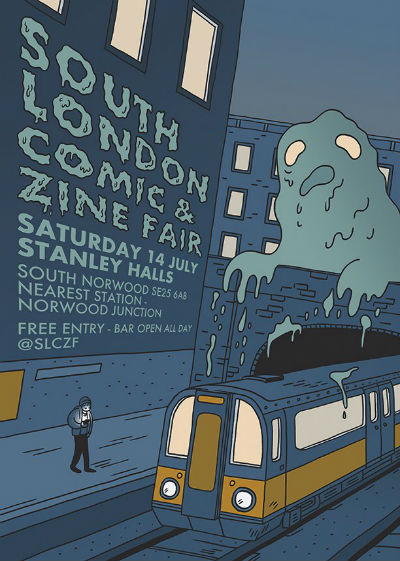 Just announced – Gareth Brookes's indie festival returns after a very well-received debut last year, with another cracking poster design by Tim Bird recently revealed online. Look for an exhibitor list to be revealed in the next few weeks. We're delighted to say, though, that not only will Broken Frontier be tabling with our own focus on championing our 'Six to Watch' creators but we'll also be looking after the Communal Table and looking to meet new self-publishing talent on the day. Come over and see us!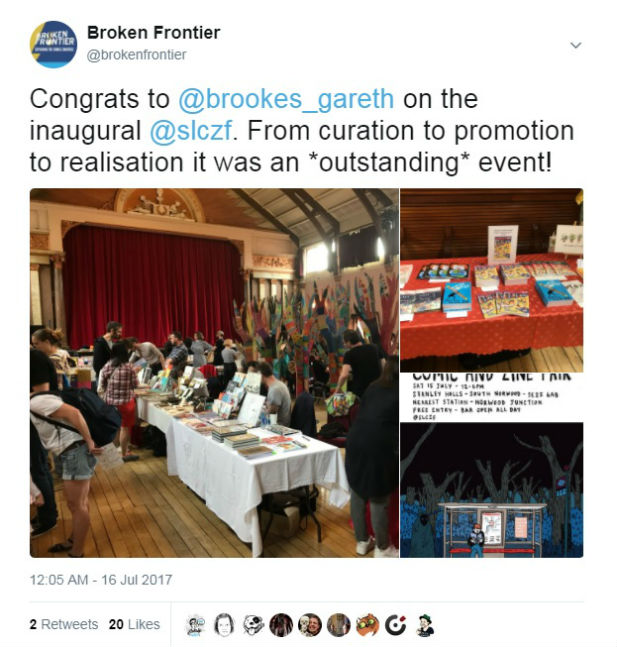 Our appreciative tweeting post-event after a packed day at Stanley Halls last year
You can read a full report on the last SLCZF at Broken Frontier here. You can also also follow SLCZF on Twitter here and on Instagram here.
(Please note SLCZF is a curated festival and, as such, there is no application process).
Bristol Comic and Zine Fair (BCZF), October 6th, 2018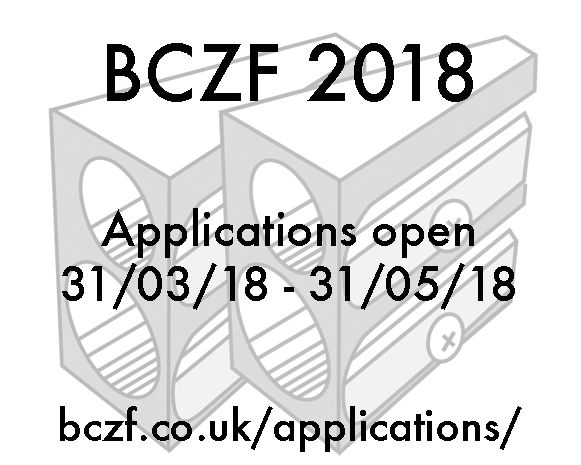 And, finally, just a reminder that applications are now open for the Bristol Comic and Zine Fair, always an absolute blast of a show, until the end of May. Full details on the BCZF site here.
I said of BCZF here at BF last year "It may not be the biggest of the autumn comics events but you won't come away from any other UK comics gatherings with more of a sense of positivity about the scene and a genuine community buzz as you get at the Bristol Comic and Zine Fair." It may be a way off but get it in your diaries now…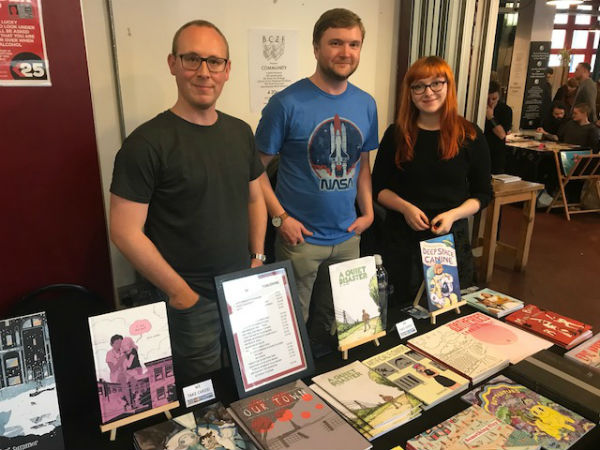 Avery Hill's Dave White, Ricky Miller and Something CIty creator Ellice Weaver at last year's BCZF
You can follow BCZF on Twitter here.
– Andy Oliver, Broken Frontier Editor-in-Chief, April 2nd, 2018
For regular updates on all things small press and Broken Frontier follow Andy Oliver on Twitter here.