The sky is the limit, and also the sky is the sea. A new beautifully rendered fantasy.
Slightly Exaggerated  is described as "a treasure hunt fantasy adventure where a dying girl must steal back a sacred artifact from a crazed cult leader in a whimsical fantasy world where religion is law."
LA-based writer Curtis Clow (Beastlands, The Wild Cosmos) and Lithuanian artist Pius Bak (Firefly, Adventure Time, Stranger Things) have pulled together a colourful and convincingly perilous fantasy world within these first pages of what looks to be a pleasingly layered narrative. Issue #1 is out now with issue #2 out in May.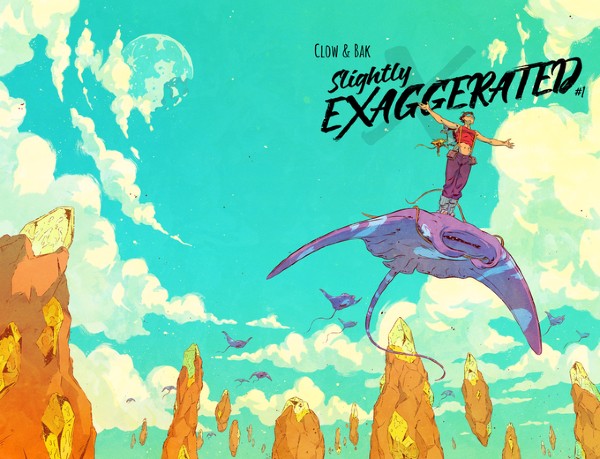 In this first issue we are introduced to Mia, a grave-robbing outlaw with a standard issue heroine physique and anti-hero combative attitude, and her anxious talking frog companion, Winston. She's stealing a priceless cat head artefact from a temple, in order to fund her last few weeks of freedom before a mysterious fatal infection catches up with her. There are satisfying riffs on the moral ambiguity of a Lara Croft/Indiana Jones grave-robbing attitude to archaeology. We soon meet some interesting antagonists in the form of a pair of by-the-book military types and an army of masked cat worshippers.
There's not a huge amount one can ever say about a debut issue of a new series, other than is the art good and is there a promising trajectory. The quickest glance at the artwork here leaves no doubt to the first question and Bak's elegantly whimsical vistas and deftly paced action sequences are instantly engaging, and the conceptual elements are fun – the greenish skies filled with whales and tall sailed ships. It seems to be one of those "the characters are human but everything else is magic and weird"-type deals.
I would say there is a trajectory here too; a good balance of show-don't-tell world-building hints at a richly troubled setting, with a chaotic but coherent mix of warring factions of powerful villains that make the outlaw life seem a sensible choice, and the implied absurd moral ambiguity at this point is reminiscent of Saga. There's no shortage of strong female characters, although no time yet for any actual nuance in the writing there. There's scope for a lot of good story, but Slightly Exaggerated is worth checking out for the art alone at this point.
Curtis Clow (W) Pius Bak (A) Toben Racicot (L) • To Infinity Studios
Slightly Exaggerated #1 is available from to buy online here and #2 has recently completed kickstarting, so should be available to buy in May.
Review by Jenny Robins