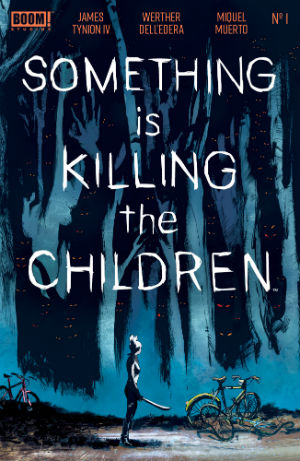 When it comes to a new horror comic the greatest compliment I can pay is to compare it to the visceral fear induced by the Moore/Bissette/Totleben/Wood Swamp Thing issues. And in terms of pure psychological terror (leading into a far more physical kind…) BOOM! Studios' Something is Killing the Children matches that classic run with an unnerving debut issue that lives up to all the hype surrounding it.
James Tynion IV's story begins with a game of Truth or Dare at a sleepover for four teenage boys. It's one that will claim the lives of all but one of their number after a dare to investigate a local woodland ravine has horrifying consequences. Ostracised at school, and held in suspicion by his peers and the police, survivor James finds his life after the tragedy forever changed. But who is the mysterious young woman new to town who seems to know more than anyone else about what is claiming the lives of so many youngsters in the area? And what really happened in the woods on that fateful night?
What's particularly impressive about the first issue of Something is Killing the Children is the manner in which it plays with comics' relationship with the passage of time, flitting backwards and forwards, filling in gaps here and opening new ones there, as the audience is invited to piece together events. It's a fine example of the skill of deft dramatic pacing and the art of the gradual reveal.
Artist Werther Dell'Edera's visual characterisation is a vital part of this tension-building opener. From the initial bragging oneupmanship of the teens, to the later palpable terror of James to the perplexed impotence of the adults, it's an object lesson in the unnerving as the true horror of the situation is built around the reactions and emotions of those in turmoil rather than the supernatural realities of what they encounter. That's not to say the book doesn't also grab us with the latter and Dell'Edera's transitions into intricately panelled double-page spreads that pull us into the immediacy of key events are quite remarkable in their immediacy. Sometimes unsettling us through the minutiae of what they depict and sometimes by throwing us into the inescapable drama of the moment with a chaotic allure; all given extra levels of suspense by Miquel Muerto's moody colour choices.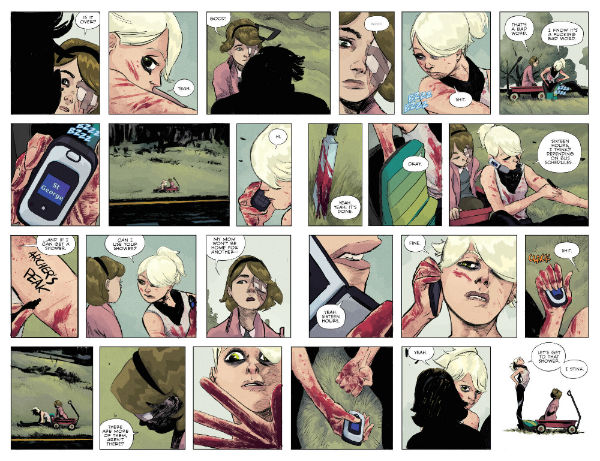 Something is Killing the Children doesn't reinvent horror comics. Yet in these pages hoary old cliches are reborn with sinister new life, imbuing a sense of abject dread into the familiar and endowing the standards of the genre with a reinvigorated malevolence.
James Tynion IV (W), Werther Dell'Edera (A), Miquel Muerto (C), Andworld Design (L) • BOOM! Studios, $3.99
Review by Andy Oliver