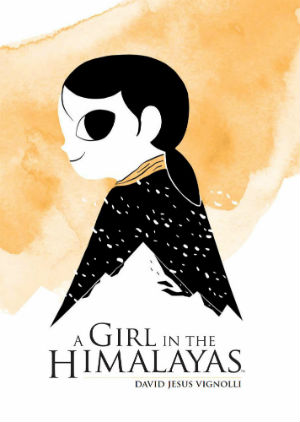 What immediately strikes the reader about David Jesus Vignolli's debut graphic novel A Girl in the Himalayas is the sheer craft of the creator's visual storytelling. Published by BOOM! Studios through their Archaia imprint this magical tale is a beautifully constructed affair in both presentation and message, and one of those all-too-rare genuinely all-ages comics that will appeal to readers of different ages on different connective levels.
Orphaned after her mountain home is consumed by a fire, little Vijaya is discovered by the immortals Vasu and Prasad, the latter of whom sacrifices his eternal life to save her and take her to the hidden mystical sanctuary in the Himalayas that is their home. There Vijaya begins a new life surrounded by the supernatural entities that live within its confines. These include the elementals who govern the natural world, the fear-consuming Murganis, the intellectual Dr. Algae and her new teacher, the goddess-like Shalini.
But the presence of a human in their world is not to the liking of all the denizens of the Sanctuary with many of them seeing it as a harbinger of doom. With the threat of human encroachment becoming greater, and the darkness of the human world known as Illusion a constant worry, time may be running out for this land of immortals…
Vignolli's story is full of the magic, adventure and intrigue that a younger audience will adore but it also has a depth to it that speaks of themes of community, family and finding one's place in the world. In Vijaya he gives us a protagonist with whom we can both empathise with, as she comes to terms with her loss, and also one through whose eyes we too can discover the world of Sanctuary with a similar sense of wonder, awe and trepidation.
With an accessible, clean line Vignolli's storytelling embodies both clarity and sophistication. The black and white and sepia tones add to the mood and atmosphere of the piece but it's his panel to panel sequencing that most impresses. Busy, tight pages emphasise a sense of action with larger spreads slowing the pace down in more reflective moments. Visual characterisation lends everything from joyousness to menace depending on the individual roles of the cast and their places in the story. It's a remarkably confident offering from a newer creator and one fully deserving of the critical acclaim it will receive.
David Jesus Vignolli (W/A) • Archaia/BOOM! Studios, $16.99
David Jesus Vignolli is a guest at the Gosh! Comics and Broken Frontier Drink and Draw this Thursday May 31st.