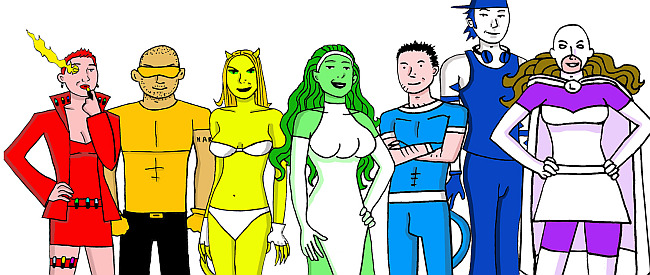 Martin Eden's "all-gay super team" Spandex hang up their capes and cowls – for the moment at least – in this grand finale to the critically acclaimed series. Way back in 2010 I first covered the Spandex phenomenon in a two-part interview with creator Eden (part 1 here and part 2 here) at a point in time where the book's central premise had gained it significant national press coverage from television, radio and newspapers.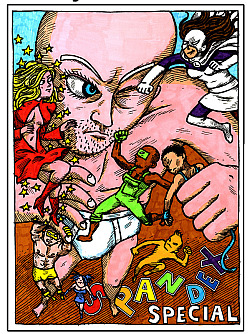 Over the last few years the book has been something of a 'Small Pressganged' fixture with its mix of cheeky wit, touching characterisation and old school super-hero soap opera proving a winning formula time and time again. With Eden having told the tale he set out to, he's now winding up the series with this one-shot concluding chapter before moving on to new projects and revisiting his popular O Men characters.
So time to say goodbye then to Diva, Glitter, Mr. Muscles, Butch, Prowler, Liberty and Indigo with one last hurrah! The good news, firstly, is that there are other Spandex-related plans in the works: Eden intends to use the expanded Spandex universe in a newspaper strip-style format in the near future.  But this special does mark the end of an era in terms of the ongoing comic book adventures of the team.
It's not a mawkish, self-indulgent affair however. The Spandex Special is more of a celebration of what's come before that looks to the future with a renewed and vigorous optimism. Picking up the threads from the last issue the Brighton-based super-heroes have a new line-up with most of the original team having gone their separate ways. But old enemies are regrouping and the threat to the new team may just necessitate some familiar faces returning to action for, possibly, one last time…
As ever, the greatest strengths of Eden's writing – his layered character studies and twisting narratives – are on full show here: that same synthesis of quieter interplay between the cast, and complex, time-twisting, overarching mega-plots. If you have felt at all invested in these creations over the last four years or so then (without wanting to give away too much) this is the pay-off you have been looking for. Coming to the finish of this issue I had mixed feelings of both poignancy and delight. I am going to miss reading Spandex on a (semi) regular basis but it's the ending that both the book and the characters deserved.
It's a testament to the regard that Spandex has fostered during its run that this final episode is commemorated with a multi-cover print run. Fret not about your choice of outer wrapping because all available covers are included inside but the likes of Jeffrey Brown, Warwick Johnson Cadwell, Nigel Dobbyn and T'sao Wei (whose Windrush I have given a thumbs up to a couple of times at BF) have all contributed variants. In typical, playful Eden fashion there's also a cover gallery of "upcoming" Spandex covers providing an imagination-stimulating exercise on what could have come!
In all honesty this edition of 'Small Pressganged' has moved far away from a review and turned more into a "Thank you" letter to Eden and all those who have collaborated with him on this ever delightful series over the last few years. It's been a constant reminder of just how much fun and escapism super-heroes can embody when approached correctly, and a stark and welcome contrast to the unreadable marketing and brand-led madness that has gone into overdrive from the "Big Two" in the same timeframe.
"Spandex…survive!" indeed.
For more on Spandex check out the website here. The Spandex Special can be bought from the online store here priced £4.00.