Spiny Orb Weaver is the third print comics project to have come out of small press distro and micropublisher Radiator Comics. (featured before at BF for Whit Taylor's acclaimed minicomic series Fizzle). Its remit in each issue is to put a spotlight on artists from the South Florida scene, with a short comic showcasing their practice and a follow-up interview piece. The subject of issue #1 is illustrator, animator, zinemaker and fine artist Miss Jaws (aka Jessica Garcia), with a shorter back-up illustrated essay by Tana Oshima rounding out the issue.
Editor Neil Brideau has devised a format that encourages the reader to appreciate the practice of the chosen artist from multiple vantage points, allowing them to firstly form their own relationship with the work itself and then to garner further insights into process and intent from the accompanying interview. In effect that initial opportunity to absorb and experience is partnered with a complementary one to listen and learn via a discussion that is engagingly informal, benefitting from its relaxed and conversational tone without resorting to heavy editing for the page.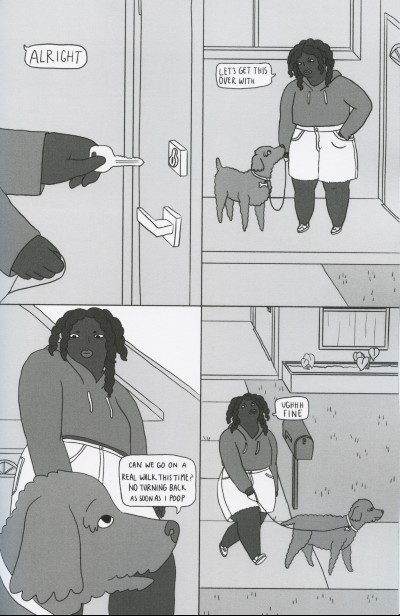 The main comic, 'Just a Walk Around the Block' by Miss Jaws, is the story of DJ and her dog Max whose apparently unremarkable perambulations nevertheless have relevant observations to make about the allied themes of loneliness, connection and the concept of community. As the pair walk the streets of their neighbourhood Max encourages the reluctant DJ to interact with the local residents. The duo's chatty, sparky dialogue and their bickering back and forth provide both an amusing character piece but also a wider insight into social anxiety and isolation.  It's one of those stories that acts as a tangible reminder that the narratives found in the seemingly mundane and everyday can be as profound as those that take on the trappings of the elaborate and fantastic, and it feels particularly topical given the barriers to personal contact that currently surround us.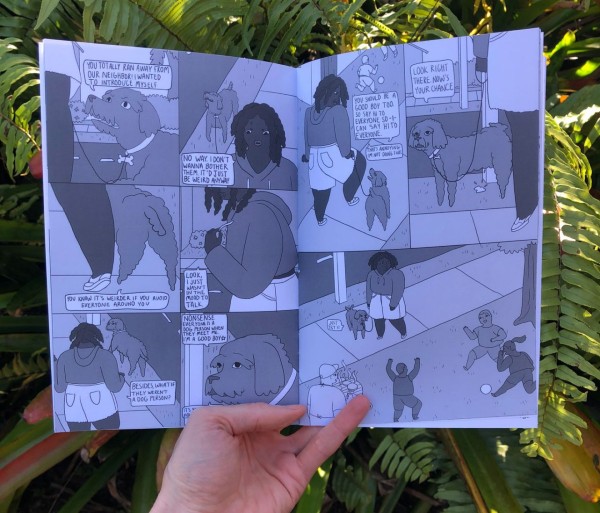 Miss Jaws' use of skewed perspective gives her pages a faux naivety that, rather than being a distraction, actually root the story in reality all the more firmly. There's an eloquent simplicity to her characters that allows us to empathise with them all the more intimately. With slice-of-life work the simple element of finding something that resonates with us on a personal level is often of far greater importance than narrative structure, storytelling mechanics or visual approach in establishing a rapport with the work, and DJ's story will doubtless feel familiar to many.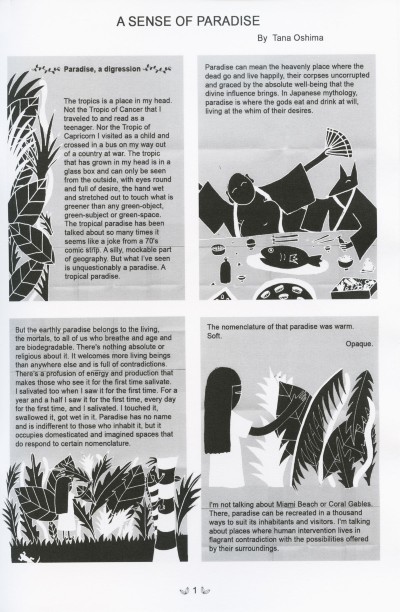 Rounding out the issue is a piece from Tana Oshima that is perhaps better described as graphic narrative than comic strip. It's a thoughtful meditation on the idea of paradise from both a real world (Oshima's time living in Miami) and a conceptual/philosophical viewpoint; Oshima's captivating use of black and white imagery on grey backgrounds proving entrancing in its contrast.
Spiny Orb Weaver is the kind of publication that fills a gap for those comic aficionados who want to not just lose themselves in the craft of comics but to see that work examined, explored and dissected as well. It's the kind of format that I'm surprised isn't more widely adopted and I look forward to seeing who Brideau introduces us to next within its pages in the coming months.
Available to buy online from Radiator Comics here
Review by Andy Oliver