It may be set mostly in the environs of a middle ages kitchen in late fifteenth century Germany but it could be argued that Jamie KInroy's Spit Dog has social parallels to our contemporary world that give this fantasy tale an added layer of relevancy. Kinroy describes protagonist Noob as a "medieval precariat", an era-specific version of the sociological term for a member of a class of people whose lives are lived without the safety net of job or life security. A familiar situation for many in the UK after years of governmental austerity and attacks on employment rights…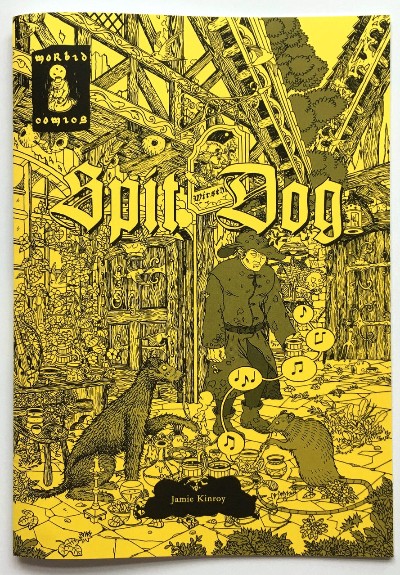 Spit Dog (originally available as a digital comic from the Shortbox Comic Fair), though, is not designed as an overt allegorical polemic. It is, rather, a bleakly funny fantasy romp comprising two short stories and a coda to Noob's first adventure. It takes place in the Wirsthaus Inn, the most popular eating and drinking establishment in the town of Maudlin in 1496 Germany. Here we meet Noob as she begins her first day as a child worker in the kitchens and discovers that overseer Gerry (an unpleasant and bullying talking dog) has her earmarked as the new "Spit Dog" – the name for the unfortunate wretch who has to run on a large mechanical wheel that acts as a mechanism to turn cooking meat.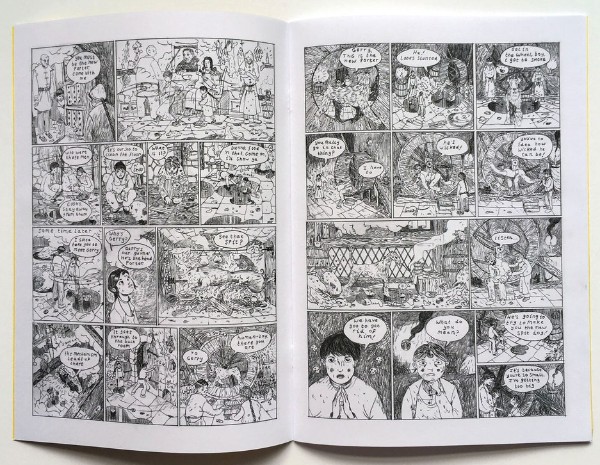 This main story introduces us to an entire world and social structure that exists within the confines of the kitchen and is very much a character-specific piece. The second tale is more a violent slapstick comedy as two drunken monks get into an altercation after a night's drinking in the inn. These interlinked shorts act as what we must enthusiastically wish is an introduction to a storytelling environment that Kinroy plans to revisit in the future, so rich are the narrative possibilities that are established in Spit Dog.
Kinroy's detailed but loose visual style captures the bustle and hardship of life at this poverty level with tight-panelled and crammed pages lending weight to the intensity of Noob's experiences and the claustrophobic, oppressive atmosphere of the unhygienic squalor she is forced to work within. The second story has a heavier, inkier feel and while it lacks the storytelling confidence of the first there are some standout moments of brutal visual wit and a strong kinetic use of panel-to-panel craft to depict motion and physical interaction.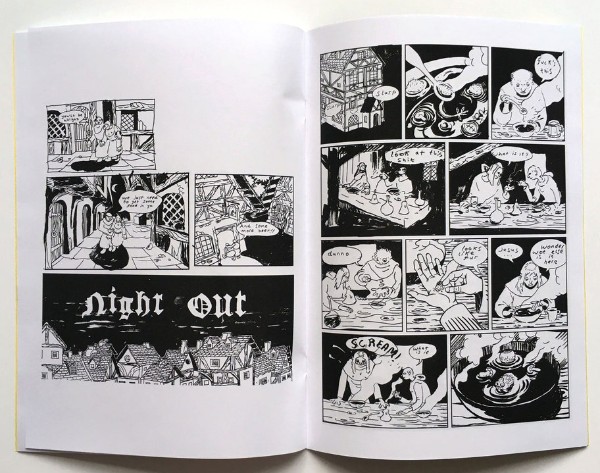 While there is some occasional naivety – the segue between stories and coda is perhaps a little awkward and dialogue can slip into something approaching gorblimey-isms at times – there's huge potential evident here both in terms of the world of Spit Dog and the imagination of its creator. We can only hope this isn't intended as a one-off and that a return to Maudlin is on the cards in 2022.
Jamie Kinroy (W/A) • Morbid Comics, £6.00
Review by Andy Oliver