It's almost Wednesday, and you know what that means: a fresh load of comics and graphic novels! With so many publications hitting your local comics store or digital storefront, the BF staff is here to lead you through the woods with our weekly staff picks. Satisfaction guaranteed.
Comic of the Week
Hellboy and the B.P.R.D. #1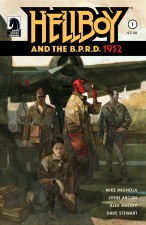 For a character that has been knocking down one occult adversary after another for the past 20 years, Hellboy's never been in a weirder place than he's in now. Seeing Mike Mignola define the 'hell' in 'Hellboy' over in Hellboy in Hell is terrific, but at the same time it's light years away from the more lighthearted, punch-you-in-the-face-with-my-right-hand-of-doom stories Mignola started with.
Hellboy and The B.P.R.D., the new companion title to the main Hellboy storyline, will bring exactly that. The series starts in 1952, eight years after Hellboy arrived on earth. He's is still green behind the ears and learning the ropes aside his fellow paranormal research compatriots, so there's very little backstory needed to get comfy with the brash red-skinned demon. Yup, it's the perfect book for newbies to the Hellboy mythos, while giving longtime fans a look into the untold tales of the iconic character.
Much like he did with Duncan Fegredo, who took over the art chores from him for several years on the core series, Mignola has found the perfect sparring partner in Alex Maleev to visualize Hellboy's earliest adventures: dark and brooding as you expect, but with it's own clear identity.
Light up the cigars already!
Mike Mignola & John Arcudi (W), Alex Maleev (A) • Dark Horse, $3.50
– Frederik Hautain
Just The Tips HC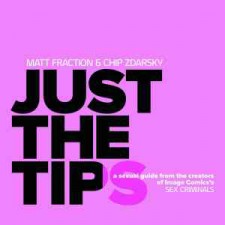 You know what you've always wanted but never realised you wanted until right now. A graphic novel sex tips book. It's the perfect Christmas present for friends and family alike!
Just The Tips is a spin-off creation from Sex Criminals, Matt Fraction and Chip Zdarsky's kinky bank-robbing monthly comic. Except instead of delving into the story, this book is, well, just the tips. The bizarre, slightly twisted, eyebrow-raisingly entertaining tips. On the sex part, not the bank-robbing bit.
With brand-new content made (literally) explicitly for this edition, Just The Tips is a 'curated collection of tips, tricks, moves, advice, suggestions, stories, and confessions, how-tos, do's, don'ts, and do-agains-but-slower-this-times' from the column of Sex Criminals and beyond. Give it a try – you might just learn something!
Matt Fraction (W) Chip Zdarsky (A) • Image, $12.99
– Conori Bell-Bhuiyan
Crossed Plus One Hundred #1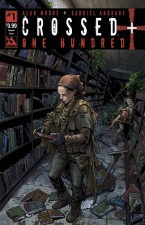 Put a book in which the bad guys make The Walking Dead's zombies look like pussies in comparison in the hands of one of the most ingeniously twisted minds in comics and watch all hell break loose 100 years from now. That's what awaits you in the six-issue romp that is Alan Moore's Crossed Plus Hundred.
Pulled from the darkest corners of Garth Ennis's soul – if he has one – Avatar's Crossed has built a reputation as one of the most vile books on the stands with sequences so disturbing recounting them here would tarnish our all-ages friendly reputation forever. In short, humans who get infected by a gruesome plague transform into evil, cross-faced counterparts of themselves and become horrifically violent. Once you get infected, you do weird $@!#, let's leave it at that.
For Crossed Plus Hundred, Ennis and Avatar have giving the keys to the world to Moore, who moves the story 100 years into the future to a small group of survivors, some of which have never seen anyone get infected.
Yeah, that's not gonna last.
Alan Moore (W) Gabriel Andrade (A) • Avatar Press, $3.99
– Frederik Hautain
Here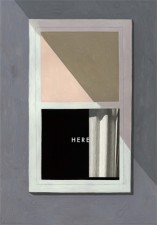 In the fickle fandom of comics, it often seems that the last thing is the best thing. So, you never hear that much any more about 'Here', a six-pager by Richard McGuire that appeared in Art Spiegelman's Raw back in 1989.
However, those pages contained a piece of work later described by no less than Chris Ware as "life-changing". From a single point of view, McGuire showed overlapping fragments of a location's history between 500 billion BC and 2033.
Now, 25 years later, McGuire has reimagined the black-and-white original into a lavishly produced full-colour 320-page graphic novel. This is a fantastic opportunity to take a fresh look at one of the classic foundations of the experimental comics canon.
Richard McGuire (W/A) • Hamish Hamilton, £25
– Tom Murphy
Wolf Moon #1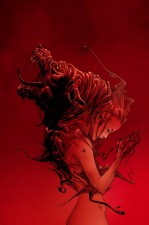 2014 has been a busy year for Cullen Bunn. His writing credits over the past 365 days include both mainstream series such as Magneto, Lobo, and Sinestro for Marvel and DC, respectively, not to mention his creator-owned projects at Oni Press, including Brides of Helheim, Terrible Lizard, and of course the book that put him over, The Sixth Gun.
Often described as a fan-favorite comics scribe in the online press, there's ample reason for his widespread popularity. Bunn's ability to write accessible books with unique twists ensures his ever-growing fan base always have something fresh and exciting to look forward to month in and month out.
His latest creator-owned series from Vertigo is no exception. Teaming up with Jeremy Haun (Batwoman), Bunn's singular vision of the traditional werewolf tale combines facets of American folklore with the classic representation of the horror staple. Following the quest of werewolf hunter Dillon Chase as he seeks vengeance on the body-hopping Wolf spirit that caused him to murder his own family, Wolf Moon is a werewolf story unlike any you've read before.
Promising Bunn's typical spot-on characterization, gut-wrenching horror violence, and absolutely gruesome visuals, courtesy of the ultra-talented Haun, it looks like the busiest man in comics may just have another hit on his hands.
Cullen Bunn (W), Jeremy Haun (A) • Vertigo Comics, $3.99
– Jason Wilkins
Tooth & Claw #2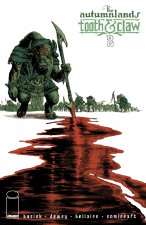 No doubt anyone who's read the first issue won't need much convincing to pick this one up, but for those of you who haven't read Tooth & Claw yet now's the perfect time to grab the first two installments of this new, high-fantasy epic by comics great Kurt Busiek and rising talent, Benjamin Dewey.
High above the plains float the seventeen magical cities and the dutiful, god-fearing creatures who populate them. But the magic upon which the subsist (bestowed upon them by their gods) is slowly disappearing.  In an attempt to save their way of life, a conclave of wizards meet in secrecy in order to perform a ritual meant to return to them the Great Champion from their legends. But the ritual ends with disastrous consequences and the changes they have brought about prove to be much different than they expected.
Kurt Busiek (W), Benjamin Dewey (A) • Image Comics, $2.99
– Tyler Chin-Tanner