Press Release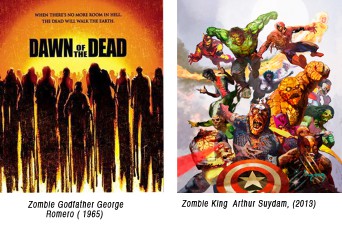 Marvel has published its fair share of zombie comics over the years, but now it can claim to have one written by the Godfather of the modern zombie genre–none other than Night of the Living Dead director George A. Romero
The Romeo-penned Empire of the Dead, will feature variant cover art by award winning artist ZOMBIE KING, ARTHUR SUYDAM ( Marvel Zombies, The Walking Dead) with interior art by Alex Maleev.
Romero initially teased the title back in 2012.
His new series promises a "new predator" in addition to zombies in a post-plague New York, creating a setting which is a departure for veteran film maker Romero, who set and shot all of his zombie films in and around Pennsylvania, circa 1960's.
Marvel released the long awaited details on this top secret project to of over 150,000 eager fans  at New York City's New York Comicon .
EMPIRE OF THE DEAD, will be a 15 part comic series, and is scheduled for release in January 2014.
EMPIRE OF THE DEAD #1 (of 15)
Written by GEORGE A. ROMERO
Variant Covers by ARTHUR SUYDAM
Interior art by ALEX MALEEV
Release schedule, January 2014