It's almost Wednesday, and you know what that means: a fresh load of comics and graphic novels! With so many publications hitting your local comics store or digital storefront, BF is here to lead you through the woods. These are the books that need to be on your pull list this week.
Comic of the Week
HOAX Psychosis Blues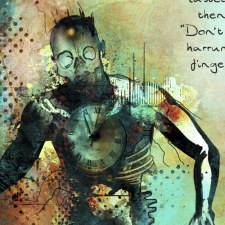 Cross-media creator Ravi Thornton's HOAX project, based on the poetry of her late brother Rob, comprises two main strands : the musical HOAX My Lonely Heart – premiering at the Royal Exchange Theatre in Manchester this week – and the graphic novel HOAX Psychosis Blues (advance reviewed here at Broken Frontier last month).
While the stage show examines the time immediately prior to the graphic novel – detailing the progress, nature and breakdown of Rob's pre-diagnosis relationship – HOAX Psychosis Blues is Thornton's profoundly affecting account of his latter struggle with schizophrenia and is designed to be read as a standalone entity in its own right.
Following his story over a number of years, with a framing sequence by Leonardo M. Giron, each biographical section alternates with a visual interpretation of one of Rob's emotionally charged poems. These are illustrated by some of the UK comics scene's top talents including the likes of Bryan Talbot, Hannah Berry, Mark Stafford and Karrie Fransman. The book was summed up in our recent BF review as "the ultimate expression of the graphic memoir's unique power to share and communicate personal experience. It is, without a doubt, a hauntingly beautiful masterpiece."
Heart-rending but always inspiring, HOAX Psychosis Blues is a painful, vital yet always rewarding read. Highly recommended.
You can order a copy of HOAX Psychosis Blues online here. A portion of the sales from the book go towards mental health charities.
Ravi Thornton (W), Leonardo M. Giron, Hannah Berry, Karrie Fransman, Julian Hanshaw, Rozi Hathaway, Rian Hughes, Rhiana Jade, Ian Jones, Mark Stafford and Bryan Talbot (A) •  Ziggy's Wish, £15.99
– Andy Oliver
Princess Ugg #1
Within the fairy-tale kingdom of Atraesca lies the prestigious Princess Academy, where young royals from all the five kingdoms come to get their education. But they've never before seen the like of Princess Ülga of Grimmeria. Armed with axe and sword, riding her war mammoth through the city gates, Ülga has come in search of schooling. But this barbarian princess might just end up schooling the people of Atraesca before that happens!
Ted Naifeh is no stranger to creating young, strong, female lead characters. Some of the comics he's created in the past include Courtney Crumrin and Polly and the Pirates. Now he sets his sights on mixing both the barbarian and the classic princess troupe in order to challenge our notions of what it means to be a princess and just what qualities they should exemplify.
Ted Naifeh (W/A) • Oni Press, $3.99
– Tyler Chin-Tanner
Everywhere Antennas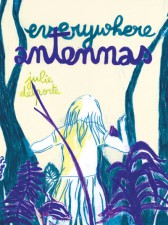 Having established her reputation as a stylish graphic diarist in Journal (Koyama Press), Canadian artist Julie Delporte's first book for Drawn & Quarterly takes on a more fictional hue, depicting the mental struggle of a young woman who starts to attribute her ailing health to the electromagnetic pollution that engulfs us, emitted from the technology at everyone's fingertips. In an attempt to save herself, she finds herself retreating further and further from the modern urban world.
The work pushes the boundaries of the comics form; words and pictures are combined, but not in the traditional beat-after-beat narrative style. Instead, handwritten narration weaves in and out of defining images, all in bold Fauvist coloured pencils. However, this is far from just illustrated prose; the drawings relate the narrator's anguish as eloquently as her words. A beautiful, immersive piece of work.
Julie Delporte (W/A) • Drawn & Quarterly, $19.95
– Tom Murphy
Batman '66 Meets the Green Hornet #1
WHAP! BIFF! KAPOW!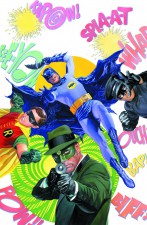 Batman '66 is far and away the greatest success story out of DC Comics in recent years. Amid the grit and darkness that has characterized the New 52, Batman '66 has managed to capture the essence of the 60s television series – an unashamed joy in the ridiculous, the goofy, and the campy.
It only makes sense then, that this month the Caped Crusader and Boy Wonder will team up with the Green Hornet and Kato in a six part mini-series that follows up on 1967's landmark two-episode crossover. Set within the continuity of the original crossover, the two pairs of heroes are forced to go up against their old foe, General Gumm, who has gotten a sizable promotion from his days as Colonel.
If the success of Batman '66 is rooted in a blend of nostalgia and fun, then the writing involvement of Batman super-fan Kevin Smith should come as a considerable selling point. Smith has been intensely vocal in his defense and love for the 60s Batman series, and tackling one of TV's most iconic crossovers falls right into his wheelhouse. Along with fellow 'Hollywood Babble-On' host Ralph Garman and series mainstay Ty Templeton, Batman '66 Meets the Green Hornet is one of this summer's big events.
Ralph Garman, Kevin Smith (W), Ty Templeton (A) • DC Comics/Dynamite Entertainment, $2.99 
– Reid Vanier
Toto Trouble Vol 1: Back To Crass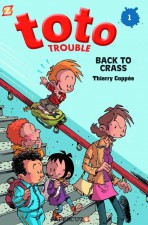 The ratio teenage/adult comics vs kids comics has always been an imbalance in US comics. Much more prevalent in Europe, it makes sense that the english language part of the comics-for-kids world gets the mustard in France.
Dedicated to educating the US and UK public to the merits of quality kids comics, publisher Papercutz collects Thierry Coppee's Toto Trouble. A clear exponent of the dynamic Franco Belgian style laid down by Franquin, Coppee's Toto is a not too bright, clumsy and social misfit of a kid. He is an expert at one thing though: messing stuff up!
Toto Trouble is good wholesome fun for the kids. Coppee makes good use of the everyday reality of an average kids' life and as an adult, you'll at least get some quality time for yourself out of it… when your kid is reading Toto Trouble. Available in Softcover and Hardcover editions.
Thierry Coppee (W), Thierry Coppee (A) • Papercutz, $7.99
– Bart Croonenborghs

The Superannuated Man #1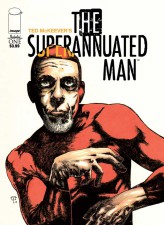 In a dark dystopian future, the human race is a species bordering on extinction and the world is controlled and dictated by evolved, advanced and mutated animal, their changes somehow bought on by reasons connected with the mysterious carbon black inkiness of the sea. The cause of the change in the sea appears unknown, but by the time the humans of the world started to notice its effect on the wildlife around them, they were no longer in charge of their own world.
Ted McKeever's six-issue miniseries picks up this world in the small seaside town of Blackwater, where only a single old man remains as a vestige of the human race.  He lives by scavenging of the scraps of humanity's civilisation and stubbornly defies the ways and rules of the town's new tenants. He is an outsider, a non-conformer that the animals cannot fully control, and as such their distrust and anger at him is growing.
It's the future, but it's an old story of a group who feels threatened by something they do not completely understand – except this time the thing that can't be understood is humanity itself.
Ted McKeever (W/A) • Image Comics, $3.99 
– Conori Bell-Bhuiyan
Green Arrow #32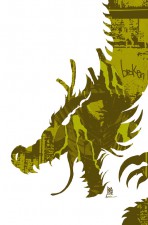 Before Jeff Lemire took over the grip and serving of Green Arrow's bow, Oliver Queen was a character that struggled to find his footing in the New 52 – and some time before even. Not so anymore, as Lemire quickly turned the tables and pulled the rug from under Ollie's feet, forcing him to redeem himself without any of his riches to fall back on.
With the start of this week's 'Broken' storyline, our green-hooded star takes another step in re-establishing himself as a true hero as he's facing a handful of new rogues that look to claim the bounty put on his head by his nemesis, Richard Dragon.
This is the perfect jumping-on point for the title in the post-Forever Evil DCU, and everything's still slickly rendered by Lemire's wingman, Andrea Sorrentino.
Jeff Lemire (W), Andrea Sorrentino (A) • DC Comics, $2.99
– Frederik Hautain
Rise of the Magi #1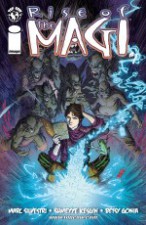 All of the magic that exists in the past, present, and future is contained within a single black sphere. There used to be many of these spheres throughout the universe, but now there is only the one. It is on a planet called Rune and protected by a spell thought impenetrable—until now. The spell has been broken and a small shard has been stolen from the sphere. Asa Stonethrow discovers the theft, but what can he do about it?
With Mark Silvestri at the helm, we can be sure that the universe is in serious trouble and Asa will have to get up to speed about all things magic in a hurry.
Mark Silvestri (W), Sumeyye Kesgin and Mark Silvestri (A)• Top Cow Productions, $3.50
-Karen O'Brien