It's almost Wednesday, and you know what that means: a fresh load of comics and graphic novels! With so many publications hitting your local comics store or digital storefront, the BF staff is here to lead you through the woods with our weekly staff picks. Satisfaction guaranteed.
Comic of the Week
The Valiant #1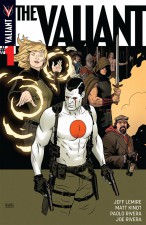 Marvel and DC aren't the only places you can find cutting edge superheroics, nowadays. For the past couple of years, with critically-acclaimed titles such as X-O Manowar, Rai, and Quantum and Woody, Valiant Comics has leapt to the forefront of mainstream funny books with intelligent, well-crafted adventures that span time and space while subtly laying the foundations for a rich superhero universe of its own.
Continuing a trend of recruiting high-profile creators to its stable of artists and writers, The Valiant witnesses the pairing of three of comics' hottest names in a self-contained series teaming up a trio of the publisher's most popular characters. Jeff Lemire (Trillium, Green Arrow), Matt Kindt (Mind MGMT, Rai), and Paolo Rivera (Daredevil) present a tale revolving around the Eternal Warrior's never-ending battle versus the Immortal Enemy.
Also featuring Valiant stalwarts Bloodshot and Geomancer, this series seeks to set a new status quo for the three characters, while remaining reader-friendly. Slick production values, rollicking adventure, and high-level storytelling all converge in what will surely be an epic for the ages.
Jeff Lemire & Matt Kindt (W), Paolo Rivera (A) • Valiant Comics, $3.99

– Jason Wilkins
Savage Dragon #200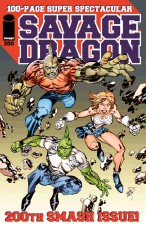 In one of the most impressive milestones you'll ever see in comics, Erik Larsen brings his creator-owned series to its 200th issue! The original Savage Dragon is out of prison and the Vicious Circle is gunning for him. Malcolm Dragon and his stepsister Angel join forces to keep their father alive against an all-out assault from their enemies.
This 100-page super spectacular features a variety of back up stories including an Angel and Mr. Glum adventure from Batman artist Chris Burnham and a Malcolm and Savage Dragon in WWII story illustrated by legendary Incredible Hulk artist Herb Trimpe.
This issue also ships with a variant cover where Erik Larsen pays homage to the great Jack Kirby by finishing a classic Captain America & Bucky pencil drawing by Kirby and replacing those heroes with  Savage Dragon and Malcolm.
Erik Larsen (W/A) • Image Comics, $8.99
– Tyler Chin-Tanner

Bitch Planet #1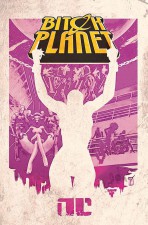 Pegged as an unholy marriage of Margaret Atwood and Inglorious Basterds, Kelly Sue DeConnick's (Ms. Marvel, Pretty Deadly) latest creator-owned project with the uber-talented Valentine  De Landro (X-Factor) certainly pushes the limits of typical sci-fi. A loving, rambunctious, yet down-to-earth send-up of the cheesy and titillating women-in-prison exploitation flicks of the 60's and 70's, Bitch Planet is full-on, balls-to-the-walls fun.
Following the misadventures of a handful of women incarcerated on a brutal prison planet (one of whom apparently doesn't belong behind bars) as they attempt to escape their fate via gladiatorial combat versus a crew of visiting male prisoners, this series pays tribute to its chosen era, with tongue firmly planted in cheek.
To write DeConnick's tribute to her beloved exploitation films off as nothing more than schlock would be a huge mistake, though. From its well-thought out plot to the beautifully gritty graphic stylings of De Landro and colorist Cris Peters, this is a series that will turn heads for its high-level craftsmanship, as much as its shocking subject matter.
Kelly Sue DeConnick (W), Valentine De Landro (A) • Image Comics, $3.50

– Jason Wilkins
Enigma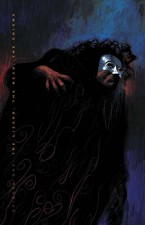 After last week's epic revamp of a classic comic, this week's blast from the past is a more straightforward reissue: a new trade paperback of Enigma, a Vertigo eight-parter by Peter Milligan and Duncan Fegredo that hit the shelves to great acclaim in 1993 but has – almost unbelievably – been out of print for most of the intervening years.
In Enigma, Milligan hit the sweet spot of what he does best: blending fantastic, mind-warping concepts with humour, authorship and a razor-sharp, sometimes uncomfortable insight into the nooks and crannies of the human psyche. As a bonus, it also provides the opportunity to see Fegredo, then a recent graduate, develop his pyrotechnic talent.
The story itself is a complex tale of self-discovery, creation and sexual identity. It starts with jaded, anomic everyman Michael Smith having his life turned upside down when the characters from his favourite childhood superhero comic start to come to life, and it famously ends with one of the most audacious revelations in comics. This is a welcome return for a book that saw its writer at the top of his game.
Peter Milligan (W), Duncan Fegredo (A) • Vertigo Comics, $17.99
– Tom Murphy
Reads Vol. 2 #2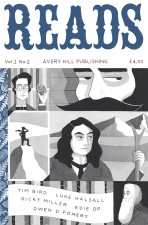 For some, Avery Hill Publishing may have seemed like the wild card inclusion in the Best Publisher category of this year's Broken Frontier Awards. Of course, micropublishers being nominated in that category is not without precedence at Broken Frontier – U.S. minicomics purveyor Oily Comics made it in 2013 – and this year's ballot contains a number of boutique houses names like Retrofit and Oily in its selections. But if you're unfamiliar with the quality of the eclectic but always accessible work that has ensured Avery Hill are rubbing shoulders with the likes of Image Comics this year, and you're wanting to investigate their material further, then you can't go far wrong with their anthology title Reads.
In the second issue of this second volume you can browse work by a number of AHP regulars like Owen D. Pomery, Tim Bird and EdieOP (whose Maleficium got the 'Small Pressganged' seal of approval here at Broken Frontier last week) in serials and one-off tales that include Ricky Miller and Tim Bird's comics biography of Alfred Hitchcock and 'The Bullpen', a pastiche of the behind-the-scenes politics of the Silver Age of Comics by Luke J. Halsall and Bird again. Pomery's riotous Victorian gentlemen scientists The Megatherium Club are also back (as signalled by that gorgeous Eleni Kalorkoti cover) and EdieOP introduces us to another bizarre character from her sinister yet smiley imagination in 'Muriel'.
It's been a breakout year for Avery Hill Publishing and the latest issue of Reads suitably celebrates that astonishing array of creators they have brought to a larger readership during the course of 2014!
Anthology – Various creators • Avery Hill Publishing, £4.00
– Andy Oliver
Eternal #1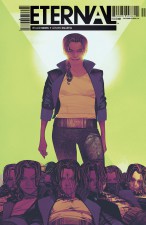 What if you don't have to die? Would you put off traveling to the great beyond if you had the chance? And more importantly, is the fact that we all die at some point what makes us truly human?
Those are the questions William Harms looks to answer in BOOM!'s newest miniseries, Eternal, about a future in which you can clone yourself to live forever. All you need is enough money. And pure blood.
Everything has a catch, and so has cloning: because a process that damages the chromosomes, the few non-cloned humans are tracked down because their genetic material is needed to keep the clones's juices pumping. A new dark sci-fi morality play in the grand tradition of Philip K. Dick!
Look for an Inside Look with William Harms later this week here on Broken Frontier for a peek inside Eternal's creative process.
William Harms (W), Giovanni Valletta (A) • BOOM! Studios, $3.99
– Frederik Hautain
Shutter #7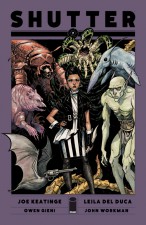 The high-stakes adventure series jumps into its new story arc without missing a beat. Kate Christopher and her newly discovered younger brother charge head off on their own only to find themselves in a fire fight with giant winged-beasts. They discover that the architect to their troubles in none other than their mysterious, older sister. The siblings finally come face to face in a struggle of sibling rivalry with cataclysmic results.
Legendary letterer John Workman joins the creative team of Shutter with this issue which includes a comprehensive retrospective of his career by Shea Hennum. A cartoonist himself, Workman also provides the art to one of the four variant covers. The other variants are by Frank Cho, Ray Fawkes and the artistic team behind The Wicked & The Divine, Jamie McKelvie & Matt Wilson.
Joe Keatinge (W) Leila Del Duca & Owen Gieni (A) • Image Comics, $3.50
– Tyler Chin-Tanner

Al Capp's Li'l Abner Volume 7: 1947-48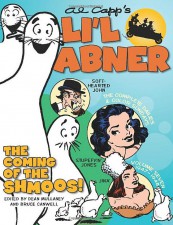 IDW's handsome hardcover collections of the daily and Sunday editions of Al Capp's classic newspaper strip reach material from the late '40s and a pivotal moment in the history of the satirical feature that starred the titular hillbilly and his eccentric, sprawling cast of family and friends.
This edition is particularly notable in that in amongst the usual slapstick yet biting humour it also re-presents the first appearance of the immensely popular Shmoos, as Li'l Abner journeys into the "Valley of the Shmoon". The allegorical nature of these lovable, pliable creatures that could provide humanity with all it needed – and yet also threatened to derail the economy as a consequence – ensured the ever controversial Capp would provoke the ire of both sides of the political divide with their debut tale. The characters proved a huge hit with the general public, however, becoming a massive pop cultural phenomenon and spawning a small explosion of merchandising.
Al Capp (W/A) • IDW Publishing, $49.99
– Andy Oliver 
Spider-Man and the X-Men #1
In keeping a promise to Wolverine, Spider-Man takes on the role of Special Guidance Counselor at the Jean Grey Academy. Wolverine had long suspected that something wasn't quite right at the school and that one of the students wasn't what they seemed, but he never got the chance to prove his theory.
Spider-Man arrives via a skeptical Storm to get to the bottom of things, but being a non-mutant will cause plenty of friction for the Wall Crawler not just with the adult faculty, but also with the students. Writer Elliott Kalan has selected a special class of students for Spidey that features X-Men who rarely see more than background roles in the X-titles. No Girl, Rockslide, Shark Girl, Eye Boy, Glob Herman, Ernst, and Hellion aren't exactly marquee draws, but their obscurity may be just what makes this story unique. No X-fan knows too much about any of these characters, and that creates a level playing field for what should be an entertaining mystery.
The creative team will have an opportunity to define these lesser known X-Men while still playing in the same sandbox with Iceman, Beast, and Storm. I'm particularly interested in seeing how Failla handles Spidey's flexibility and fluidity during action scenes. I'm also expecting Kalan to craft the banter among the adult characters to be a source of friction as well as a vehicle for understanding—no small task there.
Elliott Kalan (W), Marco Failla (A) • Marvel Comics, $3.99
– Karen O'Brien
Uncanny X-Men Annual #1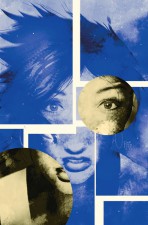 When the youngsters of the Uncanny X-Men got dumped in Tabula Rasa on a training mission, Eva Bell briefly disappeared during the fight. When she returned, the time-manipulating mutant appeared to have aged and to have experienced some heavy turbulence, but she chose not to tell anyone about what she had gone through.
All will be revealed in this oversized annual, the first of a two-part story continuing in All-New X-Men Annual #1, on sale later this month. Brian Bendis, scribe of both Uncanny and All-New X-Men, has brought rising star Andrea Sorrentino along for the ride.
After gaining fame at DC on I, Vampire and most notably, Green Arrow, Sorrentino takes his first crack at the Marvel Universe, showcasing the immense skills that landed him a nomination for Best Artist on our BF Awards 2014 ballot.
Brian Michael Bendis (W), Andrea Sorrentino (A) • Marvel Comics, $4.99
– Frederik Hautain