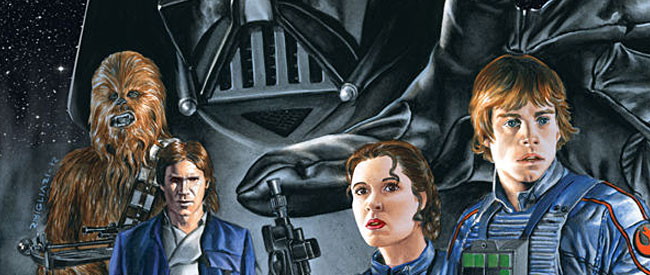 Another exciting chapter in Brian Wood's expanded Star Wars Universe.
In all honesty, I have not been able to catch every issue of Brian Wood's Star Wars adventures, but Wood's stories are always faithful to the fun nature of the original series and the characters that call that far, far away galaxy home.
Wood is determined to help develop the history and character of the much beloved Star Wars cast by launching them into dire situations with the odds completely stacked against them.  In this issue, for example, Wood immediately takes the ever bold Princess Leia to the brink of death as she bleeds out in a badly damaged X-Wing.  What follows shows an increasing closeness between Luke, Wedge, Leia, and more, as they forge an unbreakable trust that will carry into The Empire Strikes Back and Return of the Jedi.
What makes Wood's tale stand out from the vast array of expanded universe stories is that he does not solely focus on the peril of the characters, but shows them growing into the liberators of a whole galaxy, and even more importantly reminds us why we love them.
Wood could not have been partnered with a better artist for the job of capturing the Rebellion and the Empire's navies than Carlos D'Anda.  D'Anda has a knack for penciling the complex machinery and starfighters that cut across the pages, and even more so puts extra detail into making the Rebellion's X-Wings look battleworn and the Empire's cruisers polished and sterile.
An epic space-battle is much more than the minute details of the bodies of cruisers and fighters, however, as D'Anda uses his pages to capture the size and scope of the fight, where close images of TIE-Fighters engaging the Rebels are quickly dwarfed by the massive "Pride of Kuat," an Imperial-Class Star Destroyer.  As this arc concludes, however, D'Anda makes his exit as familiar Brian Wood co-creator, Ryan Kelly, takes up art duties for the next three issues.
Brian Wood is known for his character-driven work, and his Star Wars is no different.  The danger that Luke, Leia, and the entire ensemble face is exciting and nerve-wracking, but the growth that results from it is nothing but great.  As Wood continues his tale, it's clear that more danger is in store for the Rebels, and more of the universe we love.
Brian Wood (A), Carlos D'Anda (A) • Dark Horse Comics, $2.99, June 12, 2013.