The Star Wars is classic entertainment in the vein of the franchise fans know and love, but it offers a surprisingly unique look at what the beloved sci-fi movie could have been.
Dark Horse Comics continue their seven-part adaptation of George Lucas' original screenplay for what later became his 1977 hit film, following two parallel plotlines surrounding Kane Starkiller and (the all-new, all-different) Luke Skywalker, both Jedi knights of the highest order. With Starkiller's youngest son killed in a Sith raid, he and his older son Annikin have set course for Aquilae. Unfortunately for them, an unknown object the size of a small moon has its sights set on the same planet, and its intentions may be decidedly more sinister. To put it another way, That's no moon.
With a final round of negotiations looming to resolve the conflict between the Old and the New Empires, peace may once again be threatened by General Darth Vader's plans to crush the rebellion at its source on the planet Aquilae.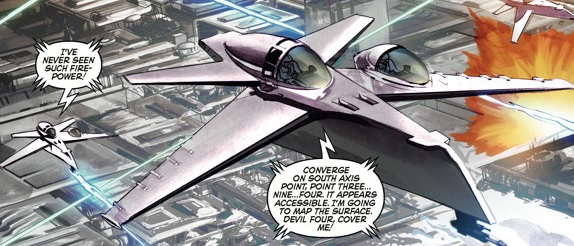 Rinzler's script does a great job of conveying the beats of the screenplay in a sequential format. Given the nature of the adaptation, though, it's sometimes hard to guess whether a certain shortcoming in dialogue or pacing originates with Rinzler or Lucas. Some parts of the story are plagued by an overabundance of dialogue, which many fans of the saga may find reminiscent of some of the more CSPAN-esque scenes of The Phantom Menace, and a poorly placed scene cut can sometimes lead to momentary confusion as to the characters involved.
Mike Mayhew's art is exquisitely rendered, with a keen attention to detail that gives the book a cinematic quality uniquely fitting the story's origin as a screenplay. The shading and colors can occasionally look a little flat, but the dynamic presentation and composition of Mayhew's art almost always saves the scene from any feeling of roughness or lack of polish.
On the whole, Dark Horse's latest installment in the franchise does manage to be a unique, enjoyable, and sometimes compelling take on an all too familiar story. The Star Wars is an entertaining and well-made comic in its own right, even if it understandably can't help living in the shadow of its more famous multimedia siblings.
J. W. Rinzler (W), Mike Mayhew (A) • Dark Horse Comics, $3.99, October 2, 2013