While their digital comics releases seemed to dry up a few months back DC Thomson 's Heritage Comics imprint have announced a new print collection of the classic Starblazer strips, including more vintage work from a young Grant Morrison. More details in the press release below.
Heritage Comics present…STARBLAZER Volume 2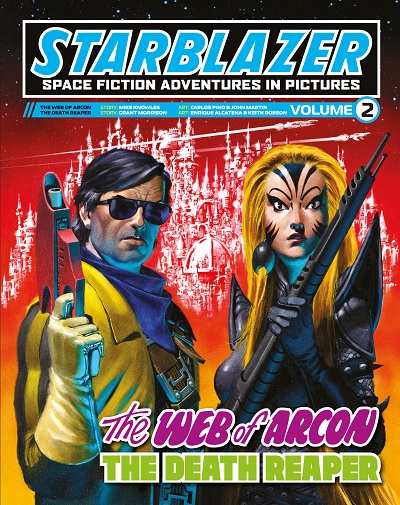 Interstellar Space Fiction Adventure in Pictures! Beaming down from outer space and into your hands is Starblazer Volume 2! This astronomical anthology collects two classic Starblazer issues from DC Thomson's extra-terrestrial archives!
Collecting two vintage issues from 1979 and 1984 and blowing them up to full-graphic novel size, this volume also features an exclusive interview with legendary artist Carlos Pino (Commando, 2000 AD's Judge Dredd), cover gallery, and foreword by Doctor Who screenwriter and comic author Paul Cornell.
Reprinted for the first time are:
The Web of Arcon
Reconnaissance ships patrolled the dark recesses of the Galaxy. As these ships were largely automatic, the crew spent long periods doing nothing. But on his first deep space trip, the newly commissioned Lieutenant Janus was about to encounter The Star Queen, a spaceship long thought lost and destroyed. Well, the truth about its fate was stranger – and more dangerous – than fiction!
First published Starblazer #12, 1979.
The Death Reaper

Mikal R. Kayn was a policeman. He was forcibly retired by the Republic of the United Worlds' Department of Justice, Star Cops, for methods to be found in no book… and a slight medical problem – he was all but blind.
However, being medically blind didn't stop Kayn from becoming a Private Investigator, in fact, the Justice Department were delighted, because it got him off their backs. Well, almost… on March 23, 2284, Kayn's old partner, Affa, still a Galactic Policeman, was in the middle of an investigation and he needed Kayn's help!
First published Starblazer #141, 1984.
'The Death Reaper' is the next issue in Grant Morrison's Mikal R. Kayne series and introduces another famous Starblazer character of their creation, Cinnabar. Enrique Alcatena is on art duty, with Keith Robson on the cover, both doing an out-of-this-world job.
Grant Morrison MBE is an international comics legend known for their work on Animal Man, Batman, Doom Patrol and The Green Lantern. One of Morrison's first writing jobs in comics was for DC Thomson's Starblazer.
The volume is once again capped off with an astronomical cover by Neil Roberts (2000 AD, Warhammer, Commando).
The long-awaited Starblazer Volume 2 from Heritage Comics is out on Amazon, Magsdirect.co.uk and in WHSmith stores November 1st, 2023, or is available to pre-order now on Magsdirect.