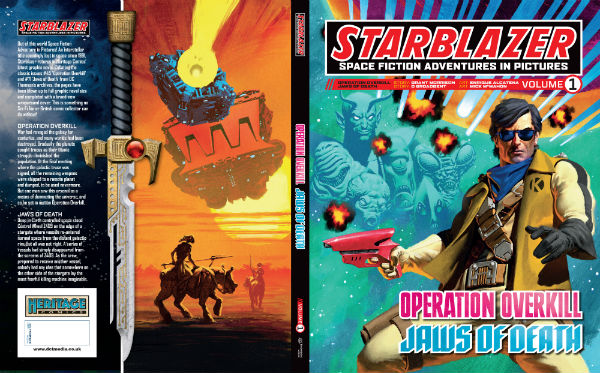 Those of you who follow my own rather self-indulgent social media streams as well as the official Broken Frontier one will be aware of my posts over the summer focusing on vintage sci-fi material courtesy of DC Thomson's digest-sized 1970s and '80s Starblazer comic. Published in the same format as their long-running Commando title (and their latter Football Picture Story Monthly) it's a comic with a certain cult appeal and one that featured early work by a certain Grant Morrison…
With Rebellion doing such fine work in re-presenting so much material from IPC Comics' heyday it's great to hear today of more moves to exploit the rich DC Thomson back catalogue with a collection of Starblazer comics that comes with some exciting extras. The full press release with further details runs below.
Heritage Comics Launches Starblazer Graphic Novel
Heritage Comics presents Starblazer, in print for the first time since the 1990s, now in graphic novel format.
Originally published between 1979 and 1991 by DC Thomson, Starblazer was the pocket-sized, Science Fiction comic, presenting action and adventure stories set throughout space and time, overflowing with alien alliances, wonderful worlds and tantalising technology. This graphic novel presents issues #45 'Operation Overkill' from 1981 and #71 'Jaws of Death' from 1982, refreshing and rescaling the artwork to full graphic-novel size, whilst retaining the charm of their original black and white format.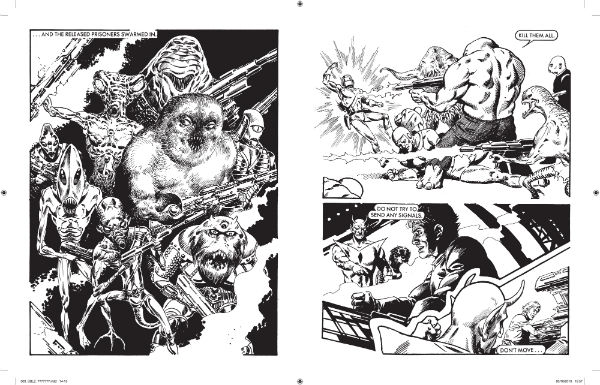 'Operation Overkill' (above) provides a glimpse into some of British comic legend Grant Morrison's earliest work, where Argentinian illustrator Enrique Alcatena's artwork brings such imaginations to life in exquisite detail. Likewise, 'Jaws of Death' (below) by D Broadbent showcases Mick McMahon's instantly recognisable, clean and confident draughtsmanship. Together, they present some of the best of British Science Fiction in a highly-collectible and well considered format, appealing to a contemporary audience as well as fans of the original pocket-size publication.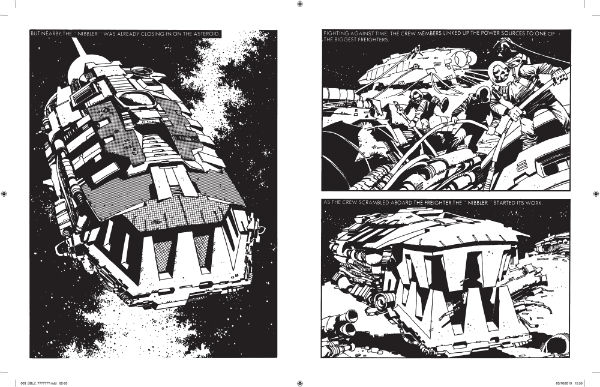 Supplemented by the original, full-colour cover art by Keith Robson for both issues, a fresh new wraparound cover by Neil Roberts brings these classic stories into a contemporary, yet familiar field.
Bonus content comes in the form of a brief history of the well-loved cult comic with an Ian Kennedy Easter Egg in the mix, an exclusive interview with artist Neil Roberts, and insights from a conversation with Grant Morrison by Professor Christopher Murray. A must-have for Science Fiction and British comic fans alike.
You can also preorder a copy from DC Thomson's website right now!
The Starblazer graphic novel will be available to buy from WHSmith and the DC Thomson shop from early November 2019 for £12.99.
#15 'Operation Overkill' originally printed in 1981
| Story | Grant Morrison | Art | Enrique Alcatena | Cover | Keith Robson |
#71 'Jaws of Death' originally printed in 1982
| Story | D Broadbent | Art | Mick McMahon | Cover | Keith Robson |