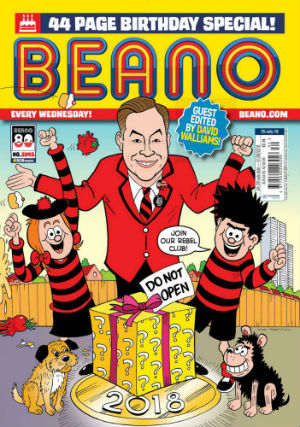 A British institution, a national treasure and the last survivor of a bygone age of children's weekly comics, The Beano reached its 80th anniversary issue this past week. There's something gloriously contradictory in that longevity; that a weekly comic designed to be so ephemeral and disposable has spawned characters so iconic and legendary. If ever there was a British comics offering that has transcended the medium that birthed it then it's The Beano. Its characters have not just become household names across the decades but have also broken out and crossed over into alternative mediums.
Issue #3945 (in a world where comics are routinely relaunched with new #1 issues every few months the British adherence to the traditions of historical numbering remains a quiet delight!) sets out to commemorate this milestone in style with an offering that respectfully embraces the comic's venerable history while remaining contemporary in presentation. Comedian, actor and author David Walliams steps in as guest editor in an issue which playfully toys with those storytelling tricks unique to comics as a form.
Virtually every individual character's comic strip feeds into an overarching storyline concerning the awakening of an ancient, Lovecraftian evil buried under the Bash Street school by original Beano characters Lord Snooty and his gang 80 years ago. Re-emerging from its slumber the creature returns to life ready to feast on their naughtiness. It's up to Dennis, Gnasher, Minnie the Minx, the Bash Street Kids and the rest of the Beano gang to put paid to 'The Big Birthday Horror'…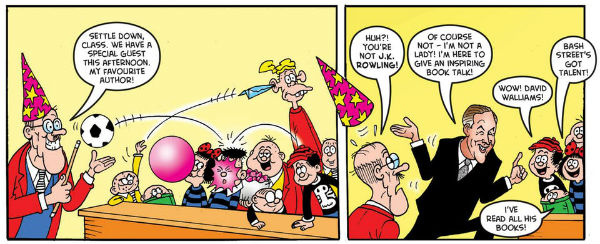 Art by Nigel Parkinson
Writer Nigel Auchterlounie (whose work many will first have discovered via Kenny Penman's Blank Slate Books some years back) is responsible for directing much of the animated antics herein, deftly weaving characters in and out of each others strips and setting up plot points that will be picked up and resolved elsewhere. Not everything is linear, giving the younger readers the comic is aimed at the fun of piecing things together as the issue progresses.
The visuals are energetic and enticingly frenetic in places, ensuring the kids' misadventures will captivate the target audience throughout. Nigel Parkinson gives a wink to the past and captures a notably period feel in the framing sequences for those older readers here for the nostalgia hit while Paul Palmer provides knockabout, sci-fi slapstick in the Minnie the Minx segment and, of course, it's always a treat to see veteran artist Barrie Appleby (whose association with The Beano goes back to the '70s) on Roger the Dodger.

Art by Nigel Parkinson
Bridging the generations with ease, The Beano #3945 succeeds in that trickiest of tasks of giving readers a birthday bash that has retro appeal but doesn't lose sight of its contemporary fans. Audiences and eras may change around them but the Beano characters retain their timeless, mischievous innocence.
Nigel Auchterlounie, David Walliams and Michael Stirling (W) Nigel Parkinson, Barrie Appleby, Emily McGorman-Bruce, Paul Palmer, Leslie Stannage, David Sutherland, Wayne Thompson and Hunt Emerson (A) • DC Thomson, £2.75
For more on The Beano visit the official site here and follow the Twitter account here. 
All images (c) DC Thomson