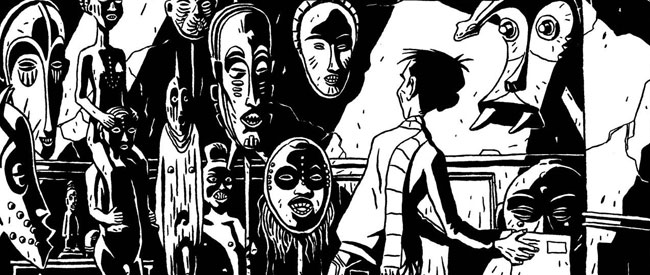 The early 1990s were, um, interesting times in British comics. And one of the most legendary tales was that of Tundra UK, a company set up by Kevin Eastman on the back of his Teenage Mutant Ninja Turtles millions to capitalise on the invasion of UK talent that had poured into the US comics industry.
The company famously imploded amid a lavish frenzy of spending, including a party at London's Natural History Museum rumoured to have cost £50,000 (back when that was a lot of money).
Fortunately, a more positive legacy remains in the form of work like Milligan and McCarthy's Skin and Strange Embrace by David Hine, the final comic the company published.
A deeply unsettling submersion into manipulation, obsession and psychosexual horror, it tells the tale of Sukumar, a boy who finds himself sucked into the world of psychic psychopath Alex, who is determined to uncover the secrets of a strange and reclusive old man.
However, that's just the starting point for a postmodern Chinese puzzle box of a narrative, as stories develop within stories, going back in time and gradually pulling away the veil to reveal the darkness at the heart of his characters.
Hine is better known these days as a writer, having worked on a diverse range of titles from Spawn to Bulletproof Coffin. However, Strange Embrace offers a startling look at his fantastic talent as an artist; he uses powerful storytelling and an mastery of expressionist light and shade to create a stark and dangerous world.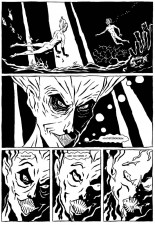 And now Sequential – "the thinking man's ComiXology", according to Man at the Crossroads Paul Gravett – has produced one of its finest 'enhanced versions' yet, with a host of extras including process sketches, the 150-page original script, an interview with Hine, an academic article on the series and a detailed audio commentary on every page of the book, in which the writer/artist delivers insight into his process, imagery and narrative choices.
Sequential publisher Russell Willis told us about his long association with the author, and why he had no hesitation in bringing Strange Embrace to a new format.
I knew David Hine's work from his early stripzine days. I picked up a copy of Ellipse in 1982 and read one of his early horror strips there. After that I published a fanzine called Infinity that David became a reader of, and I asked him to contribute a story to The Alternative Headmaster's Bulletin small press comic, which I published back in 1985.
In 2008, after over 20 years of not being involved in or regularly reading comics, I put together the "lost" Infinity #9 and offered it out for free to former subscribers/readers/fans etc. David contacted me to request a copy, and in exchange he sent me a copy of the Active Images version of Strange Embrace. I read that for the first time in 2008 and really loved it – it was a horror graphic novel that actually horrified.
I kept in touch with David, and so it was only natural that Strange Embrace become one of our specially created "expanded graphic novels". Strange Embrace is a timeless piece of horror fiction that could as easily have been written today as 20 years ago. It has an intricate plot, engaging characters and a visual atmosphere throughout that stays with you once you've finished reading it. It's horror that works on the mind, as all good horror should.
David Hine himself was kind enough to answer a few of our questions about the making and history of the book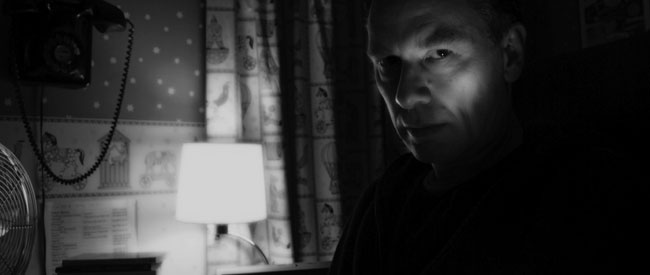 The book still seems very fresh and not dated in any way. How do you think it's achieved its longevity?
I deliberately gave it a timeless quality by leaving out any specific references to current events in the "present day" parts of the story. Most of it takes place in Edwardian times, and the timeline of the Alex and Sukumar thread could be anything from the sixties through to the nineties.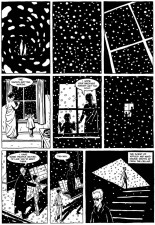 There's a universality to the themes and style that should make the story relevant to any period. It's kind of how I feel about my favourite movies, comics, novels. A movie like M, for instance, is currently being re-released and looks as fresh as when I first saw it, even though it was then already decades old. It's equally true of Hergé's Tintin or Will Eisner's The Spirit. You recognise and identify with the characters and themes because of their universality.
Having worked in both, how would you compare the creator-owned comic environment of 1993 with its 2014 counterpart?
"Creator-owned" as in "self-published" was a lot tougher back then, but I have a great affection for the clunky old methods of hand drawing, lettering and printing. Digital technology makes the whole process far too easy.
I think in 1993 I was just a year or two away from getting to grips with the joys of computers, Photoshop and those SyQuest disks, which held an amazing 44 megs of info at a cost of around £50 each, if memory serves. There was no Facebook and Twitter to keep in contact with fans and not a lot of conventions either. From that point of view things have changed beyond all recognition and the community is now a lot broader and better organised.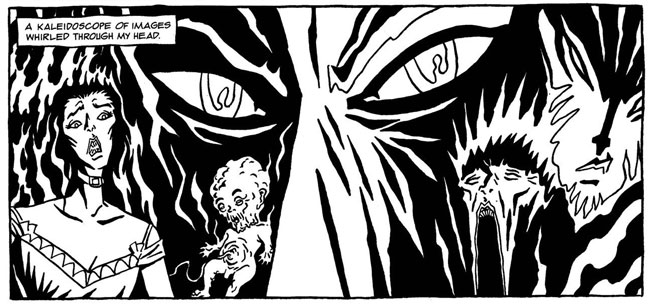 As far as creators' rights go, things were actually quite good for a while in the nineties, with creator-owned projects at Marvel UK and, of course, Kevin Eastman's Tundra, where Strange Embrace was originally published. There were lots of independent companies and it looked like a new golden age until the implosion happened.
There was too much low-quality product swamping the market and the notorious collectors' variants contributed heavily to the collapse of sales. The latter half of the nineties was a dark time for comics and particularly for the independent scene. This time around, people seem to have a much more realistic approach to things and it looks like the growth of comics in both numbers and diversity is likely to sustain itself.
Strange Embrace has a very bold expressionistic look. What do you think were some of your influences – from comics and beyond?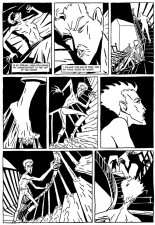 From comics, the influences were from artists like José Munoz and Jacques Tardi, who really blew me away when I first discovered them in the monthly À Suivre magazine in France. Further back, I loved Berni Wrightson, Will Eisner, Neal Adams, Barry Smith, Frank Bellamy – particularly their black-and-white work. I was fanatical about Creepy and Eerie from Warren, which were some of the best showcases for monochrome art.
Outside of comics, there's a very obvious influence from the Austrian painter Egon Schiele, who was the model for the character of Alex as a young man. Expressionist cinema as typified by The Cabinet of Dr Caligari, of course, and later black-and-white movies like Eraserhead. All of those artists and directors used the setting and background objects to express and externalise the psychology of the characters.
'Primitive' African art plays a key role in the book. Is that something you're particularly interested in?
I do like African art, particularly 19th- and early 20th-century woodcarvings. I have loads of them hanging on my walls at home. They were one of the major influences on modern art from Braque and Picasso onwards.
They were an early form of expressionism, where the sculptures embody emotional experience rather than attempting a realistic representation of human form. It seemed very appropriate in the context of the book.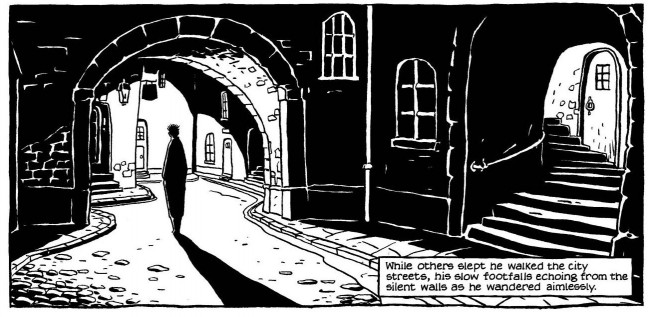 Looking back at the work, does anything surprise you about the David Hine of 20+ years ago?
He certainly was a miserable bastard, wasn't he? I still tend to wallow in doom and gloom in my fictional work, but there's usually at least some hope for redemption in my more recent work. I guess becoming a parent in the interim has changed my outlook on life a little.
Did you take any convincing to produce a digital version of the book?
No hesitation at all. I love print and I have a house crammed full with books, comics and magazines, but I also buy a lot of digital material, particularly since the iPad appeared on the scene. Comics look great on a handheld screen and there are so many things you can do that are impossible with print. Sequential is particularly good with the added extras like the audio commentary.
The high-contrast black-and-white artwork in Strange Embrace looks particularly powerful on the iPad screen. Did you (or Russell) consider using the more recent coloured version of the work?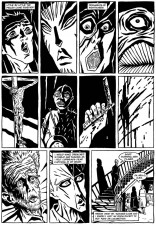 As I said earlier, I do have a great affection for black-and-white comics, so it seemed most appropriate to go with the original version, though I do love what Rob Steen did with the colours on the later version. The colour works as a kind of code that adds another layer of meaning.
You can get the colour version of Strange Embrace from Comixology, or indeed you could splash out and buy the colour hardback from Image to read alongside the black-and-white digital version. How's that for a sales pitch?
You can't have imagined when you were writing and drawing Strange Embrace that you'd ever be doing an audio commentary on the book! Are there any lost materials you'd like to have included in the extras?
There are layout versions of some of the pages included, along with some of the background sketching I did to develop characters, but if I had known that the book would one day be appearing in this kind of format I would have kept more of the layouts and recorded the pencil stages.
For me, the best digital comics have the ability to show the stages of development of the pages from layout, through pencil, to inks and indeed to colour where applicable. Add the creator's commentary and you have a unique insight to the creative process that only really works with a digital version.
In an interview a while ago, you mentioned that a film option had been taken out on the book. What's the status of that at the moment?
There were two film options sold. Each of them lasted two years and in both cases they failed to go to development. Selling movie options can be a useful secondary source of income, but the reality is that comics that are optioned very rarely make it all the way to the silver screen. I still hope to see it happen one day, and I'm sure that with the right director it would look great. David Lynch would do a fine job of it, I'm sure.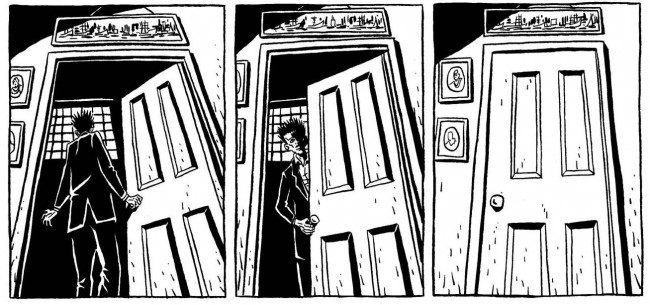 For readers who know you primarily as a writer, Strange Embrace will come as an eye-opener. Do you plan to do any more work as a writer/artist?
There are times when I get the itch to draw again, but it is a very slow and painful process. Drawing doesn't come naturally to me, and I think the struggle comes across in the artwork. To produce Strange Embrace I spent a good two years doing nothing else. I don't know if I still have the energy to sustain that kind of focus again.
There is a very personal project that I've been working on for a number of years. It's a "fictional biography" and I wouldn't ever collaborate with anyone else on it. It's more likely to materialise as a prose novel than a graphic novel. I may get around to producing some shorter works, but don't hold your breath. The last comic I wrote and drew was a 22-page Elephantmen story for Richard Starkings and it took me over two years.
The expanded version of Strange Embrace is available via the Sequential app for iPad for $9.99 / £6.99.