Press Release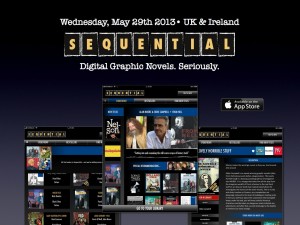 Panel Nine, a Tokyo-based software developer and publisher, with offices in London, today released digital graphic novel app Sequential in the UK and Ireland App Stores. Sequential is a storefront app for the iPad that specialises in sophisticated digital graphic novels designed for adults. The app is free to download with users being able to purchase graphic novels from within the app (which also contains free downloads).
Currently Sequential features content from creators such as Alan Moore, David Lloyd, Brian Bolland, Eddie Campbell, Hunt Emerson, Terry Wiley, Darryl Cunningham, Gilbert Shelton and many more. The company has partnered with Blank Slate Books, Myriad Editions and Knockabout for content, and other publishers such as SelfMadeHero and Walker Books are in the pipeline — including Jonathan Cape, publisher of work by British graphic novel legends Posy Simmonds and Raymond Briggs.
Russell Willis, the CEO of Panel Nine, commented: "We believe that Sequential is the digital future of graphic novels and sequential art. We're working with the world's leading graphic novel publishers and creators to expand the market for one of the world's most under-appreciated art forms — and rather than go the tired old commercial route with the inclusion of superheroes, a genre that has tainted and held back the art form for too long, we stand in *opposition* to what that genre represents and instead will feature only accessible, intelligent, entertaining, life-enhancing storytelling at its visual and verbal best.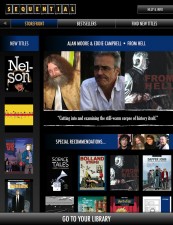 "The time is right to evangelise graphic novels and sequential art anew. Quality graphic novels are being nominated for – and winning – awards such as the Costa prize; digital is making material available to most, and British publishers are leading a renaissance in quality material. Sequential will be making quality graphic novels easily available to all in a specially-engineered deluxe format, acclaimed as the 'gold standard', with new features that expand the way in which graphic stories can be told. We expect this to help to expand the market for graphic novels for adults in a way that hasn't been seen before."
The free iPad app is available in App Stores in the UK and Ireland and will be available in the USA and the rest of the world at the end of June.