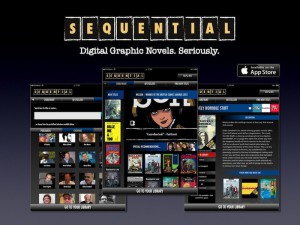 Panel Nine, a Tokyo-based software developer and publisher, with offices in London, today released digital graphic novel iPad app SEQUENTIAL worldwide. SEQUENTIAL is a storefront app for the iPad that specialises in sophisticated digital graphic novels designed for adults from the world's leading creators. The app is free to download with users being able to purchase graphic novels from within the app (which also contains free downloads).
Currently SEQUENTIAL features content from creators Alan Moore, David Lloyd, Brian Bolland, Eddie Campbell, Hunt Emerson, Nicola Streeten, Darryl Cunningham, Gilbert Shelton, Nick Abadzis, Oliver East, Kevin Mutch, Hannah Eaton, Woodrow Phoenix, and many more. The company has partnered with Blank Slate Books, Myriad Editions, Great Beast, Tabella, and Knockabout for content. Other publishers, such as SelfMadeHero and Walker Books, are in the pipeline — including Jonathan Cape, publisher of work by British graphic novel legends Posy Simmonds and Raymond Briggs. Much of the material is exclusively available through SEQUENTIAL as digital editions including titles from Blank Slate along with digital versions of underground classics, the Freak Brothers and Fat Freddy's Cat from Knockabout.
Key US graphic novel publishers (including small press publishers) will be coming on board and separate announcements will be made soon.
Russell Willis, the CEO of Panel Nine, commented: "We believe that SEQUENTIAL is the digital future of graphic novels and sequential art. We're working with the world's leading graphic novel publishers and creators to expand the market for one of the world's most under-appreciated art forms — and rather than go the tired old commercial route with the touting of superheroes, a genre that has unwittingly tainted and held back the art form for too long, we stand for graphic novels that feature accessible, intelligent, entertaining, life-enhancing storytelling at its visual and verbal best – and haven't been designed just for geeks.
"The time is right to evangelise graphic novels and sequential art anew. Digital makes graphic novels conveniently available to a massive potential audience. Quality graphic novels are being nominated for – and winning – major awards such as the Costa prize in the UK, and the market for graphic novels with adult sensibilities is growing. SEQUENTIAL's mission is  to make quality graphic novels easily available to all in a specially-engineered deluxe format, acclaimed as the 'gold standard', with new features that expand the way in which graphic stories can be told, such as author commentaries and other special features. We are aiming  to expand the market for graphic novels for adults by focusing on materials that are designed for adults, not for the geek sensibilities that have continued to dominate the medium."
The SEQUENTIAL iPad app is available as a free download in Apple's App Stores around the world.
An interview with Russell Willis about SEQUENTIAL is available here: